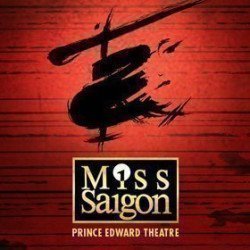 A whole host of new cast members will take over many of the leading roles in the smash-hit West End production of Miss Saigon from 11 May 2015.
The award-winning Boublil and Schonberg musical broke box office records when it opened in the West End last year. Based on the Puccini opera Madame Butterfly, Miss Saigon tells the moving story of a thwarted love, set against the backdrop of the Vietnam War.
West End leading lady Siobhan Dillon will take over the role of Ellen. Broadway leading man Chris Peluso will make his West End Debut as Chris, and Natalie Mendoza will take over as Gigi.
Dillon is best known for her staring roles in West End musicals such as Legally Blonde, Cabaret and GHOST the musical. Peluso took America by storm with his roles in Broadway productions of Beautiful and Wicked. Mendoza wowed audiences in the UK and on Broadway in the new musical Here Lies Love, as well a leading role in Spiderman: Turn Off the Dark in New York.
Sangwoong Jo will play Thuy. The Korean musical theatre star shot to fame in the Korean production of Wicked and now makes his West End debut.
The supporting cast includes, Nathan Graham, Amadeus Williams, Simon Hardwick Michael Carolan, Richard Carson, Marsha Songcome, Natalie Chua, David Kar-Hing, Lee Callum Evans, Maria Graciano, Kurt Kansley, Sooha Kim, Kittiphun Kittipakapom, Aaron Lee Lambert, Mitch Leow, Ela Lisondra, Michael Macalintal, Jon Reynolds, Yuval Zoref. Liam Marcellino, Kanako Nakano, Claire Parrish, Kiel Payton, Ethan Le Phong, Katherine Picar, Romeo Salazar, Ariel Reonal, Eloisa Amalia Tan, Gavin Tsang, Thao Vilayvong, Gerald Zarcilla, Thao Therese Nguyen and Saori Oda.
Miss Saigon is proving to be one of the most popular West End shows, so booking early is strongly advised. Catch the band new cast from 11 May 2015!