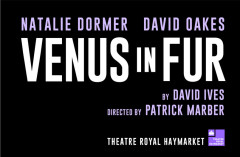 It's been announced that Natalie Dormer, who's utterly magnificent in TV's Game of Thrones, will be returning to the stage in a new production of Venus in Fur which previously had a short but attention-grabbing run on Broadway. She'll be playing an actress who, one rainy night, bursts in on a director insisting he auditions her for the lead role in a play about sadomasochistic sex based on the 1870 novel Venus In Fur by Leopold von Sacher-Masoch.
The encounter starts off being very funny as we watch his ill-temper being worn down by her goofiness but once they start to enact scenes from the play it all becomes edgy and a bit creepy. Who is she? And why is she able to assume the role of his dominatrix quite so successfully? The action takes place over one intense night and it manages to be that unusual combination - a sexy stage thriller.
I enjoyed it immensely so I'm excited to see it in London and so should you be, it's perfect for a date night although perhaps for couples who are sexually comfortable with each other. I can imagine on a first date it might be a bit full on. I'd say give it a whirl from the third date stage onwards.
My only slight reservation is the reason it bowled me over in New York was the extraordinary performance of recent Broadway star Nina Arianda who won a Tony for playing the actress. She was scintillating in every aspect of the role, brave enough to be clumsy and daffy at first (think of the young Barbara Streisand in film comedies like Whats Up Doc) but as the story darkened she also captured every aspect of a troubled and increasingly sinister figure. She was so amazing I can't recall a thing about the guy she played opposite.
Dormer will have to be electric to measure up to Arianda and I must confess I've never seen her on stage so I can't speculate on whether she's up to the task. Her portrayal of Margery Tyrell in Thrones suggests she will be. The reason why she was so captivating in the TV fantasy was you were never quite sure what the delectable but ruthless young queen she played was up to. Was she a victim of the ruthless men around her or subtely manipulating them to get what she wanted? It was quite a shock at the end of the last season when... but I won't spoil things for G.O.T fans who haven't quite caught up with events in the Tyrell family.
Anyway, back to Venus, the reassuring news is that director Patrick Marber thinks Dormer is up to it . And he should know, they had a big hit together when he directed her in his own play After Miss Julie, he's one of our most gifted playwrights and directors who specialise in getting psychologically precise performances from his casts in stylish productions.
You see... I've done it again and forgotten all about the male performer who'll play the role of the grumpy, befuddled, turned on and freaked out director. In this forthcoming production he'll be played by David Oakes. No one knows much about him but he was very cute and puppyish as Prince Albert's brother in the recent TV series about Queen Victoria.
On balance I think this forthcoming production is going to be a big hit!