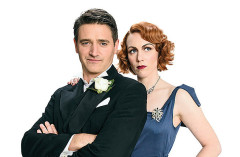 It's been announced that the Ambassadors Theatre Group, the West End's most powerful producers are mounting a new production of Noel Coward's popular comedy PRIVATE LIVES. The production will tour major UK venues before it pitches up in London at a venue to be announced.
The big news is that handsome stage and screen star Tom Chambers will play the lead role of Elyot who discovers that his ex wife, Amanda, is honeymooning right next door to the hotel room in which he's spending his latest wedding night. Sparks and crockery fly as the divorcées come to realise they love each other more than their new spouses when everyone runs away to Paris.
Tom Chambers' most recent stage credits include the West End production of WHITE CHRISTMAS at the Dominion Theatre, and the Olivier and Evening Standard Award winning musical TOP HAT, for which he was nominated for the Olivier and WhatsOnStage Award for Best Male Performer In A Musical. Chambers is best known for his leading roles in television dramas HOLBY CITY and WATERLOO ROAD as well as for winning the 6th season of STRICTLY COME DANCING in 2008.
The publicists for this production are describing it as "A masterpiece of 1930's high comedy full of razor sharp wit and sparkling dialogue, Private Lives remains one of the most sophisticated, entertaining plays ever written, offering an evening of acutely sharp, divinely decedent, and unashamed humour" and I can't quarrel with that. It's one of my favourite plays.
I like the director Tom Attenborough too. He's a real grafter who's put in his time working his way up the career ladder. I've enjoyed many past productions staged by him and his credits include THE WHIPPING MAN at the Theatre Royal Plymouth and UK Tour, THE WASP at the Hampstead Theatre Downstairs and Trafalgar Studios 2, CINDERELLA & THE BEANSTALK at Theatre 503, and THE PAKISTANI and THE THIN LINE IN-BETWEEN at the Waterloo East Theatre.
Noël Coward was one of the UK's most prolific and popular writers, in the middle of the last century. His regularly revived hits include HAY FEVER, DESIGN FOR LIVING, PRESENT LAUGHTER, RELATIVE VALUES, FALLEN ANGELS and BLITHE SPIRIT. His screenwriting credits include IN WHICH WE SERVE (which he also co-directed) and BRIEF ENCOUNTER.
The only note of caution I'd share with the producers is that if they do bring this revival into the West End they'll be competing with London audience's recent memories of the last PRIVATE LIVES. Anna Chancellor and Toby Stephens gave incredible performances as the combative lovers a year or so and I don't expect to ever see the play performed with such wit, ferocity and panache again. It's a tough act to follow.