Quick Facts
Largest Ticket Inventory
in the West End
Real time
seat availability
Choose
your seats
Your booking is processed directly into the box office reservation system
This show is now closed.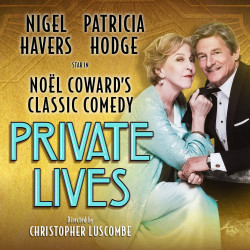 Private Lives
Tickets
4.7/5
-

based on

41

reviews

from

41

verified reviews
Tickets refunded if your event is cancelled
Real time seat availability
Largest ticket inventory in the West End
Secure online booking
This show is now closed.
Keep me informed
Let me know when tickets for Private Lives are on sale!
Information
Cheap Tickets
Reviews
News
About Private Lives Tickets
Private Lives description
Private Lives – A masterpiece of human observation
Times change. But human beings remain much the same. Which is why Coward's marvellous play Private Lives is still such a big hitter, as popular as ever despite being more than eighty years old.
Private Lives - The story
Elyot and Amanda were married for three volatile years. They've been divorced for five years but, as kindred spirits, they find it very hard to forget one another even though they have both remarried.
Elyot and his new wife Sybil are honeymooning at a smart hotel in Deauville on the French Riviera. They are happy, but she is only too aware that Elyot's first wife still preys on his mind with worrying intensity and frequency. In the suite next door, Elyot's first wife Amanda is honeymooning with her second husband Victor, who is shocked by the violence her first husband meted out and can't quite get it out of his mind.
When they discover they are in adjoining suites at the same hotel, Elyot and Amanda are both desperate to leave. But their spouses refuse and storm off to eat alone. This leaves Elyot and Amanda free to meet, which they do, immediately realising they've made a big mistake. They are still in love, and they run away to Paris together.
Having matured a little since their divorce, the older but not much wiser couple do their best to prevent their habitual violent arguments from getting out of hand. The passion is still there… but so are all the bad elements. They can't live apart, nor can they live together, and the arguments soon get physical, just like in the bad old days.
When Sybil and Victor turn up unexpectedly, only to become embroiled in an argument themselves, will there be a happy ending? You'll have to see for yourself. It's explosive, fierce, beautifully observed and as disturbing as ever, a classic brought back to life again for what's billed to be another sell-out West End run.
Private Lives theatre tickets – Emotional, high-octane stuff
Want premium, full price or discount Private Lives tickets? We are happy to provide excellent availability on all seat and ticket types.
Private Lives cheap tickets
We have a great selection of cheap Private Lives tickets. We can help you save up to 70% on Private Lives tickets! If you're looking for discount theatre tickets have a look below for our latest offers for Private Lives at the Ambassadors Theatre.
There are no special offers available at the moment but we still have great ticket prices for Private Lives at the Ambassadors Theatre.
Private Lives reviews
4.7 out of 5
based on

41

reviews
What to expect:
Acting
Music
Costumes
Story
Lighting
Recommended for:

Theatregoers (88%)
Latest customer reviews
A definitely must see
Reviewed on 24 November 2023 by Ahmet, Kadiköy, Turkey
A great light hearted traditional comedy
A brilliant classical light hearted entertaining comedy played by two brilliant talented actors . If you enjoy t radio all old fashioned classical comedy this is the show to watch .
Reviewed on 21 November 2023 by Margaret, Sutton Coldfield, United Kingdom
Fun play
Easy to follow. Funny dialogue. Clever acting
Reviewed on 10 November 2023 by Carmen, Ta Xbiex, Malta
Totally relatable! Fabulous
Reviewed on 03 November 2023 by Janie, Aventura, United States Of America
A brilliantly acted breath of fresh air
Reviewed on 29 October 2023 by Anna, London, United Kingdom
Enjoyable
This was the fourth time I saw it. I enjoyed. It is fin first of all. Noel Coward has a fantastic way with Words snd he is so english. I thought all aktors were very Good. I enjoyed every minut.
Reviewed on 28 October 2023 by Inge, Grimstad, United Kingdom
Must see . Lighthearted escapism
Reviewed on 08 October 2023 by Trevor, Belgrave, Australia
Entertaining
Reviewed on 03 October 2023 by Denise, Hull, United Kingdom
A classic brilliantly acted
The storyline is beautifully developed with a clever script. The acting is brilliant and the sets are perfect. Very funny with an underlying common message about relationships.
Reviewed on 03 October 2023 by Kathleen, London, United Kingdom
Such a tonic!
Excellent cast and production! Unexpected last minute theatre trip. Thoroughly enjoyed it.
Reviewed on 26 September 2023 by Louise, Longhorsley Morpeth, United Kingdom
Not to be missed!
Reviewed on 24 September 2023 by William, Saint Louis, United States Of America
Great classic comedy
Timeless British comedy. Attentive staff at Ambassadors theatre. Lovely evening
Reviewed on 23 September 2023 by Padraig, Dublin, Ireland
Comedy At It's Best
Very funny & superbly acted by all five of the cast. Thoroughly recommend.
Reviewed on 22 September 2023 by Rosie, Camberley, United Kingdom
Good old fashioned 20's light Comedy
Takes you back to 1950s theatre
Reviewed on 14 September 2023 by Paul, Clapham Junction, United Kingdom
Very enjoyable
Excellent actors & story line.
Reviewed on 14 September 2023 by Glenda, Western Australia, Australia
Wonderful onstage chemistry
Reviewed on 11 September 2023 by Alison, Chelmsford, United Kingdom
Excellent venue wonderful play
Reviewed on 08 September 2023 by George, Sheffield, United Kingdom
Utter delight
What a witty delightful evening.
Reviewed on 04 September 2023 by Leslie, Sherman Oaks, United States Of America
So amusing and entertaining
Reviewed on 02 September 2023 by Janice, Hilton Head Island, United States Of America
Greet the actors at the stage door!
Reviewed on 15 September 2013 by Anonymous
A good evenings entertainment
The acting and stagings were excellent. A very good evening out.
Reviewed on 28 August 2013 by Anonymous
Private Lives
This show was extremely funny from beginning with no dull lapses. Also the acting was superb. One of the best plays I have ever seen.
Reviewed on 22 August 2013 by Anonymous
Private Lives
Fab acting, good story which had the audience gripped and laughing throughout . Def recommend a visit
Reviewed on 16 August 2013 by Anonymous
Coward hits the mark again
Reviewed on 06 August 2013 by Anonymous
Overall performance
Stunning, captivating and hilariously funny. Not to be missed - superb acting by all
Reviewed on 29 July 2013 by Anonymous
Good fun!
Reviewed on 30 June 2013 by Anonymous