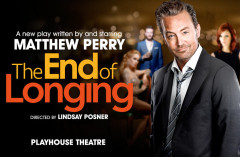 The American sit-com FRIENDS which ran from 1994 to 2004 has been a permanent background to our lives ever since it captured the world with its vision of loveable and witty twentysomethings starting their adult lives in Manhattan. It's repeated across the globe, all the time, on satellite TV channels and is as popular as ever with young viewers.
It's big news then that one of the stars, Matthew Perry, best known for playing Chandler Bing in the highly rated, critically acclaimed series, is to take the lead in a new West End production of his own play, THE END OF LONGING at the Playhouse Theatre.
It's to be directed by Lindsay Posner who has a long success rate of chatting up celebrities to appear in his, often otherwise unexciting, productions. Posner and Perry previously worked together in 2003 on a revival of David Mamet's SEXUAL PERVERSITY IN CHICAGO.
Not much is known about the new play which the press release describes with one tantalizing paragraph –
"Meet Jack, Stephanie, Joseph and Stevie: four lost souls, entering their forties and searching for meaning. After sharing one raucous night together in a downtown Los Angeles bar, their lives become irreversibly entwined in a rollercoaster journey that forces them to confront the darker sides of their relationships"
Going on to promise "A sharply written and hilarious dark comedy, The End of Longing, will make you realise that broken people don't need to stay broken".
Of course being famous and surrounded by an entourage of yes-men doesn't mean you can write, even if they tell you you're the next David Mamet. Another American sit-com star, Zach Braff of SCRUBS, had a major flop when he premiered his first play in the West End. If only these stars had people around them who'd dare to suggest that the full glare of Broadway and West End publicity isn't conducive to establishing or developing a fledgling playwriting career.
However I'm sure any fears about the quality of the writing won't deter Chandler fans from booking. Besides, Perry is such a witty and clever performer that just maybe his first attempt at penning a play is sharp enough to warrant a West End début. I look forward to finding out.