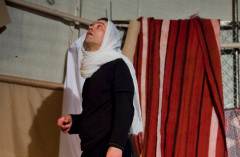 Theatre Maker Ahmed Masoud introduces a celebration of Palestinian Performance in London.
We asked playwright, director and academic, Ahmed Masoud about the inspiration behind his work, part of @70, this weeks Celebration of Contemporary Palestinian Culture, in London.
The festival includes my play, The Shroud Maker and a dance theatre production entitled Project 51, which tells the story of a father teaching his daughter 'dabke' dance to distract her from what's going on around her. We also have live music, films and talks as part of the festival.
I choose to present stories from back home, talking about the people and their suffering, about their human story. I am not interested in the politics and who is right and who is wrong. I am interested in telling stories from the perspective of normal people who suffer as a result of conflict.
For me, sharing my play in London, is the least I can do to say to my family and loved ones that I am with you, even though I am so far away.
Sitting in rehearsals in the dark auditorium of the RADA Studios, I am constantly checking my phone to see what's happening in Gaza to make sure my family and friends are safe as they march peacefully for their freedom.
It's a big day in Palestine as people prepare to mark the 70th anniversary of the Nakba (catastrophe) and King Donald Trump sends her majesty princess Ivanka to officially open the US embassy in Jerusalem.
For me, moving an embassy to Jerusalem doesn't mean anything, Jerusalem is no more than a city with stones and walls. But what hurts me most is the injustice, which is happening to us. That the US administration has the arrogance to be on one side and leave the other to fend for themselves. What hurts is killing the hope for a better future and for a political settlement of this conflict.
I feel guilty for leaving my family behind instead of being with them, protesting and hoping to make a difference on the ground. Instead, I am in here thousands of miles away in London – curating a festival on Palestinian culture, which I hope will be a bridge between me and them, between people here and those suffering the result of occupation and siege.
The Shroud Maker is performed from the 14-20 at RADA Studios, 16 Chenies Street, London as part of @70 Celebration of Contemporary Palestinian Culture. For more details go to www.70palestine.com.