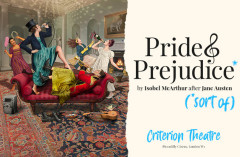 Update for Pride and Prejudice (sort of) at the Criterion Theatre
Described as 'audacious' and 'unique', Isobel McArthur's dazzlingly good play is about to hit the West End. The Olivier and Tony Award-winning producer David Pugh is proud to announce his presentation of the Tron Theatre Glasgow, the Royal Lyceum Theatre Edinburgh, and Blood of the Young's production, Pride & Prejudice* (*sort of). Jane Austen would, we think, be thrilled! The show opens on 2nd November 2021.
Who's involved in Pride and Prejudice (sort of)?
This wonderfully affectionate adaptation of Austen's classic novel is packed with popular pop classics including Every Day I Write the Book, Young Hearts Run Free, Will You Love Me Tomorrow, I Got You Babe and You're So Vain. The action involves five supremely talented actors playing the Bennet family's young female servants, plus all the other characters in the story, as well as singing and playing instruments. Wow!
The cast of the original production from Glasgow's Tron Theatre returns
The play is directed by Isobel McArthur and Simon Harvey
Isobel McArthur plays Darcy and Mrs Bennet
Tori Burgess plays Mr Collins
Christina Gordon plays Lady Catherine de Bourgh and Jane
Hannah Jarrett plays Charlotte and Charles Bingley
Meghan Tyler plays Lizzie Bennet
The comedy staging is by Jos Houben
Design is by Ana Inés Jabares-Pita
The lighting comes from Colin Grenfell
Musical supervision is by Michael John McCarthy
The sound design is by Michael John McCarthy and Luke Swaffield for Autograph
The choreography is by Emily-Jane Boyle
Buy Pride and Prejudice (sort of) Tickets
Book your Pride and Prejudice (sort of) tickets online with us and choose the best seats with our Criterion Theatre seating plan. We'll send E-tickets to your email address for you to present at the door on the day of the performance.
About the Criterion Theatre
The Criterion Theatre is an intimate venue with fewer than 600 seats, completed in 1873 and still featuring the original, very beautiful Victorian auditorium. Past shows at the Criterion Theatre include The 39 Steps, The Comedy About a Bank Robbery, and Amelie, which runs at the venue until Price and Prejudice (sort of) takes over.