Piccadilly Circus, London, SW1Y 4XA GB
Quick Facts
Largest Ticket Inventory
in the West End
Real time
seat availability
Choose
your seats
Your booking is processed directly into the box office reservation system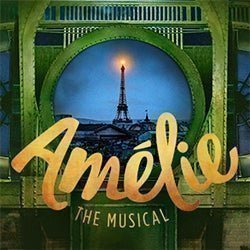 Amelie
Tickets
5/5
-

based on

4

reviews
Booking until: Saturday, 25 September 2021
Running time: 2 Hours and 15 Minutes
Tickets from £70.50
Book tickets
About Amelie
Important Information
References to sex and sex toys displayed.
Please be aware that the performance on Tuesday 31st Dec 2019 will now start at 1:30pm rather than 2:30pm. 
Performance Times
Booking until: Saturday, 25 September 2021
Running time: 2 Hours and 15 Minutes
Amelie description
Amélie The Musical stars an entirely appropriate actor in the shape of the fantastic French-Canadian stage and screen star Audrey Brisson, who plays the starring role of the quaintly eccentric Amélie Poulain beautifully. Our very own Danny Mac plays Nino, and there's a large and talented cast – the original cast from the show's hit stint at the Newbury Watermill - supporting them to deliver a truly awesome story.
This is the hugely popular tale of the creative, imaginative, shy romantic Amélie, whose unusual gift for helping others is given a vibrant, fresh face in this magical re-conception of the beloved movie. The new orchestrations and everything else about this fresh version of the show have attracted acclaim from the critics and theatregoers alike, and it's due at The Other Palace from 29th November 2019 to the 1st Feb 2020.
What's the story?
Amélie is an extraordinary young woman. Her life looks quiet and calm on the outside, and she doesn't make a lot of impact on the world, but her inner life is loud and vibrant. She secretly makes tiny acts of kindness, things that bring happiness and joy to the people around her. But when the chance to encounter real love of her own arrives, Amélie realises that if she wants to be contented and happy, she will need to risk everything and actually admit, out loud, what's in her heart.
Our times are tough for dreamers. Sometimes it feels like the whole world is going crazy. But against a backdrop of awful politicians, endless recessions, runaway climate change and mass unkindness, the character of Amélie is someone to believe in. You'll leave the venue uplifted, cheered, believing anything is possible and enjoying the renewed knowledge that kindness really does makes the world go round. If you feel strongly enough about the experience to create a few small, secret acts of kindness of your own, even senseless acts of beauty if you wish, you won't be alone. It's an inspiration.
Amélie the Musical is based on the 2001 romantic comedy film with music by Daniel Messé, lyrics by Messé and Nathan Tysen, and a book by Craig Lucas. The musical premiered at the Berkeley Repertory Theatre, USA, in 2015, then opened on Broadway in 2017. The Director is Michael Fentiman and the Designer is Madeleine Girling. The Musical Supervisor is Barnaby Race and the Movement Director Tom Jackson Greaves. The Lighting Designer is Elliot Griggs, the Sound Designer is Tom Marshall and the Associate Director is James Ball. The Musical Director is George Francis and the brilliant puppets are by Dik Downey. Last but not least the fab set comes from Rocket Scenery.
Who is this show for?
Because of the cheeky references to sex and sex toys, this fabulous musical is probably best suited to people aged ten or more.
Amelie reviews
5 out of 5
based on

4

reviews
What to expect:
Acting
Music
Costumes
Story
Lighting
Recommended for:
Anyone (75%)
Families (75%)
Teenagers (75%)
Couples (100%)
Theatregoers (100%)
Latest customer reviews

The best piece of theatre in London!
I saw this musical 2 nights in a row because I loved it so much the first time! I found a single seat left on the next morning despite the show being sold out for the 9 days it is still on - so I grabbed it! I'm so glad I did... and honestly I'd go again tomorrow if I could! This has to be the best piece of theatre in London and I can't believe it is a limited run! I just wish I had seen it for the first time months ago when there were still tickets left and time to see it over and over! I have never immediately wanted to see any show again, let alone happy to do it the very next day! The cast were all incredible, also acting as the band and each playing at LEAST one instrument each at different points of the show, in addition to having amazing voices. They meshed so well together and I was utterly engrossed in the entire show. The music is just so perfectly suited to the already fantastic story and adds so much to it. The set is the final star of the show, and I cannot praise enough how well the space is utilised and the quality and versatility of set pieces.
Reviewed on 23 January 2020 by Danielle, London, United Kingdom

Poetic...a must see!
Reviewed on 22 January 2020 by Claudia Duarte, Resende, Brazil

Extroadinary
It was honestly one of the best musicals I've recently seen. Amazing acting, voice projecting, incredible musicians skills. I've cryed and laughed. I've felt like being in a nutribullet of my emotions. Thank you, thank you, thank you
Reviewed on 22 January 2020 by Ivan, London, United Kingdom
16

Dec
2019

Review: AMELIE at the Other Palace Theatre
by Phil Willmott | Monday, December 16 2019, 11:41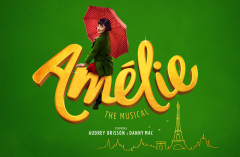 I'm not sure of the science behind this but pretty much all of us, at one time or another need a hug. And this delightful musical is the theatrical equivalent.
The setting is a story-book France at the end of the last century where you're never far from an accordion solo and everyone treats life's ups and down with a good natured shrug.
Review: AMELIE at the Other Palace Theatre