Quick Facts
Largest Ticket Inventory
in the West End
Real time
seat availability
Choose
your seats
Your booking is processed directly into the box office reservation system
This show is now closed.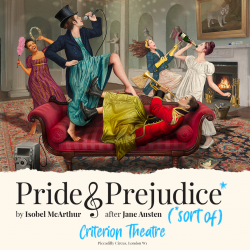 Pride and Prejudice (sort of)
Tickets
4.7/5
-

based on

42

reviews

from

42

verified reviews
Tickets refunded if your event is cancelled
Real time seat availability
Largest ticket inventory in the West End
Secure online booking
This show is now closed.
Keep me informed
Let me know when tickets for Pride and Prejudice (sort of) are on sale!
Information
Cheap Tickets
Reviews
News
About Pride and Prejudice (sort of) Tickets
Pride and Prejudice (sort of) description
Pride and Prejudice – It's Jane Austen, but not as we know it!
Everybody's heard of Pride and Prejudice, the classic romance by Jane Austen. We predict everyone will soon know about Pride and Prejudice (sort of), a fresh new take on the well-loved story that has been on and off the stage and silver screen for decades, as well as produced for TV and radio numerous times. Welcome to Isobel McArthur's very clever retelling of Austen's best-loved work.
What's the plot of Pride and Prejudice?
What's the story? You'll recognise it... sort of! The Bennet family includes a total of five unmarried daughters. The parents are determined to marry their daughters off to rich, respectable men. But the task proves more of a challenge than they'd expected. The family's servants are the stars of the show as they take the mickey, dress up and sing about the Bennet girls' complicated love lives, all set against a backdrop of early 1800s courtship.
The play recounts every ball, elopement and witty exchange uttered by Elizabeth Bennet and Mr Darcy, a delight in itself and a good enough reason all on its own for buying tickets for this exceptionally funny version of the original 1813 novel. And the whole experience is made even better thanks to modern comedy, live music, and thrilling props. Are you ready for some truly ruthless, wickedly witty matchmaking?
Who is Pride and Prejudice for?
Pride and Prejudice is perfect for anyone old enough to understand the humour.
Buy tickets for Pride and Prejudice
Our website makes buying tickets for Pride and Prejudice simple and enjoyable. We'll email your e-tickets to you, which you simply present at the door on the day.
Pride and Prejudice (sort of) cheap tickets
We have a great selection of cheap Pride and Prejudice (sort of) tickets. We can help you save up to 70% on Pride and Prejudice (sort of) tickets! If you're looking for discount theatre tickets have a look below for our latest offers for Pride and Prejudice (sort of) at the Criterion Theatre.
There are no special offers available at the moment but we still have great ticket prices for Pride and Prejudice (sort of) at the Criterion Theatre.
Pride and Prejudice (sort of) reviews
4.7 out of 5
based on

42

reviews
What to expect:
Acting
Music
Costumes
Story
Lighting
Recommended for:

Couples (83%)

Theatregoers (93%)
Latest customer reviews
Without question it was excellent on every front!
Need to know the story of Pride & Prejudice
Reviewed on 30 January 2022 by Heather, London, United Kingdom
creative & funny!
Reviewed on 30 January 2022 by Lesley, Hertford, United Kingdom
Fantastically funny !
The most fun i've had at a theatre for years! This play deserves all the praise that it gets! I've never read the book, although I will now after seeing this. The way the story is portrayed and acted out with so much wit and humour is a pure delight to watch. The song choices and musical accompaniments are masterfully selected and every single cast member puts their body and soul into the performance. It's a shame that it is only running for a short time, as I would happily go again and again to see it! Well done to all involved.
Reviewed on 24 January 2022 by Thomas, Evehsam, United Kingdom
Under item 2 above - unfortunately not given the choice of 'idiots' My title would be one of the following or perhaps all! 'The Rape of English Prose' or 'The Rape of Jane Austen' or 'Any likeness to P and P is purely coincidental' or 'SORRY BUT WE NEED T
In 3 words -DO NOT GO. Donate your money to the campagne - 'Ban Filth in our Theatres' I Feel sorry for the actors in this 'play'(abomination). They must be so embarassed to have lent their talents. If any of them have any sense they should extricate themselves from this production - using the word production loosely. Hope the producers are ashamed. I hope the director is never let lose on a stage again. The danger of Covid is outweighed by the abuse of the English Language. I go to the theatre as often as I can and in quite a number of countries, never ever, ever have I walked out during the show. I did not return to see the 2nd act - fortunately, I guess, I sat in the middle of the front row of the dress circle with many items to carry - umbrella, hat, gloves, bag etc. I also have walking difficulties; otherwise I would have walked out during the first act!! I am not a prude -by any measure and am quite ok with swearing where it forms a part of the context; however, to hear ladies saying 'fuck off' etc many times and unnecessarily was beyond belief. What a waste not only of money but of my time. By far, the best part of the show was the curved staircase.
Reviewed on 17 January 2022 by Peter, Richmond, United Kingdom
A must!
Wonderful, witty, funny, engaging, insightful and we didn't want it to end! Go and see it!
Reviewed on 08 January 2022 by Laura, Marsh Baldon, Oxford, United Kingdom
Amazing show
Absolutely loved the show. Superb character acting from every one of the cast.Each character they played was very clever, you could believe they were totally different! Also very talented musicians. The night we went the 2nd understudy played Liz, with no rehearsal to save the show from closing with the lead character & understudy both contracting Covid - superb effort! It was almost like a Pantomime, BUT BETTER !!!
Reviewed on 03 January 2022 by Linda, St Austell, United Kingdom
Entertaining
Was very amusing not difficult to understand and follow the story an enjoyable afternoon.
Reviewed on 02 January 2022 by Shirin, Morden, United Kingdom
Convenience shop location
Reviewed on 22 December 2021 by Waiman, London, United Kingdom
Reative
Reviewed on 11 December 2021 by David, Binyamina, Israel
Great fun
Reviewed on 07 December 2021 by Claire, Hatfield Peverel, United Kingdom
Restricted view and quite tight but could see most of the performance
Reviewed on 05 December 2021 by Mercedes, London, United Kingdom
A brilliant night out
What a brilliant show. So funny and such talented actors. I can't imagine anyone not enjoying it
Reviewed on 02 December 2021 by Lynn, London, United Kingdom
Entertaining from start to finish.
What a brilliant show. So slick, clever, INCREDIBLY FUNNY and so much talent. The cast of five women (something of a novelty on the West End) are all very talented not only acting, singing and dancing but playing multiple instruments as well as characters all with total ease and professional slickness. Written and co-directed by a member of the cast, it was a thoroughly enjoyable evening with a few heartfelt and tender moments added for good measure. There is some strong language so may not be for everyone but I will be telling everyone I know about it and hope to come back to see it again.
Reviewed on 02 December 2021 by Catriona, Edinburgh, United Kingdom
Mesmerising
Take a well known classic give it a modern spin add in some singing excellent acting and you have a good night out!!
Reviewed on 29 November 2021 by Lissa, Plymouth, United Kingdom
Fantastic
Hilarious take on the classic Pride and Prejudice. Thoroughly enjoyed it.
Reviewed on 29 November 2021 by Ray, Leicester, United Kingdom
An imaginative laugh at Pride and Prejudice
We were very impressed by the imaginative ability of just 5 actresses each taking over different characters. The stage settings and choreography was superb and in all it was a perfect way to spend a few enjoyable hours
Reviewed on 28 November 2021 by Roslyn, Netanya, Israel
Modern, Hilarious, Anybody would enjoy it
SO HILARIOUS. It takes a bit of concentration to follow for non-native English speakers, so I was translating a bit for my friend, but regardless it was incredibly entertaining. The performers are so talented. Do not miss.
Reviewed on 28 November 2021 by Kavya, London, United Kingdom
Fun twist on the classic tale
Reviewed on 28 November 2021 by Tove, Huddinge, Sweden
Superb! Witty, clever, heartwarming, irreverent, hilarious
Reviewed on 27 November 2021 by Kathy, Dublin 13, Ireland
Funny and Entertaining a must see
Reviewed on 25 November 2021 by Erna, London, United Kingdom
colorful
Reviewed on 23 November 2021 by Chengzhe, London, United Kingdom
Enjoyable
Easy booking.(we only booked the day before). Efficient service. The show was totally unexpected in it's presentation but a joy to watch.It was extremely well done , scenery changes were very quick and added to the overall enjoyment. With such a small cast their energy throughout the play was amazing. All were extremely talented, in both acting and music. It was very amusing and uplifting.
Reviewed on 21 November 2021 by Yvonne, Stanford Le Hope, United Kingdom
Should be seen
Bravo to the amazing actresses in stage for the brilliant performance they gave tonight.
Reviewed on 14 November 2021 by Christophe, Paris, France
Wonderful and witty
A hilariously funny and incredibly witty production that does not disappoint. Talent absolutely oozes from the cast who are supported by an incredible script and throwback soundtrack. Pride and prejudice (sort of) brings the classic alive and into blinding technicolour. It's a sure fire way to fall back in love with Austen and can be appreciated by all.
Reviewed on 13 November 2021 by Lydia, Perranporth, United Kingdom
Bewitched me, body and soul.
Absolutely hilarious ! The script includes all the characters and events of the book. It's so clever and witty, putting an original spin on the Jane Austin classic Thanks to quick costume changes, the five actresses are able to play all the story's main roles. All five are multi talented. Great performances all round. I attended with my partner, and we both know the story well. I think this obviously helped our enjoyment, but I think the show would still be fun without any knowledge of the book I wouldn't normally write reviews, am not a regular theatre goer, but this was so enjoyable i felt I should recommend to others most ardently
Reviewed on 30 October 2021 by Shaun, Mitchelstown, Ireland
Fucking great!
Reviewed on 28 October 2021 by Kirsten, Nijmegen, Netherlands
A must see! All the girls are funny, talented, inspiring, a delightful moment for me and the whole family! Thank you foo the girls!
Reviewed on 28 October 2021 by Stephanie, London, United Kingdom
Hilarious!
Loved the show, hilarious and very cleverly put together, very talented actors! Would recommend.
Reviewed on 27 October 2021 by Lesley, Waltham Abbey, United Kingdom
Entertaining
If you want to spend an afternoon seeing a good show Pride and Prejudice is the perfect choice.
Reviewed on 23 October 2021 by Wendy, London, United Kingdom
The best theatre show I have seen in a long time.
Funny, brilliantly written, outstanding acting. Go see it you won't be disappointed.
Reviewed on 20 October 2021 by Amanda, Witham, United Kingdom
Excellent performance
Reviewed on 16 October 2021 by Tharsika, Br60ea, United Kingdom
So much fun
Reviewed on 16 October 2021 by Paul, London, United Kingdom
Hilarious adaptation to a great novel
It is funny, the actresses are excellent and we really enjoyed the show
Reviewed on 15 October 2021 by Gianluca, Leatherhead, United Kingdom
12

Nov
2021

This Week in the West End: Book of Mormon, The Ocean at the End of the Lane, and more
by London Box Office | Friday, November 12 2021, 17:34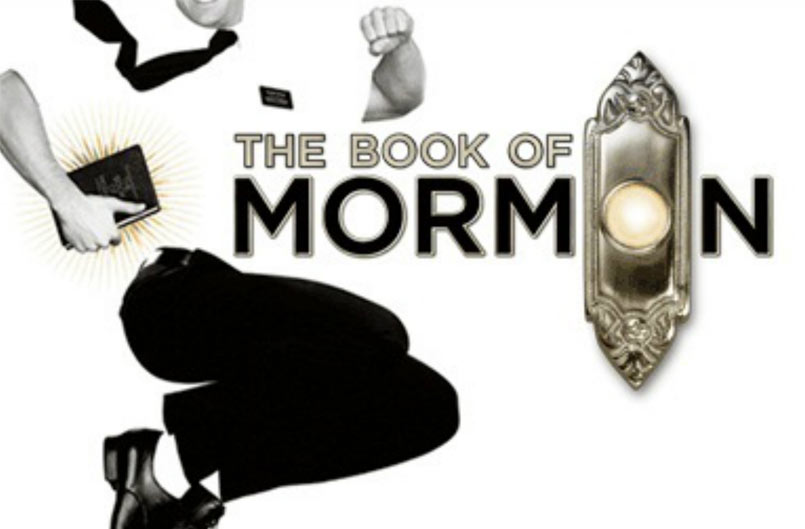 Isn't it great to see the West End opening back up? This week we've seen a flurry of shows extending, Matilda, Mary Poppins and Les Miserables to name just three. We also have exciting new shows opening, a number of extensions, thrilling opening nights, and a couple of hot theatreland rumours we hope will come true. Read on for this week's West End round-up, and come back next week for the reopening of some great comedies.
This Week in the West End: Book of Mormon, The Ocean at the End of the Lane, and more
18

Oct
2021

Fabulous Pride & Prejudice (Sort Of) Cast Images
by London Box Office | Monday, October 18 2021, 21:09
Isobel McArthur's 'unique and audacious' retelling of Jane Austen's classic love story is currently in previews at the Criterion, having wowed the critics and audiences at Glasgow's Tron Theatre. The fight over men, money and microphones has never been so much fun than this irreverent yet truly affectionate adaptation stacked with pop tunes. We think Jane Austen herself would adore this musical – and she'd love these awesome set-up images, too.
Fabulous Pride & Prejudice (Sort Of) Cast Images
08

Sep
2021

Pride and Prejudice (sort of) – 2021 West End dates
by London Box Office | Wednesday, September 8 2021, 13:27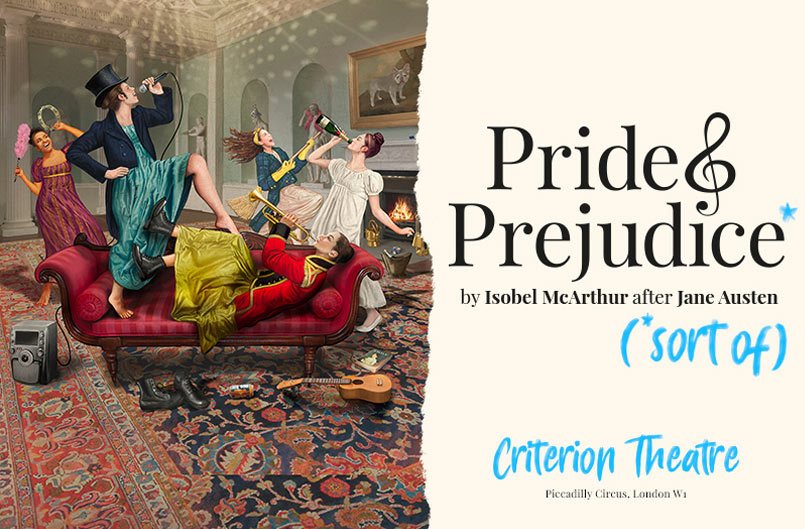 Update for Pride and Prejudice (sort of) at the Criterion Theatre
Described as 'audacious' and 'unique', Isobel McArthur's dazzlingly good play is about to hit the West End. The Olivier and Tony Award-winning producer David Pugh is proud to announce his presentation of the Tron Theatre Glasgow, the Royal Lyceum Theatre Edinburgh, and Blood of the Young's production, Pride & Prejudice* (*sort of). Jane Austen would, we think, be thrilled! The show opens on 2nd November 2021.
Pride and Prejudice (sort of) – 2021 West End dates