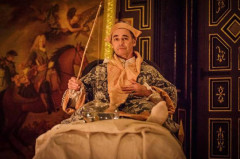 The West End has long been the place to see our greatest actors and Mark Rylance, who'll star in FARINELLI AND THE KING from September 12th at the Duke of York's Theatre, is regarded by many as one of our most talented players.
Theatre goers have loved him for decades, you can be sure that with his name attached you're going to see a very special production but his work recently reached a wider audience when he starred as Oliver Cromwell in the acclaimed TV adaptation of Wolf Hall. It was an extraordinary, understated performance which said so much with stillness and a quiet intensity.
On stage he can be a firework display of exuberance, energy and magnetism. I first noticed him in the early 1990s when he was a memorable Hamlet, one of the best I've ever seen. Roaming around Elsinore in his pyjamas and grappling with his mother, he was both obnoxious whilst absolutely compelling and very sympathetic.
Over the last few years he's given several landmark performances and his work in Jes Butterworth's play Jerusalem in London and New York has become the stuff of legend. He played an itinerant, drunken amateur philosopher, irresistible to the inhabitants of a country village where he lived in a caravan. He seemed to embody the spirit of rural England, a figure with his roots in the mystic origins of our national identity. He had some barnstorming speeches to deliver which were blistering in their intensity, rage and insight. It became almost impossible to get a ticket.
He dazzled again delivering the huge comic monologue that opens La Bête, a play about the vulgar, which he perfectly embodied as a crude visiting showman, versus high art, in the court of a French King.
Another recent triumph was an amazing season in which he alternated the female role of the grieving, demure Olivia in Shakespeare's Twelfth Night with playing the cunning psychopathic King Richard III, a role in which he oozed charming menace.
Before this project took the West End and Broadway by storm it originated at Shakespeare's Globe Theatre, an exact replica of an Elizabethan Playhouse on the South Bank of the Thames. He was the venue's first artistic director, leading the company through opening seasons which managed to be quirky and daring whilst also teaching us so much about the bard's work by presenting it in productions that were as close as possible to how they were first presented.
He is quite simply a magnificent actor, combing wit, intelligence, charisma and something indefinable that's always slightly disconcerting whilst being utterly compelling.
Don't miss him in this latest triumph.