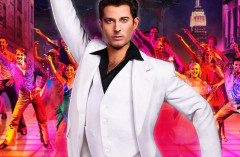 Update for Saturday Night Fever at the Peacock Theatre
Have you seen the movie? Maybe you fell in love with the original stage version by Bill Kenwright? Now it's back on stage for 2022 and as you can imagine, disco divas of both sexes from all over the nation are digging out their glad-rags in preparation. The music alone is enough to get you dancing in your seat and the cool plot completes a stunningly good musical picture. We're so glad it's back, and it's on stage from 1st February to 26th March 2022.
Who's involved in Saturday Night fever?
Saturday Night Fever weaves the tale of disco freak Tony Manero and his reckless journey to success. It's packed with gorgeous Bee Gees hits from the movie. The '70s classic Paramount/RSO film was itself inspired by a 1976 New York Magazine Article called 'Tribal Rites of the New Saturday Night' by Nik Cohn, and the movie album remains the best-selling movie soundtrack of all time. Here's who's in the frame this time.
Directed and produced by Bill Kenwright
Choreography by Olivier Award-winning Bill Deamer
Design by Gary McCann
Lighting by Nick Richings
Sound by Dan Samson
Stage adaptation is by Robert Stigwood in collaboration with Bill Oakes
The cast for this epic classic musical will be announced soon, and we'll reveal all here
Buy Saturday Night Fever Tickets
Book your Saturday Night Fever tickets online with us and choose the best seats in the house thanks to our handy Peacock Theatre seating plan. We'll send E-tickets to your email address – simply present them at the door on the day to enjoy the most magical adult musical in town.
About the Peacock Theatre
The Peacock Theatre seats 999 people. It forms part of the campus for the London School of Economics and Political Science, which uses the venue for lectures, talks, conferences, speeches and presentations. And, weirdly, it's rumoured to be haunted by... a dolphin. We kid you not. Past shows at the Peacock Theatre include masterpieces by the Sadlers Wells dance company, which part-owns the venue and uses it for evening productions.