Quick Facts
Largest Ticket Inventory
in the West End
Real time
seat availability
Choose
your seats
Your booking is processed directly into the box office reservation system
This show is now closed.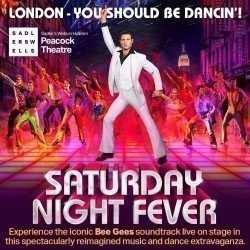 Saturday Night Fever
Tickets
4.7/5
-

based on

24

reviews
Information
Cheap Tickets
Reviews
News
About Saturday Night Fever
Performance Times
Saturday Night Fever description
Experience the bestselling Bee Gees soundtrack live on stage in this spectacularly reimagined music and dance extravaganza.
Get on your dancing shoes as Saturday Night Fever returns to London's West End for eight weeks only. Follow the story of Tony Manero as he embarks on a reckless yet thrilling road to dancing success.
It's a homage to the 1977 John Travolta classic with more drama, more music, and hot new choreography which is sure to have you dancing in the aisles.
Featuring songs from the bestselling movie soundtrack of all time, including the Bee Gees' Stayin' Alive, How Deep Is Your Love, Night Fever, Tragedy and More Than a Woman, as well as 70s favourites Boogie Shoes, Disco Inferno and many more.
Saturday Night Fever cheap tickets
We have a great selection of cheap Saturday Night Fever tickets. We can help you save up to 70% on Saturday Night Fever tickets! If you're looking for discount theatre tickets have a look below for our latest offers for Saturday Night Fever at the Peacock Theatre.
There are no special offers available at the moment but we still have great ticket prices for Saturday Night Fever at the Peacock Theatre.
Saturday Night Fever reviews
4.7 out of 5
based on

24

reviews
What to expect:
Acting
Music
Costumes
Story
Lighting
Recommended for:
Anyone (67%)
Families (67%)
Teenagers (83%)
Couples (96%)
Theatregoers (96%)
Latest customer reviews

Fantastic singing and dancing, a really good feel-good show!
Thoroughly enjoyed this show, tickets were excellent value for money, great view of the stage from our stalls seats.
Reviewed on 28 March 2022 by Lorraine, Chislehurst, United Kingdom

Fab
Seats really good and it was brilliant
Reviewed on 26 March 2022 by Charlotte, London, United Kingdom

Back to my youth !
Reviewed on 24 March 2022 by Claudine, Argenteau, Belgium

Indifferent
We liked the music , singing and dancing . Didn't appreciate all the swearing in the script. Not keen on acting . We were in the 2nd row in the dress circle in the middle. Seating very restricted. People all sides and front and back very annoying . Had a drink spilt over me. People talking all the time . Crackly plastic bottles, and people standing up in front of us in the front row. Apart from this a good evening !!!
Reviewed on 23 March 2022 by Greta, Telford, United Kingdom

Invigorating
Reviewed on 19 March 2022 by Leigh, Chesterfield, United Kingdom

Uplifting
Fabulous show lovely to have live music again lifts the spirits!
Reviewed on 17 March 2022 by John, Huddersfield, United Kingdom

Worth the money
Reviewed on 12 March 2022 by Mohammed, Jeddah, Saudi Arabia

Great music and real feel good factor
Great music and real feel good factor. Had a great night and whole theatre gave a long, standing and bopping ovation!
Reviewed on 06 March 2022 by David, Braaid, Isle Of Man

Wonderful and uplifting
Reviewed on 26 February 2022 by Carolyn, Nottingham, United Kingdom

Reviewed on 24 February 2022 by Lesley, Upminster, United Kingdom

I had a wonderful time. Highly reccommend it!
Reviewed on 15 February 2022 by Carla, Sao Paulo, Brazil

Loved the show
Absolutely loved the show. Great music and dancing, fantastic performance.
Reviewed on 12 February 2022 by Susan, Coventry, United Kingdom

Well staged
The guys playing the Bee Gees were very good and got the biggest cheer of the night. We loved the actor who played the DJ as he was a terrific dancer. The stage set was interesting, vibrant and worked really well.
Reviewed on 10 February 2022 by Janine, Westminster, United Kingdom

Just amazing
Brilliant! Cast was spot on ! Very entertaining! & the dancing & storyline was just superb !
Reviewed on 09 February 2022 by Leslie, Essex, United Kingdom

Terrific entertainment
Great show with all round great performances. The whole audience responded well and the cast received a well earned ovation at the end. Great view even at the back of the upper circle. Well done on a polished production. A must see for anyone wanting to see a show
Reviewed on 07 February 2022 by Michael, Branston, United Kingdom

Dynamic
Reviewed on 06 February 2022 by Jerome, Sutton, United Kingdom

Absutely brilliant
Exactly like the film. Fabulous, loved it
Reviewed on 06 February 2022 by Marion, Hatfield, United Kingdom

Music fabulous
Reviewed on 04 February 2022 by Carole, Gateshead, United Kingdom
03

Oct
2021

The disco classic Saturday Night Fever is back for 2022!
by London Box Office | Sunday, October 3 2021, 15:44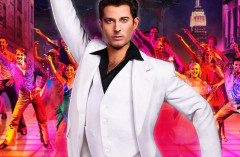 Update for Saturday Night Fever at the Peacock Theatre
Have you seen the movie? Maybe you fell in love with the original stage version by Bill Kenwright? Now it's back on stage for 2022 and as you can imagine, disco divas of both sexes from all over the nation are digging out their glad-rags in preparation. The music alone is enough to get you dancing in your seat and the cool plot completes a stunningly good musical picture. We're so glad it's back, and it's on stage from 1st February to 26th March 2022.
The disco classic Saturday Night Fever is back for 2022!