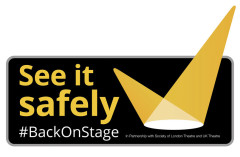 An initiative has just been announced which aims to reassure audiences that theatres are Covid-secure spaces.
It's a good idea too because if you're like me you'll be utterly confused about what the government regards as safe and will allow and what's frowned upon.
In recent weeks quite a few London theatres have announced shows that will open with social distancing in place, including major theatre owners, Nimax who are preparing to reopen all their West End venues and are claiming that sales indicate strong demand.
In response the Society of London Theatre and UK Theatre have launched The See It Safely campaign.
Basically their team will check out that a venue's complying with Covid regulations and if it's up to scratch the management will be allowed to display a logo to reassure potential audiences that they can safely attend.
Although presumably the theatre in question will already have had to convince local government officials of their compliance or they wouldn't be open at all.
But helpfully, above and beyond council regulations, additional See it Safely approval will reassure audiences that a theatre will, in the event of cancellation, be willing to offer a credit voucher or refund. If an audience member felt unwell, they would be able to exchange their ticket at least 24 hours prior to the performance for a later date.
The problem is that only a few weeks ago we were assured that it was safe to go to restaurants by another campaign with snappy title, Eat out to Help Out. We were even offered a 10% discount. Yesterday on Sky News the chancellor Rishi Sunak was forced to defend the scheme from suggestions it could have actually contributed to the increase in the spread of corona virus.
I hope it works and plenty of us are persuaded to take our seats again but things are moving so fast I'm not sure anyone can decree what is and isn't safe with any certainty.