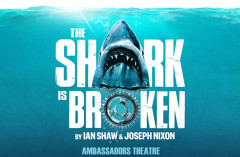 There's just a month left to go before the critically acclaimed The Shark is Broken finishes its extended run at the Ambassadors Theatre. The production made waves from the start, in October 2021, and the fun ends on 13th February 2022. If you're looking for a funny production based on real life with a touching side, this one's for you. The year is 1974. The location is Martha's Vineyard. And the stars of the show are drunk. What's the worst that can happen?
Who's involved in The Shark Is Broken?
One of the most popular thrillers of the 20th century, Jaws horrified millions of movie lovers. Almost fifty years later, Jaws still terrifies audiences. But there's a funny side to the story behind the film, and that's what this 'brilliantly funny and deeply moving' production reveals. The three stars' boat is awash in foul weather, the model of the shark is broken, and the mood is becoming increasingly dark.
Co-written by Robert Shaw's son Ian Shaw and Joseph Nixon
Directed by Guy Masterson
Ian Shaw plays his father Robert Shaw
Liam Murray Scott plays Richard Dreyfuss
Demetri Goritsas plays Roy Scheider.
Set and costume by Duncan Henderson
Lighting from Jon Clark
Sound and music from Adam Cork
Video is by Nina Dunn
Casting is by Julia Horan CDG
Hair, Wigs and Make-up is by Carole Hancock
Associate Direction by Martha Geelan
The Costume Associate is Deborah Andrews
The Associate Lighting Designer is Simisola Majekodunmi
The Fight Director is Yarit Dor
Sonia Friedman Productions, Scott Landis, GFour Productions, Larry Magid, Tulchin Bartner Productions, in association with Jane Bergère
Buy The Shark Is Broken Tickets
Book your The Shark Is Broken tickets online with us and choose the best seats with our handy Ambassadors Theatre seating plan. We'll send E-tickets to your email address – simply present them at the door on the day of the performance.
About the Ambassadors Theatre
Five minutes from Covent Garden, the Ambassadors Theatre is known and loved for its appetite for limited runs and short-term transfers. This means there's a constant fast turnaround of exciting productions to enjoy. Past shows at the Ambassadors Theatre include Whipping It Up, Love Song, Little Shop Of Horrors, Sweeney Todd, and Waiting For Godot.