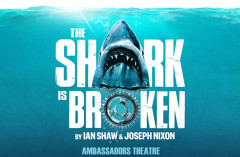 It is hilariously funny. But this play is also touching, a moving story created by the 'Jaws' star Robert Shaw's son Ian Shaw, along with Joseph Nixon. This is a commemoration of the characters involved in the killer shark-inspired smash hit horror film that changed the world as we know it. And we have some great production images to inspire you, fresh from this week's press performances.
Who's involved in The Shark is Broken?
"Martha's Vineyard, 1974: shooting on 'Jaws' has stalled. The film's lead actors – Robert Shaw, Roy Schneider and Richard Dreyfuss – are stuck on a boat, at the mercy of foul weather and a faulty mechanical co-star. Awash with alcohol and ambition, three hammered sharks start to bare their teeth…" Check the production images out below.
Co-written by the Jaws actor Robert Shaw's son Ian, who also plays his own father, and Joseph Nixon
Liam Murray Scott plays Richard Dreyfus and Demetri Goritsas plays Roy Schneider
Directed by Guy Masterton, with a set and costumes by Duncan Henderson
Lighting by Jon Clark, sound and music by Adam Cork
The Associate Lighting Designer is Simisola Majekodunmi
Video by Nina Dunn
Casting by Julia Horan CDG
The Costume Associate is Deborah Andrews
Hair, Wigs and Makeup by Carole Hancock
Associate Direction is from Martha Geelan
Buy The Shark is Broken Tickets
Book The Shark is Broken tickets online with us and enjoy your favourite seats thanks to our Ambassadors Theatre seating plan. We'll send handy E-tickets to your email address – simply present them at the door on the day of the performance and prepare to laugh out loud.
About the Ambassadors Theatre
The Ambassadors Theatre is home to some of the best-loved theatrical and big screen names in show business. Over the years they've hosted shows starring Ivor Novello, Paul Robeson and Vivien Leigh. Past shows at the Ambassadors Theatre include the West End's longest running play Agatha Christie's The Mousetrap, on stage there for an impressive 21 years without a break, and was also home to Stomp and Little Shop of Horrors.