West Street, London, WC2H 9NZ GB
Quick Facts
Largest Ticket Inventory
in the West End
Real time
seat availability
Choose
your seats
Your booking is processed directly into the box office reservation system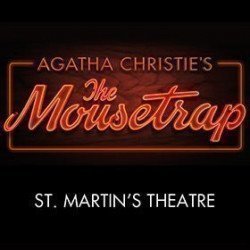 Mousetrap
Tickets
4.5/5
-

based on

872

reviews
Opens: Tuesday, 6 July 2021
Booking until: Tuesday, 28 December 2021
Running time: 2 hours 20 minutes
Tickets from £23.50
Book tickets
About Mousetrap
Age restrictions
Recommended for ages 12 and over.
Important Information
We recommend patrons arrive at least 15 minutes in advance of the show start time. 
Please note that the theatre are no longer accepting bags into the theatre cloakrooms.
St Martins Theatre will continue to carry out bag searches and accept there may be some delays to patrons, please be aware that your bags will need to be checked before being seated.
Performance Times
Opens: Tuesday, 6 July 2021
Booking until: Tuesday, 28 December 2021
Running time: 2 hours 20 minutes
Mousetrap description
The Mousetrap, a classic tale of mystery, drama and crime
It's a murder mystery that's been thrilling theatre audiences for sixty years or so and it's as popular as ever. More than ten million of us have thrilled to Agatha Christie's classic tale since it opened in the late '50s and it's just as gripping as ever. Expect a perfect balance between poignant moments and comic relief, with totally convincing stage sets.
The Mousetrap – The story
It's winter. Five guests turn up at a rural hotel and are soon completely snowed in. A policeman turns up to warn the guests there's a murderer on the run in the area. The guests are investigated one by one and a trap is eventually laid to reveal the murderer.
The Mousetrap – Delighting audiences on stage since 1957
The best thing about The Mousetrap is the fact that nobody who has seen the show reveals the killer – an amazing feat after almost sixty years on stage - so unless you see it yourself, you'll never find out!
This superb vintage whodunnit comes from the pen of world famous mystery writer Agatha Christie and it's jam packed with thrills and spills. It's a musical that consciously avoids big name actors to keep the show fresh, and one cast member managed to notch up more than 4,500 performances.
The recorded voice of Deryck Guyler, the show's radio bulletin announcer, is the same voice that graced the first ever showing. Despite the story's age and fame, you'll have a fantastic time trying to unravel the plot as the suspense holds the audience in a tight grasp from start to finish. The mysterious hotel is portrayed vividly on stage and is guaranteed to have you sitting on the edge of your seat as the intrigue unfolds.
Entertaining ten million theatre goers so far…and counting!
Agatha Christie never imagined The Mousetrap would last so long on the stage. She predicted it would be over in eight months. It's strange to realise that Winston Churchill was Prime Minister when the show first took to the stage, and today it's the longest-running show in British theatre, a classic that just keeps on giving. Oddly enough, the show never migrated to the silver screen and there's no Mousetrap the movie. Why? The producers are determined to preserve the mystery and keep the story exclusively for theatre audiences.
The Mousetrap theatre tickets
We are delighted to provide excellent seat and ticket availability and we have a wide range of seat options, including premium and full price tickets as well as discount The Moustrap tickets, covering the full range of prices to meet every budget.
Mousetrap reviews
4.5 out of 5
based on

872

reviews
What to expect:
Acting
Music
Costumes
Story
Lighting
Recommended for:
Anyone (69%)
Families (75%)
Teenagers (73%)
Couples (84%)
Theatregoers (91%)
Latest customer reviews

Intriguing
Thoroughly enjoyable
Reviewed on 13 March 2020 by John, Sheffield, United Kingdom

Would recommend this show for anyone
Reviewed on 05 March 2020 by Andrew, Colchester, United Kingdom

And the butler didn't do it!
I'd been meaning to see this show for decades, and finally got round to it. It had everything you'd expect from an Agatha Christie whodunit. Thoroughly enjoyed it! Superb acting.
Reviewed on 27 February 2020 by María Jesús, Perillo-oleiros, Spain

superb
Reviewed on 17 February 2020 by Reg, London, United Kingdom

Amusing
Reviewed on 04 February 2020 by Charles, North Point, Hong Kong

A West End classic
Reviewed on 30 January 2020 by Scott, San Antonio, United States Of America

A good night out
Very enjoyable except for the seats
Reviewed on 19 January 2020 by Mark, London, United Kingdom

Enjoyable
Reviewed on 15 January 2020 by Stephen, London, United Kingdom

Reviewed on 15 January 2020 by Pierre, Laval, Canada

great!
Reviewed on 08 January 2020 by Daniel, Charlottesville, United States Of America

a must see
A nostalgic and naive excitement you can only get while watching The Mousetrap in London.
Reviewed on 04 January 2020 by Sophie, Tbilisi, Georgia

10/10
Reviewed on 04 January 2020 by Joe, Hoddesdon, United Kingdom

very good classic Agatha Christie story
Reviewed on 25 December 2019 by Susana, Wimbledon, United Kingdom

Very good show
Good cast and stage props.
Reviewed on 20 December 2019 by Geoffrey, Birmingham, United Kingdom

Ticked the Mousetrap box
Well after many years of seeing how long this show had been running for I finally got to see it, mostly due to the fact my teenage daughter has found Agatha Christie. It was OK. Not her strongest work. Not the most ingenious storyline. Just OK. Pleasant theatre, felt close to the stage and actors. Box ticked. But once is enough.
Reviewed on 17 December 2019 by Anthony, Goudhurst, United Kingdom

Great show, great writer, must be seen
Reviewed on 16 December 2019 by Jon, Ramsgate, United Kingdom

Deliciously British ! A topmust
Reviewed on 14 December 2019 by Lydia, Vatierville, France

Great
Reviewed on 12 December 2019 by Maria Agustina, London, United Kingdom

Such professional actors!
Very professional cast, great story! Kept guessing!
Reviewed on 03 December 2019 by Andreas, Rabat, Malta

A London Icon
Excellent theatre play with superb acting. Easy yet fascinating storyline, accessible for most people. Super theatre in the heart of London. Best theatre evening I've ever had.
Reviewed on 03 December 2019 by Neil, Gieres, France

Great show!
Great show, saw it 3 times so far and will probably go again at some point :)
Reviewed on 01 December 2019 by Amelia, St Albans, United Kingdom

At last I know who did it. I was so wrong.
Negatives: small, quite hard seats. Steps in Upper Circle very steep and quite hard to climb for even the slightly infirm. Accoustics not great up there and actors really had to project their voices with subsequent lack of diction. But great show, wonderful old theatre.0
Reviewed on 30 November 2019 by Andrew, Ingatestone, United Kingdom

Great show
Reviewed on 24 November 2019 by Loris, Surrey, United Kingdom

Excellent show
Excellent plot, full of suspense.
Reviewed on 23 November 2019 by Eileen, Mallow, Ireland

60 years, yet so timeless!
I loved the show! The suspense, the laughter, the story line, from the moment it starts, right to the end, I was hooked. So was my 15 year old daughter. We spent a very special time together and talked about the play on our way home a lot. The plot is very clever, touching and surprising! A mystery that makes you think about society.
Reviewed on 20 November 2019 by Britta, Worcester Park, United Kingdom

At times it was difficult/not possible to hear what was being said because they used their quite voice and were not facing the audience
Reviewed on 14 November 2019 by Roger, Calgary, Canada

Fantastic but cant tell you :)
Reviewed on 07 November 2019 by Daniel, Stirling, Australia

Lovely performance!
My partner and I enjoyed the show. It was one that we had meaning to come and see for years and we were not disappointed. Seats in the dress circle not too bad but not a lot of legroom. On the whole though a great afternoon.
Reviewed on 06 November 2019 by Lynne, Rochester, United Kingdom

Excellent plot
Reviewed on 29 October 2019 by Laurent, Marbella, Spain

Nice West End experience
Reviewed on 26 October 2019 by Jose Luis, Madrid, Spain

Fabulous
Reviewed on 10 October 2019 by Susan, Krambach, Australia

Worth the wait - really looked forward to it and no disappointment at all. Cast, atmosphere and plot - great!
Reviewed on 03 October 2019 by Rishendran, Bridgeman Downs, Australia

Classic piece in classic setting
The Mousetrap is performed in a lovely and quaint little theatre, the show a must-see for all fans of theatre history and whodunits.
Reviewed on 30 September 2019 by Dap, Hilversum, Netherlands

First time London theatregoers
Reviewed on 15 September 2019 by Leanda, Coffs Harbour, Australia

It was like TV. Very good
Even for not native speakers understandable. I needed a few minutes to come into the language but after that i could follow the story very well. It was a pleasure to see The Mousetrap.
Reviewed on 12 September 2019 by Constanze, Hohberg, Germany

A classic who done it?
Great show, a good combination of suspense, humour and the classic who done it. Can understand why it's been a success for 67 years.
Reviewed on 09 September 2019 by Kay, Saltash, United Kingdom

Agatha at her best. Great play with great cast.
Reviewed on 04 September 2019 by Tia, North Lambton, Australia

Such a mystery!!
Really intriguing plot and truly well performed for the price!
Reviewed on 30 August 2019 by Margaux, Torino, Italy

Could be better
Reviewed on 19 August 2019 by Anthony, Liverpool, United Kingdom

Thought provoking
I had seen Mouse many years ago and couldn't remember who did it, the show was as good as ever the sets and costumes were spot on and looked new and suited the ears the play was set in. Thoroughly enjoyed the show again and now I know who did it
Reviewed on 14 August 2019 by Warren, Stockton, Australia

Excelente
Very good and interesting play
Reviewed on 10 August 2019 by Roberto, Mexico City, United Kingdom

Thoroughly enjoyable evening out!
The whole experience was delightful from start to finish. The acting/actors were supberb, as were the set, lighting and music. I just loved it from start to finish. Besides, how can you not want to see the worlds longest running play!
Reviewed on 04 August 2019 by Theresa, Dundalk, Ireland

A must see!
This is a classic show and should be seen before (heaven forbid) it is replaced for something else! - Theatre is amazing, - like stepping back in time. Beautifully maintained with old fashioned boxes for the gentry, lavish colours and fantastic woodwork. Obviously looked after with a passion. Give it a whirl. You will not be dissapointed!
Reviewed on 15 July 2019 by David, Padeswood, Mold, United Kingdom

Brilliant from start to finish
everything about this play was brilliant! The acting was phenominal. Bravo cast! Loved it.
Reviewed on 08 July 2019 by L, Longjumeau, France

Brilliant Agatha
I waited a long time to see this play and l wasn't disappointed. It was a well acted, typical Christie thriller. Fascinating to the end. Thank you.
Reviewed on 02 July 2019 by Patricia, Peebleshire, United Kingdom

Traditional
Reviewed on 23 June 2019 by Anthony, Liverpool, United Kingdom

Keeps you guessing
Reviewed on 12 June 2019 by Tahia, E Brunswick, United States Of America

Still going after all these years.
My second visit in 45 years. Thought it was great the second time too!
Reviewed on 04 June 2019 by Kyle, Clayfield, Australia

Tremendous show . Will have to recommend to anyone living here or passing through. Delightful time.
Reviewed on 30 May 2019 by Yuriy, Brooklyn, United States Of America

A must see.
Reviewed on 17 May 2019 by Belinda, Shrewsbury, United Kingdom

I felt like I was transported back in time and it was so amazing being able to see one of Agatha Christie's books come to life better than that TV show!!
Reviewed on 17 May 2019 by Eva, Salem, United States Of America

Great who done it
Kept us guessing right to the end Well acted.
Reviewed on 12 May 2019 by Lesley, Woodford Green, United Kingdom

A very active play.
Reviewed on 02 May 2019 by Sylvie, Saint-viance, France

All time classic 'who dunnit?'
Reviewed on 30 April 2019 by Pamela, Perth, United Kingdom

Mysterious
Entertainment, intriguing, keeps you focused to follow the play
Reviewed on 19 April 2019 by Claire, Worcester, United Kingdom

Nice play
the begining was slow. then second half is more dynamic
Reviewed on 16 April 2019 by Nadine, Vincenes, France

Perfect
Reviewed on 06 April 2019 by Deborah, Truro, United Kingdom

A true Agatha Christie experience.
As a long standing fan of Agatha Christie I booked tickets for my birthday to watch the Mousetrap with my son Chris. We both through my enjoyed the play and would recommend it to everyone.
Reviewed on 04 April 2019 by Jan, Pontyclun, United Kingdom

Intriguing evening
Reviewed on 31 March 2019 by Alan, Bedlington, United Kingdom

Enjoyable show
Good show, easy to watch, good acting.
Reviewed on 30 March 2019 by Ann, Kettering, United Kingdom

Timeles
You just have go see it!!! And remember not to break the secret!!
Reviewed on 24 March 2019 by Lisa, Peacehaven, United Kingdom

Enjoyed the show very much
Reviewed on 24 March 2019 by Paula, Toronto, Canada

Pure escapism
A good old fashioned who done it. Very entertaining and enjoyable. Kept me guessing to the end.
Reviewed on 15 March 2019 by Melissa, Wirral, United Kingdom

Gripping
Disapppointed to find theatre doors do not open for pre theatre drinks. Significant numbers of visitorsto the show in then crowded coffee shop opposite on a rainy cold night. The theatre was very atmospheric. The show was brilliant. Even if you thought you had worked out who did it the villain was a complete surprise. Would recommend it to anyone.
Reviewed on 12 March 2019 by Elfriede Anne, Rotherham, United Kingdom

Reviewed on 08 March 2019 by Patrick, Dublin 5, Ireland

A classic Agatha Christie!
Would definiely recommend for any Agatha Christie fan. Very enjoyable and a classic twist ending!
Reviewed on 02 March 2019 by Hannah, Astley, United Kingdom

I now understand why the show has been running for 67 years!!!
Reviewed on 23 February 2019 by Jean Francois, London, United Kingdom

Iconic play
Brilliant plot kept me guessing from beginning to end as to who dunnit. If you like loud fast moving theatre then this is not for you. Takes you back to a different era, the actors were all so professional and polished. It's what I expected but enjoyed it far more than I thought I would. I had not looked up any information about the show and was glad l hadn't, it made the story far more exciting.
Reviewed on 18 February 2019 by Sarah, Bedford, United Kingdom

Very clever!
Reviewed on 17 February 2019 by Emily, Croydon, United Kingdom

Well done. Entertaining. Good twists
Reviewed on 14 February 2019 by Richard, Esher, United Kingdom

a play with Agatha Christie's signature
Reviewed on 14 February 2019 by Romain, Besançon, France

Entertaining well worth seeing more than once even though you would know who did it
Everyone should see this at least once the cast were absolutely well cast and fabulous .saw this also in Australia this was better.
Reviewed on 12 February 2019 by Patricia, Huntingdon Cambs, United Kingdom

Must see
Good story , acting was brilliant. The only downside was our seats as they were close to the door that led down to the street. As we were there in February it was freezing cold. We all had to sit with our coats on through the whole performance
Reviewed on 12 February 2019 by Michelle, Kent, United Kingdom

Lovely family show for all taste
An easy watch, very entertaining, great story with drama and humour, professional actors.
Reviewed on 10 February 2019 by Suzanne, Middlesex, United Kingdom

67 years means that must be doing something right ...
... and they were. Great cast, set and atmosphere. We loved every minute of it! Brilliant stuff!!!
Reviewed on 03 February 2019 by Rohan, Cambridge, United Kingdom

Amazing. Go see this show!
Great show. Really recommend seeing this play! Great 'bang for your buck'. Couldn't fault it. We sat in the upper circle, floors were a bit uneven and the seats were a bit hard, just take a scarf to sit on. But it didn't take away from the performance at all. Perfect view and could hear everything perfectly.
Reviewed on 31 January 2019 by Rebecca, Islington, United Kingdom

Excellent in all respects, a privilege to watch.
Reviewed on 28 January 2019 by Jeff, Amsterdam, Netherlands

Great show
Great show. Loved the atmosphere and the superb acting.
Reviewed on 25 January 2019 by Lisa, Horsham, United Kingdom

Fabulous...a must see!
Keeps you guessing until the very end. Perfect!!
Reviewed on 24 January 2019 by Susan, Frodsham, United Kingdom

A must see classic!
Avid theater goers cannot miss timeless classic. Become a member of the exclusive club of those who know whodunnit....and keep the secret!
Reviewed on 23 January 2019 by Kjeld Joergen, Sandefjord, Norway

Captivating
Very lively and energetic play Well worth seeing
Reviewed on 21 January 2019 by Theresa, Canterbury, United Kingdom

Reviewed on 20 January 2019 by Lee, Torquay, United Kingdom

A perfect whodunnit
Reviewed on 19 January 2019 by Elise, London, United Kingdom

I thoroughly enjoyed this show. The cast were amazing .....
Reviewed on 08 January 2019 by Irene, Newry, United Kingdom

Great fun!
We loved it! Completely classic.
Reviewed on 07 January 2019 by Susanna, London, United Kingdom

Interesting
Reviewed on 06 January 2019 by Christian, Lephalale, South Africa

a must see!
thoroughly enjoyed it
Reviewed on 06 January 2019 by Victoria, Brentford, United Kingdom

Reviewed on 05 January 2019 by Karolina, Boston, United Kingdom

Brilliant
Reviewed on 03 January 2019 by Annette, Derby, United Kingdom

Very static...needs to be modern customs should changed at least once!! Good performance tho ...
Reviewed on 02 January 2019 by Abigail, Coventry, United Kingdom

Brilliant
It's a fabulous "who done it"
Reviewed on 30 December 2018 by Bobbie, London, United Kingdom

It's an absolute classic
Great to see Agatha Christie on the stage, rather than over dramatic films or TV. Upper Circle is quite high but everything is clear and we had good visuals and audio from very back row. Seats aren't that comfy but, to be honest, you're so gripped and concentrated that the time flies by. My kids are 17,14 and 13 and loved the experience.
Reviewed on 28 December 2018 by Andrea, Dorking, United Kingdom

Never fails to please
The show, which we've seen 4 times, is wonderful. The acting superb. The only negative I have is it is way too hot in the theatre. It was uncomfortable
Reviewed on 22 December 2018 by Anita, Dagenham, United Kingdom

Great Show
Great show , intriguing , very good cast
Reviewed on 10 December 2018 by Dean, Essex, United Kingdom

A must see
Reviewed on 03 December 2018 by Jeannette, Foxrock, Ireland

Such a treat!
Reviewed on 01 December 2018 by Kathleen, Langley, Canada

Still going strong
Brilliant show. Air conditioning was very cold blowing straight on our seats very back dress circle. Didn't effect many just unlucky choice of seats
Reviewed on 01 December 2018 by Sheila, Trowbridge, United Kingdom

Classic Agatha Christie
Although lovely the theatre was too hot and so it uncomfortable to sit through the performance. Excellently acted but there wasn't a great sense of suspense or surprise. Mildly disappointed with the experience.
Reviewed on 30 November 2018 by Lindy, Aberystwyth, United Kingdom

Theatre trip
Reviewed on 29 November 2018 by Janet, Canvey Island, United Kingdom

.
Reviewed on 16 November 2018 by Sabine, Assen, Netherlands
09

Apr
2021

The Mousetrap takes the West End out of lockdown
by London Box Office | Friday, April 9 2021, 10:06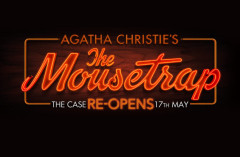 This is the world's longest-running play, and it feels entirely appropriate for Agatha Christie's classic thriller to return and lead the West End's way out of the darkness of lockdown into the light of a new world. The show resumes on 17th May, following the government road map's Stage 3 guidelines, including two entirely separate casts stuffed with dazzling TV stars, iconic movie stars and brilliant Olivier winners. The fun kicks off at the St. Martin's Theatre – see you there!
The Mousetrap takes the West End out of lockdown
01

Oct
2020

The Reopening of The Mousetrap in the West End has been postponed
by Phil Willmott | Thursday, October 1 2020, 08:58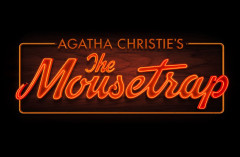 Adam Spiegel has proved himself to be one of the canniest producers in the West End with a string of hit shows which, whilst not always intellectually engaging, have, none the less, kept theatre's full for decades. I've worked for him in a number of capacities across several projects.
The Reopening of The Mousetrap in the West End has been postponed
21

Jul
2020

Book for an Ingenious 67 Year Old Thriller That's Still Full of Surprises
by Phil Willmott | Tuesday, July 21 2020, 17:07
I'm referring to THE MOUSETRAP, of course, which, if its run hadn't been interrupted by the West End's Covid shut-down, would have celebrated its 30,000th consecutive performance in 2024.
Book for an Ingenious 67 Year Old Thriller That's Still Full of Surprises