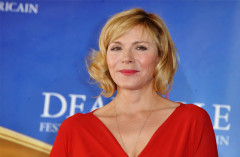 One of the star's of the hit US TV and film franchise SEX IN THE CITY has withdrawn from the Royal Court Theatre's imminent production of new play, Linda.
Apparently this is "on the advice of her doctors". I doubt we'll ever know the full details and why should we? actors are entitled to their privacy but I must say I don't regard this news with my usual scepticism.
Stars often sign up for theatre projects during quiet moments in their screen careers only to find stage acting is not as easy and is much more arduous then they imagine. In such instances they often cite health rather than admit they just can't hack it or that something more lucrative has come up. I bet Bruce Willis wishes he could have withdrawn from the current Broadway production of MISERY in which he's apparently so bad at remembering the lines that he has them fed to him via an ear piece.
I doubt there's any thing misleading about Kim Cattrall's reported health problems though. She's proved herself to be a highly accomplished stage actress over and over again in a series of tough roles in Britain and North America.
She was a wonderful Cleopatra at Liverpool Playhouse and Chichester Theatre - a massive Shakespeare role and a friend who worked with her when she took the role of Amanda in Noel Coward's Private Lives tells me that she's a hard working, utterly dedicated stage actor. For such a glamorous actress she even took the brave step of appearing on the West End stage with no make up a few years ago when she played a terminally ill woman for Peter Hall's company.
Let's all wish her a speedy recovery and hope that she's back on stage in London very soon.
Meanwhile back at the Royal Court the title role in Linda, by Penelope Skinner has been recast and Olivier Award winner Noma Dumezweni has stepped in, joining rehearsals from today (Friday). Performances will begin on 26th November.
Commenting on her withdrawal Cattrall stated: "With great sadness and at the advice of my doctors, I will not be able to continue with the Royal Courts production of Linda. I appreciate all the support I have received from the theatre and cannot thank them enough for allowing me to put my health first."
Royal Court Theatre Artistic Director Vicky Featherstone said: "We are all deeply sorry that Kim is unable to continue with the production and she has our warmest wishes. We are extremely grateful and also thrilled that Noma Dumezweni, one of our most brilliant actors, has agreed to take on this challenge at such short notice. We are delighted that in spite of these difficulties Penelope Skinner's important play can open to our audiences with minimal disruption."