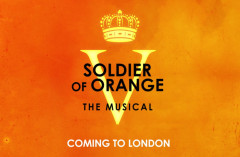 Of course we must be positive about any audacious theatrical enterprise but whilst I wish the Dutch producers of musical, SOLDIER OF ORANGE, every success with it in London, the way in which they're exporting it after 9 years of success in Holland suggests they've little understanding of the market here.
They're building a 1,500 seat theatre on a desolate site in one of the poorest boroughs of London in anticipation of it running for 5 years.
It's described as a Musical Theatre "Experience" and the press release makes much of the fact that audiences will encounter a spectacular staging in an auditorium that "rotates along a 360-degree panoramic set, by turns revealing an actual 150-foot-wide coastline with sea, sand and rainstorms, student dorms, interrogation cells, a palace and a real DC3 Dakota Airplane"
Well that sounds exciting but if the project is to be more than a theme park style attraction let's hope there's a musical at the heart of it all that will lure 10,000 people a week away from the West End to an abandoned dock in East London.
Based on many years of watching mega musicals come and go I must say the prospects for this one aren't great. The producers are obviously buoyed up by the show's long running success in Holland but Dutch audiences don't have as many theatre-going options as we have here.
We're told the show is "based on the autobiography of Erik Hazelhoff Roelfzema, a renowned Dutch resistance fighter and British RAF war pilot, who chronicled his remarkable WWII experiences in his book of the same name".
The use of 360-degree 'SceneAround' staging, apparently "a revolutionary theatre technology especially engineered for this production" will "pull the audience directly into Erik's story".
Producer Fred Boot of NEW Productions enthuses: "London was the location of our Queen in exile during the war. The UK plays a significant role in our history and this WWII story. Therefore, the UK has always had our priority and we are very pleased with this development for such a relevant location".
Very interesting. Well, slightly interesting. Who knew the Dutch Royal family stayed here during the hostilities? I did know that the site of the new theatre was heavily bombed. I'm just not sure today's Londoners will care enough about either to book even if it does make good on its promise to deliver "a universal story of a group of friends, forced by war to make life-changing choices" And does indeed prove to be "a celebration of the time that the Allies came together to fight for our freedom and democracy."
And the music? I'm afraid, based on a little YouTube research, it does seem to be the kind of soft-rock Euro-pop we seldom hear outside of the Eurovision Song Contest; A style UK audiences wholeheartedly reject every time hit Euro musical NOTRE DAME fails to make an impact here.
Still, you have to admire the bravery behind a project, that hopes the UK will fall in love with a European musical, only months after our electorate shamefully voted for BREXIT.
To register for updates and information on when tickets go on sale go to www.SoldierOfOrange.com