Quick Facts
Largest Ticket Inventory
in the West End
Real time
seat availability
Choose
your seats
Your booking is processed directly into the box office reservation system
This show is now closed.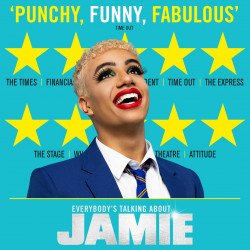 Everybody's Talking About Jamie
Tickets
4.7/5
-

based on

213

reviews
About Everybody's Talking About Jamie
Performance Times
Everybody's Talking About Jamie description
Great musicals don't get much newer than this, a brilliant contemporary show that enjoyed its world première at Sheffield's famous Crucible Theatre in February 2017, directed by Jonathan Butterell. 21st June saw the show announce a thrilling transfer, moving to the West End's Apollo Theatre for a stint lasting from 6th November 2017 to 21st April 2018. The majority of the Crucible cast returns for the London run.
This show already has excellent credentials. The Times' critic said, "I gave it a very rare five stars. The moment it ended the entire audience rose up as one. I think that it has such an impact for the same reason that Dear Evan Hansen, the musical that just cleaned up the Tony Awards in New York, is such a success." In her opinion it's 'hit material' and deserves a West End run.
This is the story of Jamie, a 16 year old lad from County Durham whose ambition is to become a famous drag queen. You can expect a touching and occasionally outrageous musical, wonderfully exuberant, a truly memorable and unusual coming-of-age tale that's both funny and joyful. As the Daily Telegraph reviewer Dominic Cavendish said, "I can't think of a musical that has set me spinning right round (like a record, baby) quite as much as this funny, outrageous, touching but oh-my-word PC flag-waving show...The show sends you out on a feel-good bubble of happiness."
This fresh new British musical is a courageous piece, a defiant and brave exploration of the nature of difference. If you love the music, you're not the only one. There's also an excellent concept album available featuring John McCrea, Sophie Ellis-Bextor, Betty Boo, Dan Gillespie Sells and Josie Walker.
As the character Jamie says, "sometimes you just have to grab life by the balls". This musical does exactly that, a crowd pleaser that's happy-go-lucky on the surface, but also reveals the emotional cost of being different, often a high cost even in today's enlightened times. Your thoughts will be well and truly provoked!
Everybody's Talking About Jamie reviews
4.7 out of 5
based on

213

reviews
What to expect:
Acting
Music
Costumes
Story
Lighting
Recommended for:
Anyone (63%)
Families (67%)
Teenagers (91%)
Couples (86%)
Theatregoers (90%)
Latest customer reviews

Powerful
Reviewed on 26 September 2021 by Mark, Shrewsbury, United Kingdom

Jamie
Absolutely amazing show. Excellent seating and viewing. Especially great as my step son was in it.
Reviewed on 04 September 2021 by Sadie, Newport, United Kingdom

Must see it's great
Reviewed on 27 August 2021 by Garry, Rotherham, United Kingdom

Must See
Must see for everyone! Will see again
Reviewed on 31 July 2021 by Avinava, Brighton, United Kingdom

Excellent show, thought provoking and emotional
An amazing show. Fabulous songs, some toe tapping and jolly and some heart rending and will give you a tear in your eye (in my case when Jamie's Mum sings He's My Boy).All the actors and actresses were fabulous with great enthusiasm and energy.
Reviewed on 30 July 2021 by Michelle, Chelmsford, United Kingdom

Second time I have seen the show and i enjoyed it as much as the first time. The only negative for me was adding covid into the story. Was it necessary? Did it add anything to the storyline? I go to the theatre to escape the realities of the pandemic for a short time.
Reviewed on 27 July 2021 by Roy, West Drayton, United Kingdom

Vibrant and topical
Excellent singing and dancing based on the true story of a young man and his search to reveal his true identity.
Reviewed on 03 July 2021 by Jennifer, Hook, United Kingdom

Relatable and inspiring
A very relatable show. A story that I am pleased has been told. The acceptance and tolerance within schools although improving still isn't there yet and this story helps portray the fights many teenagers go through for not feeling they fit in. Loved how each character had their own story to tell of anguish, sadness and pain, but also love, happiness and inner strength. Each cast member was as strong as the next and it never fails to make you smile how each performance is so well put together, from every note of a instrument to a glance in the right direction just at the right time. A heartwarming performance, that both myself and partner would see again.
Reviewed on 27 June 2021 by Shaun, Derbyshire, United Kingdom

A great show
A fantastic first show back after the lockdown! The show was full of energy with lively songs and a strong but simple storyline. The costumes were colourful and the dancing was full of energy. All the main characters were awesome especially Shanie Richie who was especially dynamic. A must see Show!!
Reviewed on 27 June 2021 by Haydn, Kingswinford, United Kingdom

A Blast of Fun
Loved Everyone's Talking About Jamie. It's a feel good show with serious underlying issues. Loved the inclusive nature of the show, great storyline and good songs. Staging was simplistic in it's artistry and flowed really well. A blast of fun for a fab night out
Reviewed on 19 June 2021 by Tracey, High Wycombe, United Kingdom

Musically fantastic and surprisingly funny.
I loved everything about it, the moving set, the changing box and strip lighting, the choreography, the dance and of course the music.
Reviewed on 13 June 2021 by Anne, Bromley, United Kingdom

Superb casting, music, choreography, sets
It's theme is true to any youngster finding they 're Gay & how they cope with anti Gay people, powerful stuff with strong language. But it's funny too & well acted.
Reviewed on 13 June 2021 by Pam, High Wycombe, United Kingdom

great lively show
Reviewed on 06 June 2021 by Margaret, London, United Kingdom

Blown away
The performance was electrifying from start to finish!!! Just incredible, heart warming, funny and moving!10 out of 10!!!!
Reviewed on 24 May 2021 by Richard, Marlow, United Kingdom

Sensational!!
Reviewed on 21 May 2021 by Paula, Bridgend, United Kingdom

Great songs
Reviewed on 13 March 2020 by Anne, London, United Kingdom

Funny, current, real
Reviewed on 12 March 2020 by Sheena, Reading, United Kingdom

Average musical with predictable story
Overall the music was good and singing by the lead females e.g.mother, Jamie's schoolfriend and the drag queens very good .Sadly I found Jamie's singing flat and lazy....and the story predictable and pretty weak.
Reviewed on 12 March 2020 by June, Sutton, United Kingdom

Disappointing, go and see Book of Mormon instead
This felt like watching a school performance at which you would cringe if your child was in it.
Reviewed on 10 March 2020 by Bernadette, Upminster, United Kingdom

Overall a really good show.
We really enjoyed the show, the story is great, the songs, acting and dancing are good. Jamie's mother in particular had a fabulous voice and Jamie's friend also sang well. Unfortunately however, the voice of the guy who played Jamie wasn't great. He was frequently out of tune. It didn't spoil the performance, we thoroughly enjoyed the show, ( and he can act and dance), but it certainly detracted from it.
Reviewed on 08 March 2020 by Helen, Rothwell Kettering, United Kingdom

Fabulous
Reviewed on 07 March 2020 by Rob, Brompton, Australia

Don't miss this!
This was a great show and one that shouldn't be missed. Noah Thomas, as Jamie, was amazing! Strong language used throughout - not a criticism but not ideal for younger children, in my opinion. Great evenings entertainment !
Reviewed on 04 March 2020 by Carole, Brentwood, United Kingdom

A must see show, brilliant!
Excellent performance , Bianca Del Rio, Noah Thomas, Melissa Jacques and and Sejal were brilliant, and the rest of the cast were very good too.
Reviewed on 26 February 2020 by Verenilson, Thames Ditton, United Kingdom

Freeking funny
Loved loved loved it. Will go see it again.
Reviewed on 24 February 2020 by Monique, Capelle Aan Den Ijssel, Netherlands

Fantabulous !!!
Laugh cry giggle sigh......Fantastic show . . .Would highly recommend
Reviewed on 20 February 2020 by Paul, Chatham, United Kingdom

Great show, great cast
Really an amazing show
Reviewed on 14 February 2020 by Matthias, Berlin, Germany

Very entertaining
Great story line, funny , emotional and overall very good
Reviewed on 26 January 2020 by Denise, Bury St. Edmunds, United Kingdom

Amazing
Wow amazing show 10/10
Reviewed on 20 January 2020 by Michelle, Bristol, United Kingdom

Energetic, emotional, vibrant and brilliant
The energy of the show was phenomenal, what an absolute joy to see. A real feel good which left us buzzing. A story about people and emotions, love and rejection, understanding and acceptance, humour and sadness, love and living to be who you are. Attended with someone who was sceptical about the story content and then absolutely loved it.
Reviewed on 20 January 2020 by Deborah, Bury St Edmunds, United Kingdom

A must-see musical
It's an amazing show. Great performance. Amazing stage design. Love it.
Reviewed on 01 January 2020 by Veerachai, Bangkok, Thailand

Enthrawling.
A joy to watch, very emotional.
Reviewed on 22 December 2019 by Douglas, Hendon, United Kingdom

Tailor made for the Me Me Me Millenials
Under-20s (plenty in the audience) clearly loved the show. Not sure about everyone else though! The heavily accented dialogue and lyrics were at times almost impossible to follow from where we sat. And a bit of a shame that Jamie isn't remotely bothered about making the world a better place – life is most definitely all about him, end of. No wonder his drag queen alias is Me Me Me!
Reviewed on 19 December 2019 by Mairiona, Bath, United Kingdom

Modern
Modern and upbeat. Funny and entertaining but with insight into teenage struggles.
Reviewed on 08 December 2019 by Fiona, Vällingby, Sweden

Really inspiring for young people
Great set - well done set designer. Some really good singers. Overall, well acted. A great show celebrating diversity.
Reviewed on 01 December 2019 by Joan, Bournemouth, United Kingdom

Relevant
Reviewed on 30 November 2019 by Karin, London, United Kingdom

Wonderful
Reviewed on 26 November 2019 by Linn Anettte, Klofta, Norway

Joyful/Sad
Reviewed on 21 November 2019 by Raymond, Reading, United Kingdom

Upbeat
Really enjoyed the show though in some songs I couldn't hear all the words. But there was some songs which where beautiful sang and emotional.
Reviewed on 19 November 2019 by Trudy, London, United Kingdom

ist's brightly and somewhere sad
Reviewed on 10 November 2019 by Evelyne, Binningen/bl, Switzerland

Brilliant fun with a very serious message
Reviewed on 10 November 2019 by Sherie, Keighley, United Kingdom

A wonderful story!
Reviewed on 07 November 2019 by Rosemary, Parkside, Australia

Covers new ground with a light but honest touch
Reviewed on 06 November 2019 by Patrick, Red Bank, United States Of America

So fun! Great music!
Great! I really enjoyed getting to see a show that's not one of the "big" guys that I can see back home. Highly recommend! Everyone was very talented.
Reviewed on 04 November 2019 by Sara, Kansas City, United States Of America

Still talking about Jamie
Reviewed on 03 November 2019 by Benvenuto, Limerick, Ireland

LGBT positive
I think that this show is a fun,colourful and amazing representation of the drag and lgbt commuitty I would recommend this show to teens and above.I would definitely See this show again in a heartbeat.
Reviewed on 01 November 2019 by Angela, Worthing, United Kingdom

Emotional memories
A story that needs to be told
Reviewed on 31 October 2019 by Christopher, Derby, United Kingdom

showing a problem every family should discuss.
Reviewed on 18 October 2019 by Amir, Raanana, Israel

A must see show
Reviewed on 14 October 2019 by William Forbes, East Kilbride, Glasgow, United Kingdom

Fun show
A must see show. Current issues brought up about gender bias and freedom of personal expression
Reviewed on 27 September 2019 by Janet, Ottawa, Canada

Spellbinding amazing talent....
Loved the show from beginning to end.
Reviewed on 25 September 2019 by Sharon, Naxxar, Malta

This is now my favorite show.
This show is absolutely amazing. The acting, the music, everything is absolutely incredible. You can't miss this show.
Reviewed on 16 September 2019 by Rebeca, Mexico Df, Mexico

Mind opener!
This show is truly a mind opener. A must see for everyone, as it shows the social struggles that all of us have to deal with and overcome in life. Follow your own goals and do your own thing, sounds easy to follow, but the reality is that many times, we are being led by what others tell us and not by what we truly want ourselves. This show is all about that and therefore truly something everyone should see, as it could help our society to be less judgemental and more understanding. On top of this the shows offers very contemporary songs, music and settings, to which everyone can relate. Must go!
Reviewed on 09 September 2019 by Bas, Richmond, United Kingdom

Reviewed on 06 September 2019 by Jose, Clervaux, Luxembourg

Well worth it
Reviewed on 31 August 2019 by Benjamin, Halifax, United Kingdom

Full of life!!
Incredible music and very good voices.
Reviewed on 31 August 2019 by Olga, London, United Kingdom

Amazing! Fourth time we have seen it!
Reviewed on 30 August 2019 by Karen, Bristol, United Kingdom

Beatiful show concerning everyday topics
The show in general is pretty average, nothing but the skills of the young boys and girls is completely shown. The story is pretty basic and average, and so are the songs and the show features. But I recommend it especially for families, teens and queer boys and girls who are familiar with this world. Not the best musical I've ever seen but still pretty good.
Reviewed on 29 August 2019 by Violet, Si, Italy

Great Show
Saw this show at the Apollo. Great show, fun humour, and good story line. Singing, Dancing and acting excellent. A very enjoyable evening out.
Reviewed on 29 August 2019 by Karen, Hangersley, United Kingdom

Splendid show and cast
Lively, entertaining which opened boundaries. Fabulous cast
Reviewed on 12 August 2019 by Lorraine, Liverpool, United Kingdom

Energetic and moving
It is very exciting, nice history, very good Actors and music
Reviewed on 24 July 2019 by Manuela, Bologna, Italy

Fun, funny and so real!
Loved it! Fantastically funny yet so real at the same time!
Reviewed on 12 July 2019 by Alex, Auckland, New Zealand

Simply amazing
Feel good show for everyone....the song He's my boy' will steal your heart!!! Simply amazing!!!
Reviewed on 08 July 2019 by Lisa, Leigh-on-sea, United Kingdom

Fun
Reviewed on 05 July 2019 by Lisa, Edlibach, Switzerland

Amazing, funny and touching
Reviewed on 18 June 2019 by Nicole, Fell, Germany

Amateurish
I went to this show as a visitor from Australia. Based on the reviews I thought it would be a professional Westend production just as I've seen in the past. However it turned out to be a show put on by people from the north of England. We couldn't understand half of the accents and what was being said. There was no money spent on backdrops or costumes. We spent time getting dressed for a wonderful night at the theatre, but most of the audience had made no effort at all to get changed. I won't be attending another Westend production after this experience, not with the cost of the tickets...
Reviewed on 15 June 2019 by Jan, Waverton, Australia

Feel good show
Fantastic story, heartwarming performances, excellent costumes and singing. A great show!!
Reviewed on 14 June 2019 by Grace, Orpington, United Kingdom

Amazing!
Reviewed on 12 June 2019 by Georgia, Ellesmere Port, United Kingdom

Jamie
Reviewed on 18 May 2019 by Geoff, Claygate, United Kingdom

Fabulous
Loved everything My daughter meeting some of the cast at stage door after was a highlight Shame Bianca didn't come though
Reviewed on 12 May 2019 by Beatrice, Sheffield, United Kingdom

What are you waiting for
Reviewed on 12 May 2019 by Genevieve, Riaz, Switzerland

Fantastic
Loved everything about it. Uplifting. So much talent. A must see. Love love love.
Reviewed on 07 May 2019 by Debbie, Mogan, Spain

Funny, talented dance group with amazing voices
Loved the show but did miss quite a bit of the script due to poor sound. Had to really try hard to listen. Sadly missed quite a lot of the humour.
Reviewed on 26 April 2019 by Maxine, Chesterfield, United Kingdom

Nice show
Reviewed on 22 April 2019 by Cedric, London, United Kingdom

Energetic, entertaining and moving
Reviewed on 21 April 2019 by Ester, Loosdrecht, Netherlands

Great Entertainment
Reviewed on 06 April 2019 by Mike, Lomdom, United Kingdom

Amazing!! So fresh and new
This show was amazing!! Going to the theatre is one of my favourite things to do, so my standards are very high. This show absolutely blew me away from start to finish. I just wanted to jump up and join in. Definitely not suitable for children, however I'm 16 and went to watch with my mum and didn't find it awkward at all. Very well done and stays tasteful. Every voice was stunning. Don't have a bad word to say about this show!!
Reviewed on 05 April 2019 by Josie, Chester, United Kingdom

Ok
Fun but cat could have be better.
Reviewed on 29 March 2019 by Paul, Cape Town, South Africa

Diverse..not too kitsch
Reviewed on 24 March 2019 by Felix, Berlin, Germany

Wonderful show
Such talented case, managed to bring on a tear or two.
Reviewed on 16 March 2019 by Jane, Amersham, United Kingdom

Funny & sad
I liked the story it was very versatile, I was very disappointed that there was not enough glam and glitter, I wish Jamie dressed up as drag at the end.
Reviewed on 14 March 2019 by Maria, Cambridge, United Kingdom

Excellent show
Reviewed on 02 March 2019 by Stefanos, Amsterdam, Netherlands

A night to remember!
Reviewed on 14 February 2019 by Melanie, Gröbenzell, Germany

Wonderful
This show has such great life messages in it. There is a lesson for everyone to learn and the fact its based on a true story makes it even more fabulous.
Reviewed on 10 February 2019 by Pamela, Renfrew, United Kingdom

Mother and Son must see
Amazing. My son is gay and it really tugged on the heart strings and also made me so angry at times too. Jamie and his mum were so believable and the song Jamie sung to his mum and vice versa were beautiful. The whole cast played their parts really well, not a bad word to be said. Will definitely be recommending this to all my friends
Reviewed on 03 February 2019 by Rebecca, Umberleigh, United Kingdom

great and heartwarming
Reviewed on 24 January 2019 by Christian, Zurich, Switzerland

Every Performance Stellar!
Not only us Jamie uniquely gifted, every performer is gifted in song and dance. A fabulous, uplifting evening.
Reviewed on 18 January 2019 by Catherine, Bern, Switzerland

Creative
Reviewed on 17 January 2019 by Silva, Burton-on-trent, United Kingdom

Give it a go !!!
Great show . Good music
Reviewed on 16 January 2019 by Anthony, Biggleswade, United Kingdom

absolutely fabulous
Reviewed on 10 January 2019 by Karen, Wittering Peterborough, United Kingdom

A modern must see
Loved the modern dance and how it gives a positive attitude toward anyone who dares to be different. Fantastic acting, LOVED EVERY SECOND, can't wait to watch it again.
Reviewed on 01 January 2019 by Amanda, Plymouth, United Kingdom

Absolutely brilliant
Entertaining from the start. Colourful, fast moving,funny, emotional. Made me laugh made me cry. John McCrea faboulous throughout and Jamie as we're the rest of the cast. Few well-known faces as well as the newbies all very talented.
Reviewed on 31 December 2018 by Julie, Morecambe, United Kingdom

It was the best show I have seen to date!!!
Reviewed on 30 December 2018 by Robin, Washington, United States Of America

Real emotion
From the opening to the finale such a powerful storyline with powerful characters and vocals . . Heartfelt . . Laughed and cried very emotional and entertaining . . This is now in my top 3 . . I can't wait to watch it again . . Well done to all the cast . . Amazing
Reviewed on 30 December 2018 by Sandra, Ingleby Barwick, Stockton On Tees, United Kingdom

Amazing
I can honestly say it was the best show i have ever seen
Reviewed on 24 December 2018 by Diane, Littlehampton, United Kingdom

Brilliant Show
Reviewed on 15 December 2018 by Mark, Poole, United Kingdom

This is a must see musical. Funny Brilliant
read about the story and then you will find this show true to life and put across brilliantly
Reviewed on 11 December 2018 by Gordon, Stokeon Trent, United Kingdom

Vibrantly moving
Fabulous
Reviewed on 09 December 2018 by Daniel, Fleetwood, United Kingdom

Great show
I really enjoyed this show. The cast were all great in their roles, music, costumes and set all excellent too!
Reviewed on 03 December 2018 by Martin, East Boldon, United Kingdom

Absolutely amazing!!!xx
This show was brilliant from start to finish!! Loved all the music, acting and singing. Would watch this again, absolutely amazing.
Reviewed on 29 November 2018 by Liz, Isle Of Man, United Kingdom

Great show
Reviewed on 24 November 2018 by Rachel, Penrith, United Kingdom