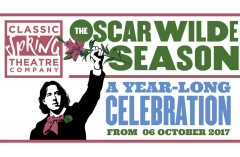 After a popular and critically acclaimed time running Shakespeare's Globe Theatre Dominic Dromgoole has moved on to a new project aiming to demonstrate the power of the proscenium arch. What this describes is the traditional theatre set-up where by the audience sit in front of a stage and the action is framed by an architectural arch known as the proscenium, from an Ancient Greek term which roughly translates as "in front of the scenery".
It's the most conventional form of theatre that we have and if you've been to the theatre it's very likely to have been a "proscenium" production as this was pretty much the only way theatre's were configured from Shakespeare's time until the 1960s when directors and architects started to experiment with bringing the action closer to the audience by wrapping the seating area around part of the stage, sometimes completely around it, or even putting the audience on two sides of the action which is known as a traverse staging.
I rather admire the cheek of the publicists for describing this new project of Dromgoole's as intending "to celebrate the groundbreaking work of proscenium playwrights in the architecture they wrote for".
Which means in reality that they'll be reviving some old fashioned plays in as old fashioned a way as possible because they've some old fashioned theatres to fill.
The plays in question are undisputed masterpieces by Victorian genius Oscar Wilde, best known in his day, and perhaps even now for the fact that he plunged from West End star to convict when he was arrested for homosexuality back when it was illegal in the U.K. His lover was the son of a Marquis, and the establishment who used to adore his as a writer of witty, glittering prose and plays, closed ranks against him.
Since 1958 when being gay was no longer an offence and the country became more tolerant Wilde's plays have been revived frequently, usually in sumptuous productions with elegant actors zinging Wilde's still wonderfully funny one liners at each other in gorgeous costumes against scenery which reflects the opulence of upper class Victorian life. It sounds like we can expect exactly this approach with these new productions of A Woman of No Importance, Lady Windermere's Fan, An Ideal Husband and The Importance of Being Earnest.
Tickets for A Woman of No Importance and Lady Windermere's Fan are now onsale with tickets for An Ideal Husband and The Importance of Being Earnest going on sale later this year.
The first opens on 6th October, is directed by Dromgoole and stars Olivier award winner Eve Best (Hedda Gabbler, Antony and Cleopatra), Eleanor Bron and William Gaunt.
The second opens on January 12th and is directed by award-winning writer, actor and director Kathy Burke (The Quare Fellow and Once a Catholic).
The press release then goes on to announce that the season will include 'two interludes". De Profundis, adapted by Frank McGuinness from 3rd January 2018, and The Selfish Giant, a folk opera by Guy Chambers in April 2018.
I don't know what they mean by "interludes", the producers don't elaborate but I look forward to finding out.