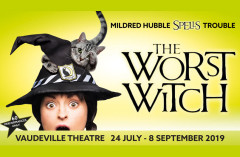 Expect to see witches broomsticks parked outside the Vaudeville Theatre this Summer because from 24 July – 8 September for 60 performances only, younger West End audiences will be able to enjoy a new show that we're promised will be "filled with original songs, music and magic to charm.
Called THE WORST WITCH it will be adapted by Emma Reeves from Jill Murphy's original books of the same name which also won her a Royal Television Society Award for Best Children's TV Programme and a 2017 British Screenwriters Award for Best Children's Programme for the televised version.
The production premiered last November as Royal & Derngate's Made in Northampton 2018 Christmas show and it has since embarked on a very successful UK tour.
It's described as "the action-packed adventures of Miss Cackle's academy… the story of an ordinary girl who finds herself in an extraordinary place: a school for witches. Accident-prone Mildred Hubble and her fellow pupils leave a trail of mayhem behind them as they find themselves at the centre of a battle that's being fought for their future…. Featuring Jill Murphy's much-loved characters, the production includes original songs, music, magic and a dose of Mildred's unique brand of utter pandemonium!
And it has been a busy few years for Mildred and her fans. Jill Murphy's The Worst Witch stories have sold more than five million copies and been made into films and TV series by HBO, ITV and CBBC. There are now eight Worst Witch titles. The Worst Witch was made into a television series for ITV in the early 1990s and there is currently a major television series with CBBC.
This stage version, which sounds very promising, is directed by Theresa Heskins (2017 UK Theatre Award for Best Show for Children and Young People) and designed by Simon Daw, with music by Luke Potter. It's produced by Kenny Wax Family Entertainment and Nica Burns.
Age Recommendation: Most Suitable for Ages 7+