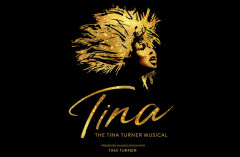 Shows about real life pop and rock artists which include their greatest hits have been big business on Broadway and in London for a decade or so now and are popular with audiences who know they'll hear songs they already love.
Sometimes the result is a success; Jersey Boys about the Four Seasons, Beautiful about Carol King, Thriller Live about Michael Jackson and Sunny Afternoon about the Kinks are recent examples but there are plenty which fall by the wayside. Shows about Boney M, Rod Stewart and Take That, for example quickly disappeared and although it wasn't directly about the Spice Girls the show based around their music, Viva Forever, was savaged by the critics and quickly closed losing the producers a fortune.
There's even been a relativity recent biographical musical of Tina Turner, Soul Sister, produced by Bill Kenwright at the Savoy Theatre which I seem to remember was rather good with Emi Wokoma bringing the house down as the Diva.
Never the less, Turner herself has been in London recently to attend meetings and a workshop presentation of a new show about her life recently announced by Stage Entertainment.
Collaborating on this world premier is writer Katori Hall, with Frank Ketelaar and Kees Prins, set and costume designer Mark Thompson, choreographer Anthony van Laast and musical supervisor Nicholas Skilbeck.
Perhaps most enticingly of all the director is Phyllida Lloyd, the genius behind the most successful jukebox musical of all time, the Abba show MAMMA MIA.
Tina Turner said: "We have been working on the musical for over a year now and today I am delighted to be able to share our news as we begin the next chapter of our journey. It has been wonderful to collaborate with Katori and Phyllida and to have my story nurtured by such an amazing creative team is thrilling. London has always had a very special place in my heart and it's wonderful to be back."
Tali Pelman, Group Creative Director, Stage Entertainment said: "It's been an honour for us all to collaborate so closely with Tina Turner on this project. Tina is a music legend and her iconic songs are matched only by the power and inspiration of her remarkable and moving story. We are delighted to be working with Katori Hall, whose writing has a heart and humour that beautifully captures Tina's life story, and to have the extraordinary director Phyllida Lloyd at the helm of such a talented creative team. It's been exciting today to see the project move into its next phase."
I'd guess these press announcements mean the show's pretty much ready to go as producers seldom tell the world of their developing projects until they're confident they have a hit so expect more details very, very soon.