Quick Facts
Largest Ticket Inventory
in the West End
Real time
seat availability
Choose
your seats
Your booking is processed directly into the box office reservation system
This show is now closed.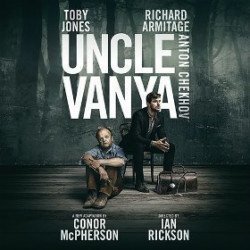 Uncle Vanya
Tickets
4.6/5
-

based on

16

reviews
Starring: Richard Armitage, Toby Jones
Information
Cheap Tickets
Reviews
News
About Uncle Vanya
Performance Times
Starring:
Richard Armitage, Toby Jones
Uncle Vanya description
Uncle Vanya – A stunning new adaptation
Uncle Vanya is a popular play by the legendary Russian playwright Anton Chekhov. Originally released in 1898, it premiered in Moscow during 1899 in a production by the Moscow Art Theatre, directed by Konstantin Stanislavski. It has seldom been off the stage since, a Russian classic that is always popular and always draws large crowds. This time around it stars the brilliant Toby Jones and Richard Armitage. What a treat!
The story goes like this. It's summer, and a hot one. Sonya and her Uncle Vanya, played by Toby Jones, are whiling away the days on a remote, crumbling Estate deep in a rural area. The only visitor they receive is the doctor, Astrov, played by Richard Armitage. When Sonya's dad comes home unexpectedly with a young, beautiful new wife in tow and announces he's going to sell the Estate, the polite facades everyone is putting on soon crumble and a host of powerful repressed feelings start to emerge. The repercussions are totally devastating.
This is the brilliant Olivier Award-winner Conor McPherson's fresh adaptation of Chekhov's play, a darkly funny portrayal of the frustrations of life back then, on the cusp of the 19th and 20th centuries, at a time when passions were often hidden and as a result ran unusually deep.
The wonderful director Ian Rickson comes back to Chekhov for the first time since The Seagull in 2007. Together, the brilliant BAFTA and Olivier Award-winner Toby Jones and the equally excellent Richard Armitage, who returns to the stage six years after his Olivier Award-nominated performance in The Crucible, make this a special event not to be missed. Jones plays Uncle Vanya and Armitage plays Vanya's friend Doctor Astrov.
Uncle Vanya is produced by Sonia Friedman Productions and will take to the stage at the Harold Pinter Theatre in London's West End in January 2020. It's an exciting kick-off for the venue's new line-up for 2020, following on from the acclaimed Pinter at the Pinter Season and Ian McKellen's magnificent one-man show, 'On Stage'.
Toby Jones is known and loved for his brilliant voice of Dobby The House Elf in the Harry Potter movies, and for TV's The Detectorists. He has also thrilled us with roles as John Mayhew in a mini-series of Agatha Christie's Witness for the Prosecution, The Dream Lord in Doctor Who, and a Golden Globe-nominated performance as Alfred Hitchcock in the TV film.
Richard Armitage's role as Thorin Oakenshield in the Hobbit is a classic that won him a 2015 Saturn Award for Best Supporting Actor in a Film for The Battle of the Five Armies, and he also achieved a couple of Empire Award nominations plus two SFX Award nominations. He also played Claude Becker in Ocean's 8 and has a string of stage triumphs behind him.
Who is this show for?
Uncle Vanya is recommended for people aged 14 plus
Uncle Vanya cheap tickets
We have a great selection of cheap Uncle Vanya tickets. We can help you save up to 70% on Uncle Vanya tickets! If you're looking for discount theatre tickets have a look below for our latest offers for Uncle Vanya at the Harold Pinter Theatre.
No Booking Fee
Valid Mon-Thu until 2 Apr. Book by 31 Mar 2020
No Booking Fee
Valid on all performances until 02 Apr 20. Book by 31 Mar
-24%
Was £39.50
Now £30.00
Valid Mon-Thu from until 2 Apr. Book by 31 Mar 2020
-20%
Was £50.00
Now £40.00
Valid Mon-Thu from until 2 Apr. Book by 31 Mar 2020
-31%
Was £72.50
Now £50.00
Valid Mon-Thu from until 2 Apr. Book by 31 Mar 2020
Uncle Vanya reviews
4.6 out of 5
based on

16

reviews
What to expect:
Acting
Music
Costumes
Story
Lighting
Recommended for:
Anyone (25%)
Families (25%)
Teenagers (44%)
Couples (56%)
Theatregoers (100%)
Latest customer reviews

protestation
I did not see it because I had an emergency hospital appointment. You seem unaware of what you are doing as well as distinctly uncharitable but for all I know it may have been a good show. The best advice for others seems to be find a more sensible theatre.
Reviewed on 12 March 2020 by Michael, Brighton, United Kingdom

Uncle Vanya makes you laugh and cry
A fresh look at a well known play . A lot of welcome humour in the first couple of acts. Star-studded cast. Fabulous stage set
Reviewed on 22 February 2020 by Ellaine, Littleborough, United Kingdom

Excellent production and highly recommended
Reviewed on 07 February 2020 by Sam, Glasgow, United Kingdom

Terrific experience.
An excellent updated production of "Uncle Vanya" with an exceptional cast. A lovely, comfortable, intimate theatre which made you feel part of the drama. Excellent night out.
Reviewed on 27 October 2014 by Anonymous

Nice decorating
As English Language and Literature MA student I liked the show very much. I read in Turkey and It was my first experience in London. Will see some more plays but this was pretty good. Impressed.
Reviewed on 13 January 2013 by Anonymous

A London day
The theatre was very well maintained, the set was very good, acting, costumes and music were good. Only negative was how difficult it was to source and then buy the tickets, almost an hour is too difficult.
Reviewed on 30 December 2012 by Anonymous

Brilliant performances! A very fine production. Very moving!
Reviewed on 28 December 2012 by Anonymous

ken stott remarkable performance.
if you see only one play this season,this is a must. ken stott,anna friel,samuel west,laura freeman brilliant performance.
Reviewed on 27 November 2012 by Anonymous
31

Jan
2020

Review: UNCLE VANYA at the Harold Pinter Theatre
by Tim Winter | Friday, January 31 2020, 21:00
It was fascinating to see this new Chekov production the night after viewing the radical reworking of Dickens by Armando Iannucci in his film adaptation of David Copperfield.
In a reversal of the "modern dress, same old text" conception we are all so used to by now, here we have a film and a theatre production that stick, fairly closely, to 'period' conformity but use modern language and acting styles to jolt us out of our complacency.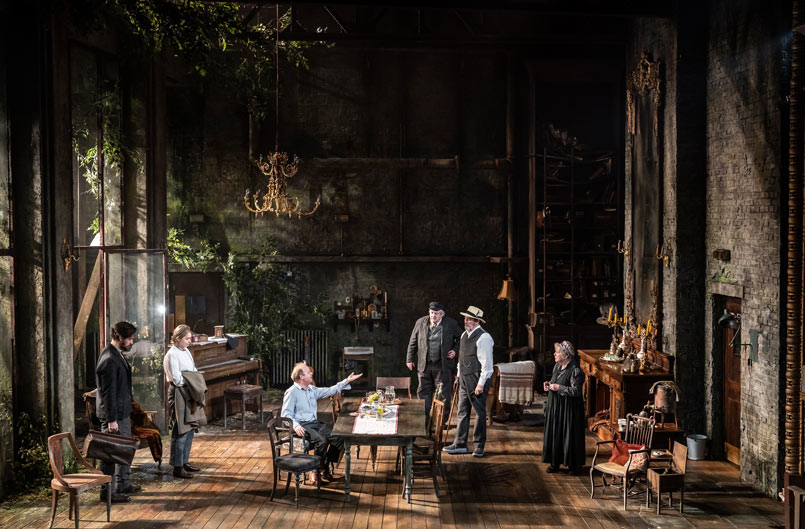 Uncle Vanya - Photo by Johan Persson
Review: UNCLE VANYA at the Harold Pinter Theatre
01

Jan
2020

6 of the Best 2020 Shows You Should Book in Advance: 1. Toby Jones in UNCLE VANYA
by Phil Willmott | Wednesday, January 1 2020, 20:51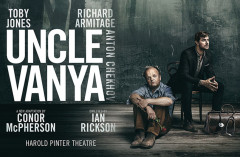 There are certain shows that you know will sell out fast either because of the title or the creative team and stars. In a series of 6 articles we report on the likely box-office smashes of the forth coming year so you can book in advance and not miss out. Use our search engine at the top of the page to find the perfect performance to suit you and get booking!
6 of the Best 2020 Shows You Should Book in Advance: 1. Toby Jones in UNCLE VANYA