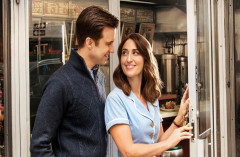 Sugar + butter + flour = a recipe for success. With Waitress continuing to prosper in London's West End, the principal character of Jenna is now being played by its composer Sara Bareilles for a limited 6-week stretch.
Waitress is full of surprises. Based on Adrienne Shelley's 2007 film and with an original score by American singer-songwriter Sara Bareilles (best known for her chart single 'Love Song'), the musical has earned smash-hit status. After its initial opening at the Adelphi Theatre in March 2019, Waitress continues to enchant audiences. Having appeared as principal character Jenna Hunterson on Broadway (where the production ran for nearly four years) on three separate occasions, Bareilles now reprises the role to make her West End debut.
Starring opposite musical theatre star Gavin Creel as Dr. Pomatter (who returns to the West End after seven years), the pair will play for a limited stretch, their final performance scheduled for the 7th of March 2020. Here, Bareilles is in her element. A natural actor, she excels as Jenna – embodying a character that is both beguiling and top-full of insecurity. When an unplanned pregnancy opens the possibility of escape from her marriage to the abusive Earl, she, quite literally, bakes her dreams come true.
A waitress and skilled pie-maker, Jenna's relationship with her craft lends the production its sweet and savoury notes. While gooey and warm, moments of levity are counterbalanced by the presence of a deep-rooted and ongoing trauma, which prevents Waitress from erring too far towards saccharinity. A candid use of expletives and fearless references to sex also work to reinforce its strong subtext, making the musical naughty as well as nice. It is Jenna's consequent love affair with her gynaecologist (who, as it turns out, has a very thorough bedside manner) that proves the greatest source of hilarity – their emotional rigour becoming the backdrop for the movements of her friends and budding family.
Although set predominantly in Joe's Diner, the stage undergoes seamless transformations throughout. Here, a live band narrates the journey of every knife and fork, with two bakery trolleys dissolving into a sunset, a hospital bed, and when required, Jenna's home. In this, Waitress defies predictability – even its final resolution manages to please, despite being completely unexpected. As an ensemble piece too, it is unforgettable, with no visible Achilles heel. Waitress is truly a tonic for our uncertain times; a little slice of heaven that will undoubtedly leave you wanting more.
Waitress runs until the 4th July 2020, with tickets available from just £23