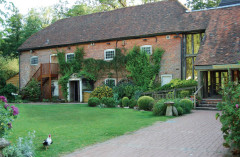 Some people complain that British theatre is too hooked on Shakespeare at the expense of new writing but it's sometimes surprisingly hard to find productions of any of his plays on in London.
The Globe Theatre of course keeps pumping them out 12 months of the year but the historically accurate mock-Elizabethan venue means they're limited to presenting them in a particular style that suits their stages. You may be disappointed if your hoping to see a more radical, freer interpretation.
Good news, then, that The Watermill Theatre, Newbury is bringing two critically acclaimed Shakespeare productions to Wilton's music Hall, London.
The tiny but ambitious Watermill venue in the Berkshire country side has recently established a reputation as one of Britain's leading regional theatres and regularly tours work across the UK. Recent productions in London have included Amélie, The Wipers Times and Twelfth Night (Wilton's Music Hall, 2018).
Their repertoire this year – Macbeth and Midsummer Night's Dream, are two of the most performed Shakespeare plays and pretty safe choices. However if you've never seen them before then you're in for a treat, and if you have, the texts are so rich you can revisit them time after time and always find something new. The director Paul Hart is also very good at finding new angles to challenge and intrigue you.
Take a look at how the productions are being described and see if anything appeals.
MACBETH
22 – 25 Jan & 3 – 8 Feb
Passion, ambition and desire ignite in this thrilling tragedy. Blazing with tension, energy and live music, experience a powerful new interpretation of Macbeth, the Watermill Ensemble's boldest production to date. Fuelled by greed, ambition and desire, the Macbeths' desperation to survive is reflected in the fierce reverberations of Johnny Cash, The xx and The Rolling Stones.
A MIDSUMMER NIGHT'S DREAM
29 Jan – 1 Feb & 11 – 15 Feb
Enter a world of dreams and desire in this soulful and spellbinding comedy. Fizzing with magic and a large dose of chaos in an enchanted Victorian music hall, secrets, love and mistaken identities collide in A Midsummer Night's Dream. Fusing actor musicianship with one of Shakespeare's greatest comedies, the Watermill Ensemble cast their spell performing the intoxicating soulful sounds of Nina Simone and Billie Holiday live on stage.