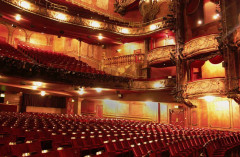 "How much longer?" It's a common enough cry everywhere these days as we mark the first anniversary of Covid being identified as a threat to world health, resulting in the personal restrictions that have impacted almost everyone's livelihoods.
Here amidst the relative privilege of the West it's fair to say that hospitality and the entertainment industries have been particularly battered by laws that forbid large gatherings of people. We're the ones who normally make those gatherings happen!
When should we get back to normal?
Amongst theatre makers "when should we?" is never far from anyone's thoughts. Despite what the government might think we cannot simply magic theatre instantly back to life the morning after they give us the go ahead. Productions need to be financed, planned, rehearsed and built over many months.
We are actually officially allowed to rehearse during lock-down. Personally I have a number of projects ready to go and my colleagues and I are regularly trying to figure out when preparations should start to get things on stage as soon as possible after lockdown lifts.
But to me the idea of preparing a production when you don't have an opening night to aim for sounds like a soul-destroying thing to do. I have recently closed rehearsals down for my forthcoming production of ROMEO & JULIET, promising to pull everything and everyone back together when we have a more certain idea of when the public will be allowed to watch us.
Can we get back to normal?
The problem is any such certainty is thin on the ground at the moment. The Prime Minister will make some big announcements on February 22nd and although there's plenty of rumours it's unwise to try and second guess anything. As we've all discovered a week is a long time in fighting Covid. Everything we believe to be true today – and with the vaccine roll-out going well, things look positive – all this could be turned around in an instant by the discovery of a new virus strain that puts us all at risk again.
This means that theatre bosses face a number of significant and unique challenges at present, so much so, that it's hard to think why anyone would put on, or finance, a big commercial show for a year or so.
Imagine the chaos of scheduling and budgeting a musical when no one knows how long it is until the law will be relaxed and allow for a ticket buying public to watch. It's very had to make any reliable financial projections on that basis and it's these profit and loss calculations that attract or deter financial investors. Would you invest in something that may not happen. Less finance means fewer big musicals can happen.
Now let's consider another problem, the risk of infection inherent in our venues. Were we to be producers, in order to install our musical in a West End theatre and invite the public, the government would have to announce that they see no further risk of infection when hundreds of people cram shoulder to shoulder in an enclosed space for three hours.
Basically that news isn't likely to be announced until the final Covid battle has been won. It's as if theatre will be the war's final frontier. It doesn't feel to me as if we're anywhere near the end game yet.
Who can get back to normal?
Just as importantly, not only would the government need to consider indoor theatregoing to be safe but the public would need to believe them and be prepared to brush aside any misgivings they have.
Health concerns are likely to be at the forefront of everybody's mind if the news cycles remain full of scare stories about the virus mutating and making a comeback. Even the most enlightened supporters of the arts may secretly feel a little uneasy at taking vulnerable friends to the theatre for a year or so.
It's worth noting that some of these vulnerable friends are over retirement age, historically a demographic who buy a lot of theatre tickets. By the time we defeat the virus some of them may not have been beyond the corner shop for well over a year let alone on public transport into the West End. It may be that they require more coaxing back than we think.
The main consumer of West End theatre tickets, of course, are tourists. Well, I'm afraid they won't be back for some time either.
A whole bunch of travel restrictions need to be lifted by governments across the world before we see a free flow of visitors in and out of London again. And as redundant airlines go out of business and hotels and restaurants close for good it's possible that the new price of a trip abroad could push overseas travel into the luxury bracket in some parts of the world, thus reducing visitor numbers to our capital.
So with fewer seniors buying tickets, and virtually no tourists, that leaves the rest of us – broke, worried about our jobs, savings eaten away, buckling under Covid acquired debt.
There'll need to be a significant reduction in the ticket prices we've grown used to you if it's to become remotely plausible for a family of 4 to see a West End show anymore. Such are the challenges producers will need to budget for and overcome if they're to put audiences back into their seats.
But what about "behind the curtain"? Who are they going to put on stage to perform, and employ, back stage, to keep things running smoothly; who'll be conceiving and realizing the designs, who'll be directing, lighting, designing sound etc?
That may sound like a silly question. The same people who did it before right? Wrong.
Just as producers may have difficulty finding backers to risk investment, they're also going to struggle to lure theatre artists and personnel to risk their livelihoods, now that so many of them have left the profession they love for a more secure job which can support them and their families. I fear few people will dump their new professions to risk working on a show that may only run for a few months before closing early and plunging them back into unemployment.
How you can help.
Theatre fans and ticket buyers we need your help. If you've read this far I hope I've adequately explained why restoring theatre to the West End and beyond is not going to be as simple as unlocking the stage door and turning the lights on. We've plenty of perilous waters yet to navigate on our voyage of recovery.
So, whenever you can afford to purchase a ticket in advance for your birthdays, anniversaries and free time - please, please do.
You've nothing to lose, refunds are always readily available if a show is cancelled. And if it turns out that happily the show does go on as planned you'll be able to enjoy the kind of theatrical excellence we've all been missing, and ahead of the rest of us.
PLUS your confidence in buying an advanced ticket will give our industry a much need boost of support and some much needed income to invest.