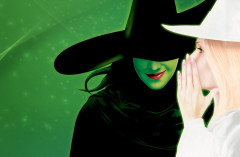 Exciting news. The producers of WICKED have announced performances will resume from Wednesday 15 September.
You can read my article on all about WICKED.
But whilst we celebrate the announcement of its return here's my guide to 10 reasons why it's one of best long running shows in London.
The story has universal appeal as it addresses the reasons we can all feel like outsiders from time to time.
It celebrates the outsider figure, personified by the Green Witch Elphaba, as an agent for revolution and change.
It's one of the few musicals, along with FROZEN, that has two female central characters at its heart.
It's a rare celebration of female friendship and "sisterhood".
It's got a wonderful ear-worm songs and music, which I've loved ever since I saw the Broadway première, which I often find myself humming.
It looks gorgeous. The first time you see the vast Dragon Clock that surrounds the stage whirr into life it will take your breath away.
It enhances your appreciation of the original Wizard of Oz by telling the back story but never mocks the children's classic.
It's so clever that it's equally effective if you don't know the original, as it gives you all the info you need about Oz as part of the show.
Like Oz, there's a gentle political message behind it all, and reinforces the original author, Frank L Baum's, suggestion that we all pull back the curtain from time to time to see what's really going on behind the scenes of our governments.
The producers REALLY care about the quality of the performances you'll attend. You may not see celebrities in the cast, but the bosses go to great lengths to ensure they always cast the finest performers available and that they are meticulously rehearsed so that you a show that feels as fresh as opening night, with two phenomenal, young leading ladies.