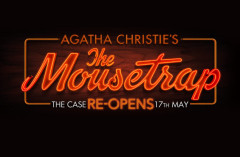 This is the world's longest-running play, and it feels entirely appropriate for Agatha Christie's classic thriller to return and lead the West End's way out of the darkness of lockdown into the light of a new world. The show resumes on 17th May, following the government road map's Stage 3 guidelines, including two entirely separate casts stuffed with dazzling TV stars, iconic movie stars and brilliant Olivier winners. The fun kicks off at the St. Martin's Theatre – see you there!
Who's involved in The Mousetrap?
The two casts include Joshua Griffin on his West End Mousetrap debut plus Paul Hilliar, Sarah Moss , Lizzie Muncey, Tony Timberlake, Kate Tydman and Alexander Wolfe, all of whom have considerable experience in the theatre, with plenty of top class drama under their belts. And look out for a total of four Eastenders stars!
Danny Mac was an remarkable Strictly Come Dancing finalist, as well as the glittering star of the musical, Pretty Woman
Louise Jameson is a respected TV star loved for her roles in Doctor Who, Bergerac and EastEnders
Nicholas Bailey has thrilled TV audiences for years in Eastenders
Derek Griffiths recently starred in Steve McQueen's TV series Small Axe, and is remembered with great fondness for his TV work by those of us who were children in the 1970s
David Rintoul played Michael Adeane in The Crown, and Aerys Targaryen in Game of Thrones
Charlie Clements plays Bradley Branning in EastEnders
Susan Penhaligon plays Jean Hope in Emmerdale, having previously delighted us in Bouquet of Barbed Wire and A Fine Romance
Cassidy Janson is a 2020 Olivier Award winner for her work in & Juliet. She brought the house down in Beautiful, the Carole King Musical
Paul Bradley plays Nigel Bates in EastEnders and also Professor Elliot Hope in the hugely popular TV hospital drama Holby City
Buy The Mousetrap Tickets
Book your The Mousetrap tickets online with us and grab the best seats in the house using our St Martin's Theatre seating plan. We'll email your E-tickets, which you simply present on the big day. Are you ready for a classic mystery that has mystified millions?
About St Martin's Theatre
St Martin's Theatre is just off the Charing Cross Road, on West Street, next to The Ambassador's Theatre and a three minute walk from Leicester Square tube station. The Mousetrap has played here since March 1974, making it the longest continuous run of any stage show in the world.