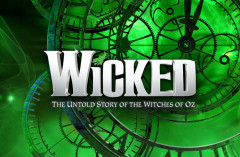 It's hard to believe it's over a decade since Wicked first thrilled London audiences and that it's now in its 11th year at London's Apollo Victoria Theatre.
It's about to get a reboot as a fresh cast take over in the leads on 24th July. Here's our guide to who plays who!
Alice Fearn will play Elphaba the witch who is born with green skin thanks to a potion her mother drinks whilst pregnant. Elphaba is our central character and she grows from being ostracised to become one of the most powerful witches in Oz and winning the hot guy. Her story chimes with any one of who has ever felt like an outsider at some time in their life – so just about everyone then! I'm also delighted to tell you that Laura Pick, who I've just directed in Road Show is the standby Elphaba and will play the role at many performances. She's wonderful!
Sophie Evans will Glinda the perfect prom queen type witch, she is the most popular girl in magic school and is initially hostile to Elphaba however soon an unlikely friendship grows and is tested to the max.
Bradley Jaden will play the handsome Fiyero who's a bit of a wastrel when we first meet him but who grows in sincerity and purpose as he comes into contact with Elphaba and Glinda, both of whom fall in love with him.
Melanie La Barrie will play Madame Morrible a powerful teacher of magic who has some dark secrets to hide.
Andy Hockley will play The Wizard. Everyone thinks he's all powerful but all is not as it seems. Can Elphaba trust him?
Jack Lansbury will play Boq, a lovesick Munchkin who has the misfortune to fall in love with the wrong girl and is transformed into one of the central characters in the Wizard of Oz.
Martin Ball plays Doctor Dillamond who is a respected teacher (despite being a goat!) until he becomes a victim of lies and prejudice.
Sarah McNicholas will play Nessarose who is confined to a wheel chair and is Elphaba's sister. However anyone feeling sorry for her had better beware. She's brave and cunning even if she's a little misguided.
The new company will also include: Jennie Abbotts, Ashley Birchall, Nicole Carlisle, Nicholas Corre, Conor Crown, Kerry Enright, Aimée Fisher, Joseph Fletcher, Alexandra Grierson, Katy Hanna, Tom Andrew Hargreaves, Olivia Kate Holding, Claudia Kariuki, Will Lucas, James McHugh, Danny Michaels, Ellie Mitchell, Rosa O'Reilly, Matt Parsons, Alex Pinder, Sam Robinson, Paulo Teixeira, Samantha Thomas, Hannah Toy, Russell Walker, Sasha Wareham and Libby Watts.
The press release reminds us that the hit show is "based on the best-selling novel by Gregory Maguire which re-imagines the stories and characters created by L. Frank Baum in The Wonderful Wizard of Oz, Wicked tells the untold story of an unlikely friendship between Glinda The Good and Elphaba, the Wicked Witch of the West. It has music and lyrics by Stephen Schwartz and a book by Winnie Holzman, and features the songs "Defying Gravity", "Popular" and "The Wizard and I".