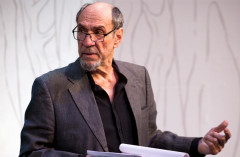 F Murray Abraham is heading to the West End and I can't wait to see him perform live again.
He was virtually unknown to the wider public when he was cast as the lead in a Hollywood film of Peter Shaffer's hit stage play Amadeus, which some of you may have seen revived recently at the National Theatre. With that title you'd be forgiven for thinking the big part would be composer Wolfgang Amadeus Mozart and indeed the story does centre around the genius's struggle to win respect, wealth and recognition during his life time.
Central to the piece however is a bitter composer, Salieri who takes vengeance on God for his own mediocrity by swearing to destroy his rival. It's a study in simmering hatred, barbed wit, betrayal and deceit and Abraham perfectly captured the character's gradual descent into madness at every stage of his life, from glittering early success to incarceration in a mad house.
I last saw him on stage in New York where he recently played the title character in Nathan the Wise at Off-Broadway's Classic Stage Company, just off Union Square. The play is based on a seminal Jewish myth and unfortunately felt silly, muddled and way too long but Abraham was magnificent as the wise man of a beleaguered community forced to balance cordial relations with his enemies and the good of his community. No matter how high the stakes he retained a suave, unflappable thoughtfulness which made him utterly believable as the brilliant, medieval Jewish thinker and moralist.
Fans of quality American TV will also recognise him as one of the regular cast of the highly acclaimed political thriller Homeland. He plays a fascinating, powerful but morally bankrupt F.B.I chief who neither the other characters or the audience ever feel they can trust. In the most recent series there were particularly revealing scenes which exposed quite how corrupts he was. Once again the actor delivered an extraordinarily complex performance that was equally successful in conveying the villains plausibility and deep rooted psychological scars.
He will play the title role in Laurence Boswell's production of The Mentor by Daniel Kehlmann which opened at Bath Theatre Royal in April and is to transfer to the Vaudeville Theatre in the West End from 24 June to 2 September.
The plot is described as being "set in a dilapidated art nouveau villa in the German countryside where a successful playwright is being paid to mentor an emerging one".
The rest of the cast are Daniel Weyman as Martin Wegner, Naomi Frederick as Gina Wegner and Jonathan Cullen as Erwin Rudicek.