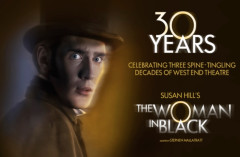 Now entering its third decade in London's West End, The Woman In Black continues to haunt audiences daily. We celebrate its successes, uncovering what it is that gives this spooky production its staying-power.
Adapted from Susan Hill's 1983 novel of the same name, Stephen Malatratt's The Woman In Black has endured at Theatreland's Fortune Theatre for some thirty years. Now one of the longest-running productions in the history of the West End (second only to The Mousetrap), the play has become something of a household name – fabled as an ode to the immortal 'ghost story'. If anything, public appetite for such work has increased. As a genre, horror remains a popular one, as demonstrated in the rise of True Crime and wider consumption of grizzly psychological thrillers. Even on an unassuming Tuesday evening, the stalls were packed, with two separate parties having been accidentally double-booked.
Simple but effective, The Woman In Black's power is forged from the most basic elements of storytelling. Without pretension, this play champions the potential of one's imagination, elements of metatheatricality establishing a marked communion between the audience and performer from the offset. Here, stories are returned to as a means of explaining the inexplicable, the increasingly blurred lines between the real and unreal giving rise not just to the possibility, but the actuality of the paranormal. Ultimately, it is an endeavour of deceptive complexity, with much teeming below the surface of the action.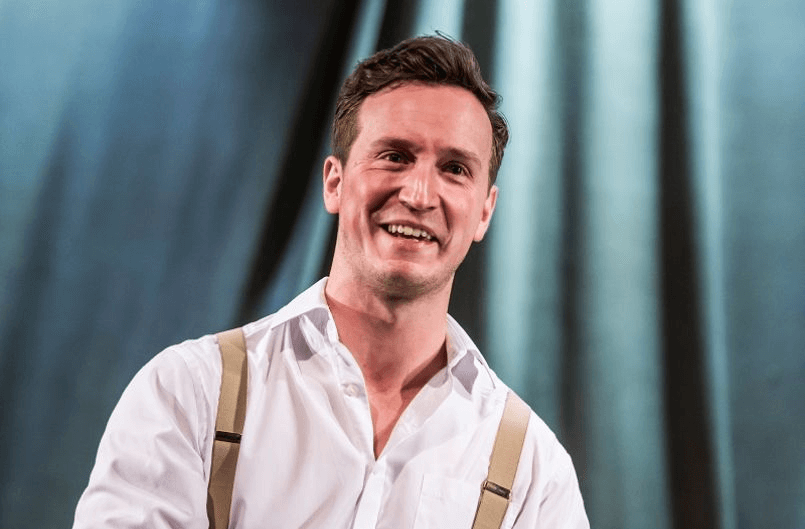 Max Hutchinson (The Actor).
The stage of The Fortune too, is a perfect home for The Woman In Black. Its ancient feel (creaking floorboards and jaded decor) add to the restlessness of the spectators, who are shaken easily. Here, the musicality of Hill's script works to lull its audience into a false sense of security, a trust which the actors (Terence Wilton as Arthur Kipps and Max Hutchinson as The Actor) manipulate with ease. Soon, shadows begin to transform, taking on the shape of the eponymous Jennet Humfrye – her ghostly form as much a part of the architecture of the theatre as the narrative itself.
A creative use of sound effects (by Rob Mead) – an unnervingly loud shrieking, the tolling of a bell – gobo's and scenic design are all without extraneous detail. Michael Holt's set is also one of multi-purpose: a wicker basket becoming a pony and trap or a bed, with one-way gauze revealing a world beyond the stage as we think we know it. In this, there is a tension practised between silence and sound; darkness and light. This works to make empty spaces fertile, ground in which invisible threats are conjured. As a result, jump-scares (which are peppered throughout to just the right degree) are hideously effective. It doesn't look like The Woman In Black will be passing on anytime soon.
Tickets from £20