Lyric Theatre
29 Shaftesbury Avenue, London, W1D 7ES GB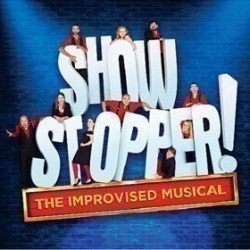 Showstopper! The Improvised Musical
Tickets
Lyric Theatre
Booking until: Monday, 23 September 2019
Running time: 1 hour 30 minutes (One interval)
Book

tickets
Press Reviews
Top-dollar amusement that doesn't let up. So polished, deft and stirring, it defies belief The Daily Telegraph
Edge-of-your-seat, laugh-out-loud funny. Raw and satirical. British Theatre
Magical. Properly funny. A triumph. The Times
A success story that could run and run and never repeat itself. Evening Standard
High-wire act between soaring tunes. Brilliant. Financial Times
Staggeringly good. A must-see. The Stage
Unimprovable. Something special. Theatre Cat
Customer Reviews
What to expect:
Acting
Music
Costumes
Story
Lighting
Recommended for:
Anyone
Families
Teenagers
Couples
Theatregoers
based on 34 reviews
Incredible
Craig London Box Office customer
Fantastic!!
This show was amazing! If you are into musical theatre you will love it! The actors' and musicians' improvisation skills are so impressive! Just wow!
Tara London Box Office customer
Entertaining. Surprizing!
Mario London Box Office customer
I have seen Showstoppers 3 times now and think this was the best one. My sister visiting from Australia was blown away and it took her a while to get her head around what she was seeing.
Caroline London Box Office customer
Witty and largely spontaneous
Mostly suitable for British audience or those who have lived in the UK for a long while. You need to be able to understand the local sense of humour.
WEIPING London Box Office customer
Very interesting!
Isabel London Box Office customer
Great fun, laughed so much!
Louise London Box Office customer
Showstoppers
One of the best musicals ever seen . The acting was superb , fast paced , excellent muscians nothing to dislike at all thoroughly recommend .
Sharon London Box Office customer
Genius
I would recomend your theatre group to God Almighty
Joanna London Box Office customer
An Absolute Must See!
What a brilliant production, and such a great idea. The actors were fantastic, I don't know how they do such a brilliant job of improv, but it was laugh out loud funny, and fantastic. I could go again, and again!
Louise London Box Office customer
entertaing and funny
Marijana London Box Office customer
Must see
Funny for beginning to end. interactive with the audience. Brilliant actor's throughout the show. To make a musical from audience suggestions.Brilliant.
Helen London Box Office customer
Good fun !
A really good fun evening - very clever!!
Marion London Box Office customer
Amazing, true actors highly recommend
Collette London Box Office customer
A surreal but thoroughly enjoyable show
An amazing show, the crew were spectacular making a musical from the list of songs chosen and following the story line that was selected by the audience. The performers were brilliant. It was fantastic and I would recommend that people go and see this.
Zoe London Box Office customer
A Wonderful Funny Musical Evening Out.
Made all the more fun by the audience participation in suggesting topics for the show, styles of music and ideas for how the show runs. Go armed with wacky topics! Congratulations to the cast and musicians for their amazing talent to be able to turn the weird things thrown at them into a funny, witty enjoyable musical evening out. Fast moving, so fast that innuendo passed over the heads of children in the audience.I went with my teenage daughter and we both roared with laughter. Brilliant pure entertainment.
Catherine London Box Office customer
A must see
Val London Box Office customer
In ore of their talent and skill
Stephanie London Box Office customer
Amazing performance
Amazing performance it made us laugh from start to finish. Not knowing what to expect was half the excitement as passionate theatre goers. Well worth a visit .
Andy London Box Office customer
Skillful Improvised performance
I wasn't expecting this to be a fully improvised performance. The penny finally dropped when the 'producer' started asking the audience for suggested plots, scenes and musical scores. Initially I thought audience members had been planted but that thought quickly faded once 3/4 of the audience (myself included) got involved with suggestions either verbally or through social media. I was truly impressed with the actor's ability to take on suggestive prompts and work them into the storyline, let alone sing (this is a musical after all). Our particular play focused on corruption at FIFA with the added addition of a group of conspiracy theorists! Random, I know. The best thing about this show is that no two performances will ever be the same so you can see the play as many times as you'd like and experience something different on every occasion. It all depends on the audience and their suggestions.
Naushin London Box Office customer
Very innovative, hilarious and captivating
A great show! Was very impressed by the whole performance.
Ashleigh London Box Office customer
Fun! Different every night!
It was a great show, all made up from suggestions from the audience, much like Who's Line is it anyway (the TV show), but in the format of a 2 hour musical. It was great and I'd do it again anytime!
John London Box Office customer
fantastic, creative, brilliant, funny! I cam Saturday night and during the show decided to return on Sunday.
William London Box Office customer
Great cast, great singing and dancing, Great Fun!!!
Not sure what to expect or how it would work but it did work - go yourself and your ideas could be a part of it!
Michael London Box Office customer
Fantastic true talent
hayley London Box Office customer
Awe inspiring
An exceptionally talented and versatile group of improvisers who provided us with the perfect round off to a day out in London! Just great fun and very clever, we are in awe!
Marianne London Box Office customer
Hilarious
very creative and funny .great if you fancy something a little different . Great value for money
Elaine London Box Office customer
Use the search box at the top left of this page to search for Showstopper! The Improvised Musical tickets availability.
Quick Facts
Largest Ticket Inventory in the West End
Real time seat availability
Your booking is processed directly into the box office reservation system
Collect your tickets from the theatre for free or get them posted to your address.

Theatre Address
Lyric Theatre
29 Shaftesbury Avenue, London, W1D 7ES GB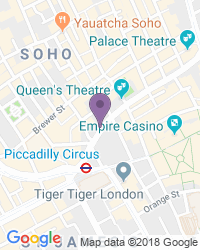 Facilities
Air conditioned
Bar
Disabled toilets
Infrared hearing loop
Member of Q-Park scheme
Toilets
Wheelchair/scooter access
Theatre Info
Capacity: 959
Year built: 1888
Next Performances