Rosebery Avenue, London, EC1R 4TN GB
Quick Facts
Largest Ticket Inventory
in the West End
Real time
seat availability
Choose
your seats
Your booking is processed directly into the box office reservation system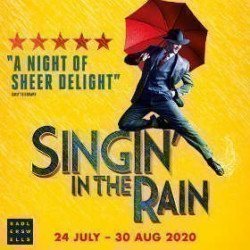 Singin' In The Rain
Tickets
4.7/5
-

based on

31

reviews
Opens: Friday, 30 July 2021
Booking until: Sunday, 5 September 2021
Tickets from £36.00
Book tickets
About Singin' In The Rain
Age restrictions
No under 5's
Performance Times
Opens: Friday, 30 July 2021
Booking until: Sunday, 5 September 2021
Singin' In The Rain description
Fall in love with Singin' in the Rain all over again!
Remember the classic movie with the amazingly nimble-footed Gene Kelly tap-dancing his heart out in the pouring rain, together with Hollywood stars Donald O'Connor and Debbie Reynolds? If you've marvelled at the film, now you can enjoy the stage version of this enduringly popular musical hit, complete with fabulous choreography and a raft of well -known and even better-loved tunes to get you singing in your seats! This ranks as one of the best feel-good West End shows of all time…
Singin' in the Rain – The story
It's the 1920s and silent movies are slowly dying out as the 'talkies' hit the big time. Silent movie star Don Lockwood and his leading lady the dreadful Lina Lamont, who has an unfortunately squeaky voice, can see the writing on the wall. Silent movies are dying. But can the young chorus girl Kathy's fantastic voice provide a solution? Will this cracking tale lead to true love as Don and Kathy finally get together? Or will the awful Lina Lamont win the day?
This is your chance to catch Gene Kelly's breathtakingly complex and elegant dance routines in real life, performed live every night to stand-up applause. With all the romance, humour and glamour of the original film, Jonathan Church's fresh production of this all-time classic features a heart-warming score including original hit tunes like Good Morning, Make 'em Laugh and Moses Supposes. Andrew Wright's choreography is second to none and Simon Higlett's stunning stage designs make this a West End musical experience you'll remember forever. It's a genuine masterpiece in feel-good family drama!
Singin' in the Rain song list
The original film of Singin' in the Rain was nominated fifth in the 2007 list of the greatest American films of all time. And the show is just as good, winning several Olivier Awards and nominated for a handful of prestigious Tony awards. It features all the film's best loved songs including, of course, Singin' in the Rain itself. Expect to sway along in time to Fit As A Fiddle, The Royal Rascal, You Stepped Out Of A Dream, All I Do Is Dream Of You, Make 'Em Laugh, Beautiful Girl, You Are My Lucky Star, You Were Meant For Me, Moses,Good Morning and many more.
Singin' in the Rain theatre tickets
We're pleased to provide excellent seat and ticket availability, with a wide choice of price options including discounted, premium and full price Singin' in the Rain tickets to suit every budget.
If you are sitting in row A of the stalls, you will get wet. In rows B to E of the stalls you may get wet. Row A of the upper circle is restricted leg room. The balcony section is very high and steeply stepped. Seats in the balcony are partially restricted view.
Next Performances for Singin' In The Rain at Sadlers Wells
Friday
30th Jul 2021
7:30pm
Saturday
31st Jul 2021
7:30pm
Sunday
1st Aug 2021
4:00pm
Tuesday
3rd Aug 2021
7:30pm
Wednesday
4th Aug 2021
2:30pm
Wednesday
4th Aug 2021
7:30pm
Singin' In The Rain reviews
4.7 out of 5
based on

31

reviews
What to expect:
Acting
Music
Costumes
Story
Lighting
Recommended for:
Anyone (65%)
Families (74%)
Teenagers (71%)
Couples (87%)
Theatregoers (90%)
Latest customer reviews

Raindrops keep falling on your head
Reviewed on 16 May 2013 by Anonymous

Reviewed on 16 May 2013 by Anonymous

Reviewed on 15 May 2013 by Anonymous

wundebar
Reviewed on 14 May 2013 by Anonymous

great!
I can recommend this show to anyone. Great!
Reviewed on 03 May 2013 by Anonymous

Review of Singin' in the Rain
Reviewed on 17 April 2013 by Anonymous

Watching in the rain
A very good try on a classic. A slight niggle on the Lina Lamont character which was overdone. That was not the fault of the actress but of the director. Do not go to see the show with the film in mind because you might be disappointed. Try and get seats in the dress circle and stalls. Higher up you miss a little of what is going on. Anyone with height problems avoid the balcony. Overall, a very good show to go and see.
Reviewed on 12 March 2013 by Anonymous

doop de doop do dooby doop de doop do.!
warning!!!!! you will get wet if you are in the front row stalls.. all fun though.
Reviewed on 28 February 2013 by Anonymous

A very pleasant feel good show
I just love the old theatres, even if your knees ache because of the tight space. Great Location, a show for everyone
Reviewed on 24 February 2013 by Anonymous

Fantastic Show
Loved every single minute of this show. Would recommend it to anyone.Can't wait to see it again.
Reviewed on 21 February 2013 by Anonymous

magnifico
enjoy was very impressed.
Reviewed on 22 December 2012 by Anonymous

magnifico
enjoy was very impressed.
Reviewed on 22 December 2012 by Anonymous

Show gives you a feel good factor. Raining scenes excellent but for us on Saturday the male lead was poor. Female lead had to carry him
Reviewed on 12 November 2012 by Anonymous

singing in the rain
Reviewed on 11 October 2012 by Anonymous

Brilliant
Reviewed on 06 October 2012 by Anonymous

really great show
dont sit in the balcony
Reviewed on 18 September 2012 by Anonymous

A Very Enjoyable Musical
There are warnings that occupants of the first 5 rows of the stalls are liable to get wet - they did! My friend and I were seated in the dress circle so it wasn't a problem. Having spent £108 each on our tickets we were annoyed to have two women and their partners in front of us who talked throughout, unacceptable behaviour and I'm sure the performers could hear them. Otherwise a wonderful musical, comparable to the film. Admittedly I wanted to see it for Adam Cooper, but the rest of the cast were superb as well. Thoroughly recommend.
Reviewed on 09 September 2012 by Anonymous

Reviewed on 04 September 2012 by Anonymous

A great waste of money.
Very disappointing. Disjointed, if any, storyline, dowdy scenes apart from last 10 minutes and Lena's voice which was at first funny became boring and even painful. Dancing and acting was brilliant as far it was allowed to be but generally dull story, sets and choreographhy.
Reviewed on 02 September 2012 by Anonymous

Singing in the Rain
The show was excellently performed and made for a very happy evening.
Reviewed on 14 August 2012 by Anonymous

Fantastic Show
Fabulous show for young and old alike. Great storyline and fab musical numbers. The Singin in the Rain number was excellent - just don't sit too near the front!!! Seriously worth it. We got our tickets upgraded free of charge also so were in the stalls and right near the stage. Love the way the centre aisle was used by the cast also. Must see this again either in London or on tour.
Reviewed on 27 July 2012 by Anonymous