Quick Facts
Largest Ticket Inventory
in the West End
Real time
seat availability
Choose
your seats
Your booking is processed directly into the box office reservation system
This show is now closed.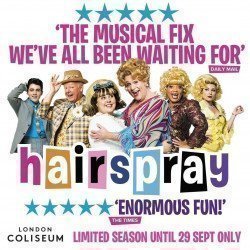 Hairspray
Tickets
4.9/5
-

based on

35

reviews
Starring: Michael Ball, Les Dennis, Lizzie Bea, Marisha Wallace
Information
Cheap Tickets
Reviews
News
About Hairspray
Performance Times
Starring:
Michael Ball, Les Dennis, Lizzie Bea, Marisha Wallace
Hairspray description
Head for the London Coliseum in spring 2020 to find the marvellous Michael Ball reprising his brilliant role as Edna Turnblad in Hairspray the musical. Tickets are on sale now, and the initial booking is for just 12 weeks, which means there are a limited number of tickets available.
Hairspray enjoyed its world premiere on Broadway in 2002. In 2003 it won eight Tony Awards out of 13 nominations, including one for Best Musical. It ran for 2,642 performances, enjoyed national tours, a West End production, and numerous foreign productions. There was a musical movie adaptation in 2007.
It hit the West End in 2007 at the Shaftesbury Theatre, where it starred Michael Ball as Edna Turnblad. Directed by Jack O'Brien and starring Mel Smith, Tracie Bennett and Leanne Jones, it proved a record-breaker of a production. It took to the stage at the Shaftesbury theatre during October 2007, a production so good it attracted a whopping 11 Olivier nominations, a record-breaker at the time. It won an Olivier for Best Musical, and another for Best Actor and Actress in a musical for Ball and Jones. It ran for more than a thousand performances and throughout the run the cast occasionally changed to include Brian Conley, Phil Jupitus and Sharon D Clarke. Now Ball is back, and it's going to be magical.
What's the story? The setting is Baltimore in 1962. Tracy Turnblad is a big girl. Her hair is even bigger. But her dream is the biggest of all: to dance her way all the way on to national telly, then straight into the arms of her crush the teen idol Link Larkin. When she wins a part in a local TV show, The Corny Collins Show, she is suddenly flung into stardom, a total surprise. Now she's a local sensation... and she decides to use her fame to fight for integration. Will she achieve equality – and Link's heart – without damaging her enormous hair do? Come and see!
The music is by Marc Shaiman and the lyrics by Shaiman and Scott Wittman. And it's packed to the gills with superb show tunes, some of which you'll probably know even if you've never seen the film or the musical. The gorgeous Good Morning Baltimore, the sensational Big, Blonde and Beautiful, the stunning I Can Hear the Bells and the legendary song You Can't Stop the Beat are yours for the taking.
Who is this show for?
This show is perfect for people aged 13 and upwards.
Hairspray cheap tickets
We have a great selection of cheap Hairspray tickets. We can help you save up to 70% on Hairspray tickets! If you're looking for discount theatre tickets have a look below for our latest offers for Hairspray at the London Coliseum.
There are no special offers available at the moment but we still have great ticket prices for Hairspray at the London Coliseum.
Hairspray reviews
4.9 out of 5
based on

35

reviews
What to expect:
Acting
Music
Costumes
Story
Lighting
Recommended for:
Anyone (97%)
Families (97%)
Teenagers (97%)
Couples (97%)
Theatregoers (100%)
Latest customer reviews

Great to be back
I was a little apprehensive about returning to the theatre especially in London but I was so thrilled to be there! A fantastic performance by everyone. A wonderful atmosphere; I felt the audience had come determined to enjoy themselves. I love the theme of inclusion but there was so much humour. ? Michael Ball and Les Dennis were magnificent! We're still laughing about their corpsing today. Thank you so much for lifting our spirits.
Reviewed on 26 September 2021 by Maggie, Pontypool, United Kingdom

joyful
great performance! highly recommend it
Reviewed on 24 September 2021 by Jeanine, Dubai, United Arab Emirates

A must see show!!
Reviewed on 24 September 2021 by Joan, Hetton-le-hole, United Kingdom

Sensational
'HAIRSPRAY'. Sensational , powerful, humorous, joyful, Amazing cast members. A tonic for lifting your spirit without the gin! Thank you to all the amazing cast, behind the scenes and front of house theatre staff. So grateful Westend theatre is back. I woke this morning feeling joyful and full of energy.. THANK YOU.
Reviewed on 16 September 2021 by Beverley, Nottingham, United Kingdom

A must see show
Reviewed on 15 September 2021 by James, Falkirk, United Kingdom

perfect in every way
I have seen this show many times but the present cast are the best! great chemistry I'll be back!
Reviewed on 03 September 2021 by Kenneth, Norton, United Kingdom

proper solid show
I LOVE LES DENNIS
Reviewed on 02 September 2021 by Jack, Dunstable, United Kingdom

Brilliant, Fun and An absolute must see
Thoroughly enjoyed Hairspray, All Actors excellent professionals, absolutely adored Micheal Ball and Les Dennis. Was great to see a Full house and Everyone enjoying themselves. A Great Experience for myself, and my Grand daughter Thank you xxxx
Reviewed on 25 August 2021 by Susanne, Hastings, United Kingdom

Great chemistry
Fantastic show all cast were brilliant but especially les Dennis and Michael ball. They were fantastic . We were a bit high up and volume levels could have been higher/ crisper we missed quite a bit of dialogue.
Reviewed on 21 August 2021 by Helen, Liverpool, United Kingdom

We just loved it very funny brilliant singing a good show for everyone
Reviewed on 21 August 2021 by Terence, Millom, United Kingdom

Fantastic Show
Reviewed on 07 August 2021 by Richard, Shoreham-by-sea, United Kingdom

Great show
Fantastic show. Great for all ages. Everyone up on there feet for the ending.
Reviewed on 06 August 2021 by Sarah, Hoddesdon, Herts, United Kingdom

Amazing
Reviewed on 05 August 2021 by Michael, Bolton, United Kingdom

Joyous, colourful, fun
Reviewed on 05 August 2021 by Sally, Hook, United Kingdom

Great show but could be better
Main character isn't as good as the others
Reviewed on 01 August 2021 by Tom, Wellingborough, United Kingdom

Just what I needed
My favourite musical, I have seen it before on Westend but this performance was better, a riot of sound and colour, and best of all great fun.
Reviewed on 25 July 2021 by Sharon, Basingstoke, United Kingdom

5* and MORE!
I LOVE the music of this show and this cast did not disappoint. High energy and great fun throughout (despite stifling heat!). Absolutely FAB to be back in the theatre after the pandemic. There was a great atmosphere in the audience which came in response to the interaction from the cast on stage.
Reviewed on 22 July 2021 by Catherine, Guildford, United Kingdom

Totally awesome
What a great cast, totally faultless. The vocals were stunning and the dancers took my breath away. Absolutely loved it.
Reviewed on 10 July 2021 by Hayley, Hove, United Kingdom

Excellent. Would recommend
Excellent show. Felt safe with restrictions in place. Real good fun
Reviewed on 05 July 2021 by Mary, Sutton Coldfield, United Kingdom

100% a must see show!
It was exceptional. The whole cast were absolutely amazing and we had such a good night.
Reviewed on 25 June 2021 by Sarah, Stroud, United Kingdom

Reviewed on 25 June 2021 by Denise, Essex, United Kingdom

Amazing show, bringing life back into the theatre
This was an amazing feel good show. The theatre staff were lovely, and at no times did it feel unsafe to be there. The sound quality was not great in the balcony, and there were times that we could see what was going on side stage (arms in wings). The way the set was designed, in the balcony you could see over the top of it, and see people behind. For me, it added to the joy of theatre, which isn't all just about the show.. its the work and effort of all, backstage and all.. nice to see those guys in black! However, for others that might be a bit off putting. If you care about that stuff, don't go high is my advice. But wow, what an amazing theatre.. its beautiful.
Reviewed on 25 June 2021 by Katie, London, United Kingdom

Brilliant cheerful show
So missed watching such happiness
Reviewed on 21 June 2021 by Teresa, Ashford, United Kingdom