Quick Facts
Largest Ticket Inventory
in the West End
Real time
seat availability
Choose
your seats
Your booking is processed directly into the box office reservation system
This show is now closed.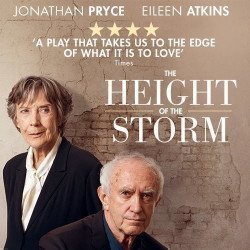 The Height of the Storm
Tickets
4.7/5
-

based on

25

reviews
Starring: Jonathan Pryce, Eileen Atkins
About The Height of the Storm
Performance Times
Starring:
Jonathan Pryce, Eileen Atkins
The Height of the Storm description
Ooh, it's a theatre first! That's rather exciting. Yes, it is! Jonathan Pryce is a two-time Olivier Award winner, with two more nominations under his belt. He's a bit of a double threat – theatre and musical theatre alike. He's been all over the film industry too – films like Evita with Madonna, Glengarry Glen Ross with Al Pacino, Alec Baldwin and Ed Harris, as well as the Pirates Of The Caribbean and Game Of Thrones franchises.
But Eileen Atkins pips him to the post with three Olivier Award wins, as well as four Tony Award nominations and both a BAFTA and an Emmy for her work in Cranford. Basically, this is a powerhouse of a theatrical couple.
The Height Of The Storm– sound pretty dramatic! That it does! It's about a fifty-year loving marriage that all threatens to fall apart when André and Madeleine's daughters come to visit. A mysterious bunch of flowers arrives on the doorstep and a woman emerges from their past. What links it all together? You'll have to buy some tickets to find out!
The show is actually originally a French production by acclaimed playwright Florian Zeller. Zeller's shows have been all over London in recent years – The Lie was at the Menier Chocolate Factory last autumn and both The Truth and The Father are Olivier Award nominated. The latter actually won Kenneth Cranham his first Olivier for Best Actor in 2015. It received five-star reviews from every major publication, an unprecedented feat!
The Height Of The Storm is translated by Christopher Hampton, who has translated many of Zeller's works, and is directed by Jonathan Kent, most famous for being co-artistic director of the Almeida Theatre with renowned actor Ian McDiarmid. This is a pretty star-studded team!
The Height of the Storm reviews
4.7 out of 5
based on

25

reviews
What to expect:
Acting
Music
Costumes
Story
Lighting
Recommended for:
Anyone (28%)
Families (36%)
Teenagers (32%)
Couples (76%)
Theatregoers (100%)
Latest customer reviews

Great play on a difficult topic
Reviewed on 02 December 2018 by Miklos, Bruxelles, Belgium

vivid
Reviewed on 13 November 2018 by Robert, Trencin, Slovakia

Great play An day greater acting.
Great play. A5 in the balcony is an odd seat.
Reviewed on 11 November 2018 by Athena, Welwyn Garden City, United Kingdom

Poignant dissection of death and dementia
A stunningly realistic scene of late age. Pryce and Atkins produce riveting portrayals of the aged couple.
Reviewed on 07 November 2018 by Igor, London, United Kingdom

Heartbreaking tale of love
Reviewed on 06 November 2018 by Angelika, Boppard, Germany

Real life, family dilemma, passages
Reviewed on 06 November 2018 by Joanna, Norwood, United States Of America

Reviewed on 04 November 2018 by Tatiana, London, United Kingdom

Fantastic acting
Reviewed on 04 November 2018 by Christakis, Barnet, United Kingdom

Unusual, moving, involving
This beautifully acted and presented story held us captive. Thank you for a wonderful night at the theatre.
Reviewed on 31 October 2018 by Suzanne, Slidell, United States Of America

original perspective on ageing as a couple
Well written, very interesting perspective on the costs of one spouse dying before the other in an ageing couple, as opposed to one or both spouses making a conscious choice to die together. It explores the various different costs on the entire family as an old and dependent parent is left to decline alone after loosing their spouse. My husband and I unfortunately arrived just as the show began (due to Friday evening London gridlock) and had to sit out the first half hour till a scene change. We also traded our perfect center seats in row E for all-the-way-to-one-side seats in row F so as to be less disruptive when finally allowed in. Although arriving in good time is always best, even the side seats provided a good view of the stage. I recomend this play for its depth and substance.
Reviewed on 20 October 2018 by Karen, Miami, United States Of America

Drama at its best
Touching, insightful, heart-warming, tender... acting that reminds you what acting IS... because it doesn't seem acted, it just seems real.
Reviewed on 19 October 2018 by Diane, Proctorsville, United States

Powerful and moving!
A moving and poignant story with a twist. A must for anyone with elderly relatives! Superb cast lead by Jonathan Pryce and Eileen Atkins showing their mettle.
Reviewed on 13 October 2018 by Andrew, Duncraig, Australia

Interesting show
Could not hear Eileen Atkins. I hope this was due to a sound problem.
Reviewed on 07 October 2018 by Arlene, Orpington, United Kingdom

Acting masterclass from the princip
Don't expect a relaxing night of entertainment. You have to work hard to appreciate this show.
Reviewed on 06 October 2018 by Colette, Abbots Langley, United Kingdom

Psychological drama that goes to your head and then to your heart
Reviewed on 05 October 2018 by Bruce, Aspen, United States

A must see!
Perfect. A humaine and compelling story beautifully played by one of the greatest set of actors you will ever see.I just want to thank the whole team that together gives the oportunity to me and others to presence this amazing human experience.
Reviewed on 05 October 2018 by Daniel, São Paulo, Brazil