Quick Facts
Largest Ticket Inventory
in the West End
Real time
seat availability
Choose
your seats
Your booking is processed directly into the box office reservation system
This show is now closed.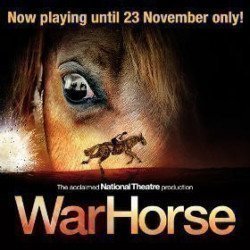 War Horse
Tickets
4.8/5
-

based on

576

reviews
About War Horse
Performance Times
War Horse description
Enjoy laughter and tears with War Horse, a puppetry masterpiece
Based on a children's story by the former children's Laureate Michael Morpurgo, whose chance encounter with an old soldier and a painting of cavalry horses inspired the book, War Horse's outstanding puppetry has received an enormous amount of critical acclaim. But it's the moving story that makes this a tour de force of emotion. Love, fear, war and separation are the main themes of this outstanding West End production that's drawing sell-out crowds for every performance, guaranteed to transport you to war torn Europe and warm the cockles of your heart whatever your age.
War Horse – The story
With World War One on the horizon, Albert's horse, Joey, is sold to the cavalry and transported by sea to the battlefields of France. Albert isn't old enough to enlist in the army. But he simply cannot forget his beloved friend. So he starts off on a dramatic mission across war-torn, ruined French landscapes to find Joey.
Audiences find themselves on the edge of their seats as the tale unfolds and both our heroes struggle to survive. It's a story that underlines the value of friendship and loyalty as well as highlighting the love, respect and trust that can develop between humans and their companion animals.
Considering it's a relatively simple story of a boy and his horse, War Horse has won an astonishing number of awards. But its emotional punch and amazingly lifelike puppets, created without the aid of CGI, take the tale to another level altogether, with the ability to pierce your heart and bring tears to your eyes.
Award winning puppetry
The humans involved give outstanding performances. But it's the horses that steal the show. The people who operate the life-sized horse puppets are extremely talented and all have circus, dance and gymnastics experience. In fact Joey the horse is so totally convincing that his creators, the Handspring Puppet Company from South Africa, have won a 'Special' Tony Award for Artistic Achievement. The show has also won two Olivier Awards and five other Tony awards including Best Play.
Is War Horse suitable for children?
Children love to watch the puppets thundering across the stage. Animal lovers are thrilled by the hyper-realistic puppets that even seem to breathe, with their flicking tails and manes. But the battle scenes are unnervingly realistic and might upset very young children, so it's wise to make a sensible judgement call on your children's behalf.
War Horse theatre tickets
We provide excellent seat and ticket availability with a wide choice of seat options and prices. You can buy premium and full price tickets here, as well as discount War Horse tickets, with something for every budget.
Suitable for 10 years +
Please Note: Latecomers will be admitted at a suitable break.
Audio described performances:
Saturday 27 July 2013 at 2.30pm
Captioned performances:
Saturday 20 July 2013 at 2.30pm
Sign language interpreted performances:
Saturday 8 June at 2.30pm
War Horse reviews
4.8 out of 5
based on

576

reviews
What to expect:
Acting
Music
Costumes
Story
Lighting
Recommended for:
Anyone (80%)
Families (86%)
Teenagers (86%)
Couples (89%)
Theatregoers (94%)
Latest customer reviews

Stunning and a spectacular staging
Horses looked real, their movements, gestures and facial expressions were incredibly well done. Furthermore, sound and lighting during the battles were impressive. I enjoyed the performance a lot.Congratulations to all the company. One advice I would give to families would be not to go with children around 5 years old because the strong sound of the shoots can make the children feel frightened.
Reviewed on 22 November 2019 by Rebeca, Cuenca, Spain

Moving and great acting and creativity
Very moving and thought provoking; spectacular creativity with horses; so natural and researched - you forget the horse are 'nor real'; amazing passion shown by Albert - extremely well acted! Standing Ovation.
Reviewed on 25 October 2019 by Bj, Melbourn, United Kingdom

Looking forward to seeing it again on tour 2017!
We all loved this show, it was great for my teenage sons. The skill of the puppet masters was amazing. Looking forward to seeing it again when the tour starts next year.
Reviewed on 15 March 2016 by Rachel, Sidcup, United Kingdom

Loved it
Absolutely brilliant show!
Reviewed on 11 March 2016 by Katy, Sturminster Newton, United Kingdom

magical and emotional
Reviewed on 05 March 2016 by Venetia, Bath, United Kingdom

amazing
Reviewed on 27 February 2016 by Samantha, Sutton, United Kingdom

Fantastic
Reviewed on 21 February 2016 by Julien, Morden, United Kingdom

Brilliant!
Reviewed on 20 February 2016 by Sophie, Pewsey, United Kingdom

Absolutely Fantastic
This show was fantastic, the acting was amazing. A captivating story, funny in places and sad in other. A real entertaining show. The animatronics were out of this world.
Reviewed on 18 February 2016 by Karen, Leicester, United Kingdom

Fantastic
So happy we were able to see this before the end of it's run.
Reviewed on 13 February 2016 by Antony, Tunbridge Wells, United Kingdom

Must see show very humbling
Excellent show, suitable for all the family. Very poignant to those who love horses and anyone who has family connections to the first world war.
Reviewed on 11 February 2016 by Paul, Crowthorne, United Kingdom

Hero's with a difference.
war horse was a Christmas gift to my friend so I tagged along, I had seen the film so I thought I would enjoy the show also. From the very start I was drawn into the performance by the brilliant skills of the actors who appeared well cast for their part, those actors demonstrating the horses were amazing and you really saw them as horses, brilliant. A very moving and thought provoking show and definitely one I would recommend. However I did think some members of the audience were a bit too young to watch it, mainly due to sudden loud bangs and distracting the audience. Overall, excellent.
Reviewed on 11 February 2016 by Linda, Chatham Kent, United Kingdom

See it before it ends
Reviewed on 03 February 2016 by Mary, London, United Kingdom

Fabulous
Really enjoyed the show. We got cheaper tickets at side of the stage but very close to the stage. the choreography, costumes, acting, puppetry and the singing was amazing. The horses were very lifelike. Nothing I didn't like!
Reviewed on 01 February 2016 by Jackie, Roscommon, Ireland

a story with history
AWell put together show that is for every one shame it has to end
Reviewed on 31 January 2016 by Susan, Carlton, United Kingdom

Fantastic show
Thoroughly enjoyable, beautifully portraying the heart wrenching story and loved the little hints of humour within. Very clever and believable. Loved it!
Reviewed on 30 January 2016 by Doreen, Worthing, United Kingdom

wonderfull
Reviewed on 28 January 2016 by Cameron, London, United Kingdom

Brilliant
Reviewed on 26 January 2016 by Bryan, Hoddesdon, United Kingdom

Emotional, Moving, Captivating, Insperational, Excellent
War Horse was an excellent show. All the cast were brilliant. How do they move those horses so well? The horses movements are soooo life like. I was mesmerized by them. As must watch.
Reviewed on 25 January 2016 by Debbie, Erith, United Kingdom

A masterpiece not to be missed!
Reviewed on 24 January 2016 by Kathleen, Connel, United Kingdom

Simply Brilliant
Reviewed on 22 January 2016 by Carl, Lincoln, United Kingdom

phenomenal.
Reviewed on 17 January 2016 by Ben, Eastleigh, United Kingdom

Great puppetry.
It's amazing to see such life in a wooden horse. The actors even ride the puppets which I found particularly astounding. Well worth seeing for the technical achievement even if the storey is just a little sentimental.
Reviewed on 16 January 2016 by Jacob, Wetteren, Belgium

Moving and uplifting
Fantastic realistic movements by the people operating the horses. Singing music and special effects great.
Reviewed on 16 January 2016 by Catherine, Frith End, United Kingdom

Moving
Reviewed on 10 January 2016 by Elizabeth, London, United Kingdom

Mesmerising
Best show I've ever seen was gripped from the beginning to end. The animals were incredible and you felt like you were part of the story it was so realistic and atmospheric. Everyone should see this.
Reviewed on 07 January 2016 by Susan, Brighouse, United Kingdom

Lose yourself in the Story
Words can not say how magical this show was, despite the story matter. You forget the amazing puppetry believing the horses and goose are real. Well done to all the actors and staff involved.
Reviewed on 07 January 2016 by Debra, Bishops Stortford, United Kingdom

Amazing choreography and staging. Met all my expectations
Reviewed on 06 January 2016 by Stephanie, Huddersfield, United Kingdom

Must see
Bought tickets for my parents as a present and they loved it. The horse puppets were amazing. They really enjoyed it.
Reviewed on 04 January 2016 by Karolina, London, United Kingdom

Great but not my taste
A great story and an excellent show. But not my taste because I want to see a 'real' opera rather than a drama.
Reviewed on 03 January 2016 by Daihui, Shanghai, China

war horse at perfection
I thought that the show was brilliant. The actors had the west country accent spot on and as we are Cornish, we are the best judges of that. Its a shame that its closing down. The horses seemed so real, very emotional, I loved it.
Reviewed on 01 January 2016 by Gloria, Penzance, United Kingdom

Best show I've ever seen!
This was an amazing show. The performers were superb and the movement of the horses was faultless. I was absolutely flabbergasted by the whole thing and haven't stopped talking about it since I got home.
Reviewed on 30 December 2015 by Denise, Canewdon, Rochford, United Kingdom

surprisingly good
What I liked the most is the brilliant acting performance by lead actor who played Albert. He had good connection with Joey and brought the character into life
Reviewed on 30 December 2015 by Quoc Khanh, Singapore, United Kingdom

Exciting, highly recommend
Definately advise anyone and everyone to watch this. Everyone will love it.
Reviewed on 23 December 2015 by Holly, Bracknell, United Kingdom

a unique theatrical experience
Reviewed on 22 December 2015 by Mark, Minehead, United Kingdom

Great story with lots of improvisation!
Some of the props that were used were unimaginable and very fascinating! The storyline was great and overall a wonderful production. Acting was amazing. Great for WW1 historians and generally any other history lovers.
Reviewed on 21 December 2015 by Huzefa, Harrow, United Kingdom

Great show!
Reviewed on 19 December 2015 by John, Swansea, United Kingdom

Very creative puppetry and excellent story, very well presneted
Reviewed on 17 December 2015 by Bruce, Haywards Heath, United Kingdom

Fantastic job
Reviewed on 16 December 2015 by Mary, Harrogate, United Kingdom

Brilliant - a must see
Reviewed on 14 December 2015 by Albert, Gibraltar, Gibraltar

wonderful storey the horse was real
The show was wonderful.During the first few minutes you are aware that men are carrying the horse then the horse Joey becomes alive.Watch out for the goose she gets a great clap at the end. It's the best show in London.
Reviewed on 14 December 2015 by Brian, Barnstaple, United Kingdom

amazing, poignant, memorable, a great portrayal of the war
Reviewed on 12 December 2015 by Patricia, Hartley Wintney, Hook, United Kingdom

Fantastic
Great evening out thoroughly recommended
Reviewed on 09 December 2015 by Dennis, Barking, United Kingdom

Amazing!
We have been to most of the major shows in London but for us this is right at the top. Incredible, emotional and breathtaking!
Reviewed on 06 December 2015 by Chris, Nottingham, United Kingdom

Excellent show!
Excellent show and definately a must see for anyone who loves theatre. The seats were amazing and you really felt in the midst of it all with the actors walking around the seats!
Reviewed on 04 December 2015 by Rachel, Walthamstow, United Kingdom

Clever
Reviewed on 30 November 2015 by Karin, Kellyville, Australia

A MEMORABLE STORY
You feel like you have been transported back in time, Acting Singing & Choreography was to a very high Standard, & very believable.
Reviewed on 29 November 2015 by Alan, Welling, United Kingdom

Reviewed on 27 November 2015 by Dave, Plymouth, United Kingdom

Wonderfully portrayed
Reviewed on 27 November 2015 by Raneen, London, United Kingdom

Unforgetable and moving throughout i was lost in a sea of emotion and joy
don't forget to bring the hankies
Reviewed on 27 November 2015 by Yvette, Shoreham, United Kingdom

Sensational, very moving
Very poignant at this time of year - near to Remembrance Day. Totally absorbed throughout the performance. Superb acting and very clever mechanical operation of the horses. The show enlightened the audience to the importance played by the horses during the Great War. Very clever use of the minimal scenary. Moving music all the way through. A wonderful production.
Reviewed on 25 November 2015 by Mary, Cockermouth, United Kingdom

Don't miss this show
Reviewed on 24 November 2015 by Ian, Truro, United Kingdom

Must see
Excellent. Puppetry amazing. Strong emotive storyline. Atmospheric. Lightened by just the right amount of humour.
Reviewed on 22 November 2015 by Gwen, Burnley, United Kingdom

Excellent
Reviewed on 22 November 2015 by Susan, Walsall, United Kingdom

Someone knows horses
Thought this show was innovative and beautifully stage an inmate knowledge and study of horse behaviour The stamina of the actors was amazing Funny and sad and joyful
Reviewed on 21 November 2015 by Judy, Forfar, United Kingdom

Great show!
Reviewed on 17 November 2015 by Brian, Craigavon, United Kingdom

Cumbrians
Show was fantastic, probably the best I have ever been to. Action scenes on stage amazing, much more feeling of empathy than film. Brilliant !
Reviewed on 15 November 2015 by Peter, Carlisle, United Kingdom

Just wonderful, I was sorry when it ended!
As above, a wonderful story. We had seats in the stalls and felt so involved in the what was going on on the stage.
Reviewed on 15 November 2015 by Patricia, Gerrards Cross, United Kingdom

Animal lovers
The horses movements etc were very realistic, they got the expressions down to a T.
Reviewed on 15 November 2015 by Terri, Birmingham, United Kingdom

Fantastic
I have been to many places in my time but this one just beats them all just everything was just fantastic and I'd go and watch it again
Reviewed on 03 November 2015 by Sharon, Surrey, United Kingdom

Powerful
Reviewed on 01 November 2015 by Julia, Kilmington, United Kingdom

Amazing
Reviewed on 31 October 2015 by Eddie, Bournemouth, United Kingdom

Great puppetry
Really enjoyed it great theatre not too big to see the stage properly and recommend the show. The movements of the horse puppets were realistic.
Reviewed on 30 October 2015 by Susan, Chorley, United Kingdom

captivating
Did't want the interval just wanted to keep watching !! it was a fantastic show and the mechanical horses were very soon real and majestic. The only annoyance was that it was very hard to hear 'mums' voice thankfully the other characters projected beautifully - this may have just been a temporary microphone fault tho. Absolutley worth watching and will do again if we have the oppourtunity
Reviewed on 26 October 2015 by Claire, Rooksbridge, United Kingdom

Awesome, well designed
The horse puppets used in the show were very accurate to real horses. The lighting also helped the mood of the show. The story was well written, and the actors seemed like they were the actual people.
Reviewed on 23 October 2015 by Maurien Oi Man, North Point, Hong Kong

Must See
Reviewed on 20 October 2015 by Debbie, Hayes, United Kingdom

spectacular
Seats comfortable; friendly staff; toilets clean & atmosphere fantastic!!!
Reviewed on 19 October 2015 by Julie, Walkford Nr Christchurch, United Kingdom

Wonderful enthral long made me cry with joy at the end
A lovely theatre
Reviewed on 18 October 2015 by Hilary, Dartford, United Kingdom

Wonderful
Reviewed on 16 October 2015 by Laura, Redditch, United Kingdom

Outstanding
Beyond expectations.... It was only my first experience and I was immediately blown away. What a show!
Reviewed on 15 October 2015 by Ged, Winchester, United Kingdom

SORRY NOT MY KIND OF MUSICAL
The story was well told and the horses were very well crafted but I prefer a more musical and colourful performance so I leave the theatre on a high. A bit depressing for me although my daughter thoroughly enjoyed it.
Reviewed on 14 October 2015 by Sandra, Okehampton, United Kingdom

Fantastic, emotional and a reminder of the sacrifices of that great war, even from the humblist Devon villages!
Reviewed on 05 October 2015 by Allan, Swindon, United Kingdom

Wonderful puppetry
Reviewed on 02 October 2015 by Adeline, London, United Kingdom

Absolutely fantastic!
This was the second time I have seen War Horse at this theatre and yet again it was amazing. The whole thing is absolutely awesome, especially the horses.
Reviewed on 02 October 2015 by Charlotte, Chelmsford, United Kingdom

Brilliant!
Great story and acting. Kudos to the puppetry guys who made the animals so lifelike; it's almost as if they are real animals. No details were missed, e.g. The twitches in their faces and movement, the sounds, even the breathing rhythm of the horses. One of the best musicals I've ever watched. Super, brilliant, well done!
Reviewed on 01 October 2015 by Egwin, Isleworth, United Kingdom

Great Viewing!
Reviewed on 30 September 2015 by Sean, Quedgeley, United Kingdom

Fabulous. Very moving
Reviewed on 25 September 2015 by Frances, Lisburn, United Kingdom

Awesome
The show was breathtaking. A little a little harrowing in places but an epic story well told.
Reviewed on 21 September 2015 by Tiffany, Wimborne, United Kingdom

A modern classic!
Reviewed on 20 September 2015 by Derek, Mold, United Kingdom

Exhilarating, emotional & fabulous
Great show, a must see. Fabulous all round entertsinment
Reviewed on 20 September 2015 by Diane, Silsoe, United Kingdom

Touching and powerful
A very moving piece of theatre with a powerful history to it, would definitely recommend to anyone.
Reviewed on 20 September 2015 by Iris, Camberley, United Kingdom

Excellent performance throughout. Not to be missed.
Amazing; even surpassed my expectations. Actors great; committed with unbelievable energy. Puppeteers incredible. Went with my sister; will go again with my husband.
Reviewed on 18 September 2015 by Anne Marie, Filey, United Kingdom

Interestingly and creative
Reviewed on 17 September 2015 by Gemma, Ardross, Australia

Incredible Horses
Reviewed on 16 September 2015 by Thomas, Hillcrest, South Africa

Truly amazing show, brilliant portrayal of a very touching story
This show moore than lived up to our expectations, the actors all seemed to put their all into their roles, a very enjoyable evening.
Reviewed on 14 September 2015 by Roy, Tewkesbury, United Kingdom

phenomenal
a show that raised more than one emotion,the story (of which i knew) was brought to life by a very talented group of performers and backstage crew.the puppetry was so realistic at times real horses could have been on stage and the human animal bond came through brilliantly.congratulations to everyone involved in this production which is a must see
Reviewed on 11 September 2015 by Peter, Wainfleet, United Kingdom

Definitely worth a watch!
Positives: It was very creative, comical at times and definitely took you on an emotional journey. Although the horses were puppets, they were AMAZING. The horses were very life like and evoked empathy and warmth. Every nuance of a horses movement was mimicked to look very realistic. Negative: My only negative would be that I struggled to find the performance of Alberts mother believable! Although it was good, there felt to be no truth. However, this was probably due to an 'off' day having performed the show over and over; it's hard to stay fresh.
Reviewed on 10 September 2015 by Abigail, Stoke-on-trent, United Kingdom

Amazing how the Joey moved on stage!
Michael Morpurgo's touching storey comes alive; you have to remind yourself that the horses are notlive on stage! See for yourself.
Reviewed on 07 September 2015 by Naresh, Wellingborough, United Kingdom

inventive
the intricate working of the "puppets" made me feel that they were real. every expression was seen on the face of the puppeteer - a wonderful show.
Reviewed on 06 September 2015 by Brenda, Middx, United Kingdom

Heartwarming puppetry
Nice story. Excellent puppetry Nice to have seat rows sufficiently raised so the tall one seated in front of you doesn't obstruct your views
Reviewed on 06 September 2015 by Sheru, Beaconsfield, United Kingdom

Enjoyable
Enjoyed the show although the story was a bit slow and protracted at times. The animation was brilliant as was the singer. There were times when their were three or four different scenes all on stage at once which worked well.
Reviewed on 05 September 2015 by Lawrie, Shepperton, United Kingdom

Horses looks real!
I was scared from the gun shoot scenes. The noise and flame were so real, it actually scares me.
Reviewed on 04 September 2015 by Su Ying, Manchester, United Kingdom

Magical
Great show for all the family
Reviewed on 04 September 2015 by Emily, March, United Kingdom

superb
brilliantly done, although it was a show depicting war there were some funny parts
Reviewed on 01 September 2015 by Sandra, Bogner Regis, United Kingdom

Excellent production
Thoroughly enjoyed Warhorse. The actors and puppet masters were truly believeable in their roles.
Reviewed on 31 August 2015 by Ben, Westcliff On Sea, United Kingdom

Amazing
Reviewed on 30 August 2015 by Sara, Bromley, United Kingdom

Very good show - definitely worth seeing!
Reviewed on 30 August 2015 by Adriana, Watford, United Kingdom

Great night out
Went with my partner who had seen the film and read the book, I hadn't done either but we both enjoyed the show a great watch would recommend to go and the seats and theatre itself were very good aswell. Made you really get into the show, ten out of ten from me.
Reviewed on 30 August 2015 by William, Swansea, United Kingdom

Best birthday treat EVER.
We were right up in the "Gods" but the view was super. The empathy that the actors must have had horses was incredible. I'm a horse owner and the way the puppets were moved was phenomenal (the goose too is a show grabber). We were in tears before the interval and afterwards it just got more intense. Beyond question the best live show of any sort either of us have ever seen!
Reviewed on 29 August 2015 by Nicholas, Redruth, United Kingdom

The show is fantastic!
All movements and sounds of the horses are so real!
Reviewed on 29 August 2015 by Veronica, Hong Kong, Hong Kong