Regent's Park, London, NW1 4NU GB
Quick Facts
Largest Ticket Inventory
in the West End
Real time
seat availability
Choose
your seats
Your booking is processed directly into the box office reservation system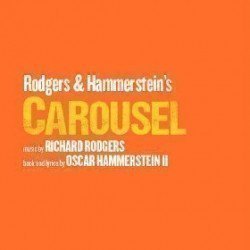 Carousel
Tickets
4.8/5
-

based on

34

reviews
Booking from: Friday, 31 July 2020
Booking until: Saturday, 19 September 2020
Running time: 2 hours 50 minutes
Starring: Alfie Boe, Katherine Jenkins
Tickets from £14.50
Book tickets
About Carousel
Age restrictions
As a sung-through musical with a playing time of approximately 2hr 50mins (including the interval), Carousel is likely to be most suitable for secondary school age and over. Further information and synopsis can be found by searching online for 'Carousel Musical'.
It remains the responsibility of the parent/guardian in advance of purchase to make their own judgement as to the suitability of the show for their own child. In any event, children under the age of 4 will not be admitted to the venue.
Important Information
Tickets are non-refundable in the event of cancellation because of the weather but may be exchanged in accordance with the Weather Policy.
Performance Times
Booking from: Friday, 31 July 2020
Booking until: Saturday, 19 September 2020
Running time: 2 hours 50 minutes
Starring:
Alfie Boe, Katherine Jenkins
Carousel description
Celebrated for our innovative approach to classic musicals, rediscover Rodgers and Hammerstein's Carousel in the unique surroundings of Regent's Park Open Air Theatre. Featuring a score that includes 'If I Loved You' and 'You'll Never Walk Alone', director Timothy Sheader reunites with Superstar choreographer Drew McOnie.
Tickets are non-refundable in the event of cancellation because of the weather but may be exchanged in accordance with the Weather Policy.
Next Performances for Carousel at the Open Air
Friday
31st Jul 2020
7:45pm
Saturday
1st Aug 2020
7:45pm
Monday
3rd Aug 2020
7:45pm
Tuesday
4th Aug 2020
7:45pm
Wednesday
5th Aug 2020
7:45pm
Thursday
6th Aug 2020
7:45pm
Carousel reviews
4.8 out of 5
based on

34

reviews
What to expect:
Acting
Music
Costumes
Story
Lighting
Recommended for:
Anyone (71%)
Families (82%)
Teenagers (71%)
Couples (79%)
Theatregoers (94%)
Latest customer reviews

The cast made the show
The show was extremely good, first class. Unusual start enjoyed it very much. However, the cast for that performance was second to none. The best cast ever. Alfie Boe and Katherine Jenkins made the show. They excelled. The other cast members were very good too, especially Nicholas Lyndhurst.
Reviewed on 17 May 2017 by Alison, Cranbrook, United Kingdom

Phenomenal
Good value for money. The whole cast was top notch, not just the big names. Enjoyed every moment and would recommend it most highly to anyone. Shame it is not a long runner!
Reviewed on 15 May 2017 by Frances, Macclesfield, United Kingdom

Blast from the last
Reviewed on 14 May 2017 by Alison, Bedford, United Kingdom

Sensational
Reviewed on 14 May 2017 by Anne, Canterbury, United Kingdom

Amazing singing and acting.
The singing and dancing was fantastic and the time went so quickly
Reviewed on 13 May 2017 by Christine, Bedford, United Kingdom

Brilliant!
Reviewed on 13 May 2017 by Gill, Southgate, United Kingdom

A great evening with Kathryn and Alfie
Although the storyline is sad, the music is great. Alfie Boe was outstanding - always a great singer but surprised at how good his acting was. Ballet routine by the daughter was brilliant
Reviewed on 13 May 2017 by Joan, Grantham, United Kingdom

A wonderful experience
Having seen several productions of Carousel in the past, this was far and away the best performance. Alfie Boe was outstanding and though Katherine Jenkins acting was reported to be weak, she more than matched him.
Reviewed on 11 May 2017 by Sheila, Prestbury, United Kingdom

Must see
Reviewed on 11 May 2017 by Patricia, Lisvane, United Kingdom

A little disappointing
I would have liked singing from the two leads, who were excellent. Maybe a full cast rendition of " when you walk through a storm " at the end would have finished it off nicely........such a lovely song !
Reviewed on 11 May 2017 by Barbara, Knebworth, United Kingdom

gusto and pathos combined
Reviewed on 10 May 2017 by Joy, Ilkley, United Kingdom

Absolutely TOP class in all aspects!
I would beg you to see this brilliant production if you possibly can! You will have the most superb and memorable experience!
Reviewed on 06 May 2017 by Stuart, Staines, United Kingdom

A siperb memorable performance
Superb performances by all the "stars" and fantastic supporting cast. Sound quality was excellent. Fabulous dance routines especially the ballet performance.
Reviewed on 05 May 2017 by Anthony, Maidstone, United Kingdom

One of the best musicals I have seen
Reviewed on 02 May 2017 by Dennis, Barrow In Furness, United Kingdom

A lovely story with wonderful music and singing.
Highly recommended. Sad to see so many empty seats around us for a 'sold out' show
Reviewed on 02 May 2017 by Valerie, Lightwater, United Kingdom

A must see
A brilliant show. I took my husband who is not a musical show enthusiast and he said we must do this again as he enjoyed it so much. A bit disappointed that Alfie wasn't well even so the show was epic had me crying at the end and husband emotional
Reviewed on 30 April 2017 by Sara, Nuneaton, United Kingdom

fantastic
I had never seen this show before so was looking forward to it and l was not disappointed. The set was well worked, the chorus and dancing brilliant. Katherine Jenkins. Alfie Boe and all the cast were brilliant. Unfortunately Alfie Boe was taken ill half way through the show, however his understudy fitted in perfectly and deserved all the applause he recieved.
Reviewed on 29 April 2017 by Stephen, Whittlesey, United Kingdom

Lived up to expectations
Reviewed on 28 April 2017 by Christopher, Newquay, United Kingdom

Memorable!
Reviewed on 24 April 2017 by Frederick, Hyde, United Kingdom

Fantastic
I know Carousel well - enjoyed seeing a new opening. Thoroughly enjoyed the whole thing and still find it very moving.
Reviewed on 22 April 2017 by Jan, Hayes, United Kingdom

Fantastic musical
Fantastic voices, beautiful dancing. The time just flew by. In fact,far too quick.
Reviewed on 21 April 2017 by Paul, Hinckley, United Kingdom

Pricey Seats
Reviewed on 17 April 2017 by Joan, Kidderminster, United Kingdom

a must see for all musical lovers
The show was first class, and the only thing that distracted from the enjoyment was the uncomfortable seats that have no depth or leg room
Reviewed on 15 April 2017 by Doreen, Worthing, United Kingdom

Try and get to see this.
Reviewed on 14 April 2017 by Jane, St Peter Port, United Kingdom

Great show, book now, not around for long
GREAT GREAT SHOW
Reviewed on 14 April 2017 by H Y, Bridport, United Kingdom

Bringing back memories
We didn't think that Katherine and Alfie's great voices lend themselves to musical theatre and the scenery was very disappointing. Appreciate the show is only for a short period but it felt like a budget production
Reviewed on 13 April 2017 by Stephen, Elsenham, Herts, United Kingdom

Vibrant cast of exceptional show
Great acting. Good vocals. Especially Alfie Boie. Engaging story line.
Reviewed on 12 April 2017 by Christine, London, United Kingdom

Quality!
Excellent production all round although my enjoyment of the performance was significantly marred by the sad collapse of a guest close by. Unfortunately it took 20 minutes for the staff to be in a position to move her.
Reviewed on 10 April 2017 by Helen, Uxbridge, United Kingdom

Absolutely amazing there was no area in which I felt it could be improved
It fulfilled all my expectations and more, the orchestra, chorus, dancers were all at the top of their game. The leads were perfect for their roles. Thank you everyone for a wonderful experience
Reviewed on 10 April 2017 by Ann, Highampton Beaworthy, United Kingdom
25

Nov
2016

Carousel follows Sweeney and Boulevard to English National Opera
by Phil Willmott | Friday, November 25 2016, 14:57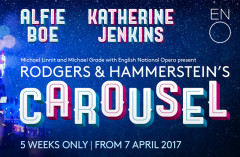 The enterprising producers begin this years critically acclaimed production of SUNSET BOULEVARD starring Glenn Close and the previous years mega-revival of SWEENEY TODD have just announced that their next collaboration with English National Opera at the Coliseum will be CAROUSEL. This revival of the much loved Rodgers and Hammerstein classic from 1945 will star Alfie Boe and Catherine Jenkins.
Carousel follows Sweeney and Boulevard to English National Opera