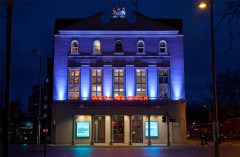 Most producers have been extremely sheepish about when you can see their productions live again. It's understandable really. We simply don't know when the current lock down will end and exactly what form that will take.
Personally I think gathering in large crowds i.e within a theatre will be one of the last restrictions to be lifted. Even the ever optimistic Donald Trump has only dangled the possibility of gatherings of up to 50 people before his supporters.
However a few brave producers have set a date when they believe you'll be able to see a show.
HAIRSPRAY THE MUSICAL starring national treasures Michael Ball & Paul Merton was due to open at the London Coliseum from 23 April for a strictly limited 18-week season. But they now confidently predict you can see it from 1st September, outlining the plot as follows:
"Baltimore, 1962. Tracy Turnblad is a big girl with big hair and big dreams. Can she make it on the local TV dance show, win the heart of teen heartthrob Link Larkin and bring everyone together – whatever their colour, size or hairdo? Well if you want a change, you've really got to shake things up!"
The Regent's Park Open Air Theatre have previously postponed their 101 DALMATIANS until next year and announced that the summer season will open with the second of this year's planned productions, ROMEO AND JULIET. They've now specified a date and it will now play from 26 June 2021 to 24 July followed by their production of the classic musical, CAROUSEL opening on 31 July.
Looking further into the future The Old Vic have announced yet another revival of their much acclaimed production A CHRISTMAS CAROL, returning for a fourth consecutive year, with previews from 21 November 2020. It's on sale from next week.
The theatre's artistic director Matthew Warchus says:
"We think it's not unreasonable to expect that theatres will have reopened by the time this production is scheduled to perform in November, and so would encourage you to share in our optimism and book now for what will no doubt be a perfect antidote to this very tough phase we are all currently navigating."
The venue has postponed productions of a new musical LOCAL HERO, scheduled to run from 18 June to 27 August, and Amy Herzog's play 4000 MILES with Eileen Atkins and Timothée Chalamet.
Warchus adds:
This production was fully rehearsed at the point the lockdown started and we are very eager to share it. We will bring you more news on that as soon as we have it".
Beyond London but undoubtedly West End bound at some point, it's been announced that stage and screen stars Nigel Havers and Patricia Hodge will lead the cast of a new touring revival of Noël Coward's classic play PRIVATE LIVES about "a divorced couple who accidentally reunite on the French Riviera". The tour will be opening in Bath on 1 October 2020, and will then visit Norwich, Cheltenham, Newcastle, Cambridge, Richmond, Malvern and Leeds, with further dates to be announced.
I'm a little surprised by the casting as both Havers and Hodge are around 20 years too old to play the roles as Coward originally conceived them. Anyway, the production will open in Bath on 1 October 2020, and then visit Norwich, Cheltenham, Newcastle, Cambridge, Richmond, Malvern and Leeds, with further dates to be announced.