Quick Facts
Largest Ticket Inventory
in the West End
Real time
seat availability
Choose
your seats
Your booking is processed directly into the box office reservation system
This show is now closed.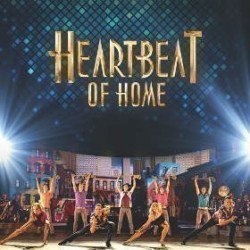 Heartbeat of Home
Tickets
4.9/5
-

based on

39

reviews
Information
Cheap Tickets
Reviews
About Heartbeat of Home
Performance Times
Heartbeat of Home description
Heartbeat of Home – From the producers of Riverdance
Roll back time to the 1990s and Riverdance thrilled a generation of dance lovers, a spectacular affair that millions adored, inspired by a not-so-simple interval performance at Eurovision which was transformed into a dance extravaganza like no other. The traditional Irish music score was written by Bill Whelan, and the astonishing dance skills of Jean Butler and Michael Flatley stole the show. Now there's a fresh new show to enjoy, and the anticipation is mounting fast!
The Heartbeat of Home show comes direct from the producers of Riverdance, and it's in the UK from autumn 2019. Heartbeat of Home is high octane stuff, a heart–stopping stomp that's as dynamic as it is fast and furious. This time around it's about more than traditional Irish music. It includes traditional Irish tunes, of course, but also covers exciting Latin music, Hip-Hop, Afro-Cuban and contemporary music, and the resulting fusion is extraordinarily exciting. The same goes for the dance element. You'll love the fast, accurate Irish dancing, the passionate flamenco, intricate tap dancing, sexy tango, complex salsa and cool hip hop. What a combination, what a show.
Against this backdrop of amazing dance there's a very cool live six piece band playing tunes from the brilliant award-winning Irish composer Brian Byrne. There are supporting videos to enjoy as well. It's no surprise the show has proved a sell-out at the London Palladium. It's back in theatreland again for autumn 2019, and the director John McColgan is by all accounts really excited about the transfer.
This is a colourful musical fusion that energises and uplifts you. The ensemble includes dancers from all over the world, making it a true international effort involving a cast from Ireland, the USA, Australia, Britain, Canada, Italy, Argentina and Spain.
Produced by Moya Doherty and conceived and directed by John McColgan, the concept and lyrics come from Joseph O'Connor and the choreography is by David Bolger. It has sold out in places as diverse as Dublin, America, China and Germany. And it's due at the magnificent Piccadilly Theatre in autumn 2019 for an extended West End run. We can't wait – and we bet you can't, either!
Who is this show for?
This show is perfect for people aged 5 or more. You can't bring under 5s into the theatre.
Heartbeat of Home cheap tickets
We have a great selection of cheap Heartbeat of Home tickets. We can help you save up to 70% on Heartbeat of Home tickets! If you're looking for discount theatre tickets have a look below for our latest offers for Heartbeat of Home at the Piccadilly Theatre.
-49%
Was £29.50
Now £15.00
Valid on all performances until 13 Oct 2019.
-49%
Was £49.50
Now £25.00
Valid on all performances until 13 Oct 2019.
-50%
Was £69.50
Now £35.00
Valid on all performances until 13 Oct 2019.
-50%
Was £89.50
Now £45.00
Valid on all performances until 13 Oct 2019.
Heartbeat of Home reviews
4.9 out of 5
based on

39

reviews
What to expect:
Acting
Music
Costumes
Story
Lighting
Recommended for:
Anyone (95%)
Families (97%)
Teenagers (95%)
Couples (97%)
Theatregoers (95%)
Latest customer reviews

electric, vibrant and uplifting
The show was amazing, if you love dance and instrumental music, th8s show is a must see. The fusion of different dance styles with the same music was clever. Come away buzzing and wanting to dance!
Reviewed on 14 October 2019 by Kerry, Hatfield, United Kingdom

I loved Riverdance Lord of the Dance, but this show is even better. Heartbeat of Home has such a high wow factor it's off the scale. Superb dancing from all on stage and the music/ singing/ songs are brilliant too. Go see
Reviewed on 14 October 2019 by Nigel, London, United Kingdom

Spectacular
Reviewed on 13 October 2019 by Peter, Bishop's Stortford, United Kingdom

Definitely a must see! !
Spectacular, breathtaking, unforgettable! It was like watching olymics of dancing, where all the dancers are golden medalists. Beautiful and touching story with superb choreography heartful presentation and universal message. Thank you so much for unforgettable family experience. Iris from israel
Reviewed on 12 October 2019 by Iris, Kiryat Ono, Israel

Fantastic and love to see it again!!!
I can't say how good this show is in words. You have to see it to be blown away. You're entertained to the last minute.
Reviewed on 11 October 2019 by Debbie, Welling, United Kingdom

Amazing
Amazing show dancing fantastic
Reviewed on 10 October 2019 by Karen, Dartford, United Kingdom

How long does it take to learn a million steps?
As I told the Director and his Assistant in the foyer after the show, I was blown away! The young dancers must have started training in the cradle to reach this level, then spent years learning all the steps for Heartbeat of Home. The scenery was very clever and effective, especially aboard the ship when the deck and I swayed with the motion of the waves. The best scene was the reproduction of the "Men at Lunch" photograph of immigrant builders on a skyscraper scaffold. Brilliant! What an astonishing amount of work by writers, musicians, dancers, stage management and many other professionals, must have gone into the creation of the show - just to enthrall me for a few hours. They all deserve huge respect. Go and see Heartbeat - it's wonderful.
Reviewed on 10 October 2019 by Cherie, London, United Kingdom

Absolutely amazing
Incredible energy, dancing was superb abd the musician are incredible. Everything overall was 5 stars.
Reviewed on 10 October 2019 by Marcelo, London, United Kingdom

Amazing
Reviewed on 08 October 2019 by Geraldine, Great Dunmow, United Kingdom

What a buzz!
A delightful spectacle of dance and rhythm.
Reviewed on 06 October 2019 by Brendan, Maidenhead, United Kingdom

Fantastic!
Heartbeat of home was absolutely fabulous. Such amazing dancers musicians and singer. We loved it from start to finish!
Reviewed on 05 October 2019 by Chrissie, Newbury, United Kingdom

Fabulous
This is something you can not describe - this is something you simply have to experience! Fabulous, fantastic, unbelievable, entertaining, must see!
Reviewed on 04 October 2019 by Jyrki, Otalampi, Finland

Vibrant, uplifting, a must see!
Absolutely wonderful entertainment. Feel good factor on every level.
Reviewed on 29 September 2019 by Lucy, Pewsey, United Kingdom

Must see! Excellent dancing and music performance
Reviewed on 29 September 2019 by Sara, Schiedam, Netherlands

A mesmerizing must see
The footwork was incredible to watch and the different cultures woven together to tell the story of immigration was fantastic! The music and performance was amazing I couldnt look away!
Reviewed on 28 September 2019 by Tia, Billericay, United Kingdom

Exhilarating and uplifting
Simply amazing. Non stop entertainment provided by versatile performers and excellent choreography l
Reviewed on 27 September 2019 by Irene, London, United Kingdom

It's worth to see
Reviewed on 22 September 2019 by Miho, New Malden, United Kingdom

Gottasee
Excellent choreography,music and lighting.Some humour in there too and audience interaction.All the cast looked like they were having a great time which was reflected to the audience.
Reviewed on 22 September 2019 by Stella, Brentford, United Kingdom

Fabup to date show
Great theatre and excellent show
Reviewed on 22 September 2019 by Russell, Walsall, United Kingdom

Energetic, professional, brilliant
Quality entertainment, the musicians and dancers were fantastic.
Reviewed on 19 September 2019 by Clinton, Maidenhead, United Kingdom

must see
Very energetic and brilliant all round. I couldn't stop smiling.
Reviewed on 18 September 2019 by Katie, London, United Kingdom

A lovely evening
For the price we paid, and with no "star" and really River Dance stuff more for my wife than me, my expectations weren't that high but they were well exceeded. A really excellent show that kept my attention pretty much from start to finish, and the musicianship was really, really good.
Reviewed on 17 September 2019 by Andy, Rayleigh, United Kingdom

Energetic !!!
This show was energetic from the moment it started. Dancers fantastic and the different countries were easily identified by the interpretation of the dancers of the music. I have to say the musicians were stunning and so fully of energy. Well done , what a great night out
Reviewed on 16 September 2019 by Lorna, Hoylake. Wirral, United Kingdom

Dynamic, action packed entertainment.
The show was was a complete surprise. It was action packed from start to finish with a variety of dancing and music to match. The solo singing and musical solos were a pleasant interlude and the drummer was both clever and humorous. The contrasting costumes made the story more authentic as did the 3D backdrop. I was enthralled the whole time and could have watched all over again.
Reviewed on 16 September 2019 by Mary, East Grinstead, United Kingdom

More than just river dancing
So much more than just Irish dancing the singing was incredible. Do many different aspects for everyone...loved the drumming and what I can I can only describe as a form of ballet . Great night out
Reviewed on 14 September 2019 by Matthew, Great Waltham, United Kingdom

Amazing
Reviewed on 12 September 2019 by Marianne, Doha, United Kingdom

Electrifying
Fantastic show the best
Reviewed on 08 September 2019 by Jo, Goffs Oak, United Kingdom

Amazing
Amazing,fabulous well worth the price
Reviewed on 06 September 2019 by David, Barnsley, United Kingdom

Absolutely amazing!
Reviewed on 06 September 2019 by Soyelma, Irvine, United Kingdom

Wonderful
Vibrant and entertaining quickest 2hours I have ever spent in a theatre
Reviewed on 05 September 2019 by Stephen, London, United Kingdom