Quick Facts
Largest Ticket Inventory
in the West End
Real time
seat availability
Choose
your seats
Your booking is processed directly into the box office reservation system
This show is now closed.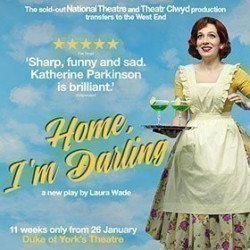 Home I'm Darling
Tickets
4.3/5
-

based on

20

reviews
Starring: Katherine Parkinson
About Home I'm Darling
Performance Times
Starring:
Katherine Parkinson
Home I'm Darling description
You might look like you're coping just fine. You seem calm enough on the surface. But underneath you're working furiously hard to keep it all together, paddling like mad to stay afloat. This is the brilliant Laura Wade's first play since Posh, back in 2010, and this time it's all about 38 year old Judy's terrific yet flawed attempt to achieve marital bliss by becoming Domestic Goddess, 1950s style. The thing is, being a domestic goddess is not as easy as it seems.
This splendid play has already sold-out at the National Theatre. Now it's transferring to the West End's magnificent Duke of York's theatre for a magical eleven week run that's predicted to sell out early. Katherine Parkinson, star of the hilarious TV series The IT Crowd, and the more serious series Humans, continues in her role as Judy, the manic housewife on a quest for perfection.
This is a good, sharp production of an even sharper new play. Laura Wade is known and loved for cutting comedy, and this one is something special. What happens when you shine a mercilessly bright light on a woman's determination to hit absolute perfection?
Well, it all looks pretty perfect from the outside. The dresses are stunningly pretty, the apron is a classic, the appliances are the very latest available, the husband is all nice and shiny and clean. But appearances can deceive, and while a harmless fantasy can boost a relationship and spice things up, there's a tipping point. If the fantasy starts to become uncomfortably real, what on earth happens next?
Laura Wade is the author of a host of fabulous plays. Posh proved a smash hit at the Royal Court Theatre and in the West End. Tipping The Velvet caused a storm at the Lyric Hammersmith. Alice raised the rafters at Sheffield's Crucible Theatre, and the outstanding Kreutzer vs. Kreutzer thrilled large audiences at The Globe.
Wade's work has been produced across the western world including the USA, Australia, Ireland, Sweden, Norway, Germany, the Netherlands and Mexico. Her movies include The Riot Club and Connection, and she has gathered plenty of awards for her extraordinary work - the Critics' Circle Award for Most Promising Playwright, the Pearson Best Play Award, the George Devine Award and more.
Don't miss this golden opportunity to enjoy comedy genius Katherine Parkinson in this glittering, critically acclaimed and enormously entertaining role as Judy, with Richard Harrington playing her husband Johnny.
Who is this show for?
This show is recommended for people aged 14 or older.
Home I'm Darling reviews
4.3 out of 5
based on

20

reviews
What to expect:
Acting
Music
Costumes
Story
Lighting
Recommended for:
Anyone (40%)
Families (45%)
Teenagers (50%)
Couples (75%)
Theatregoers (90%)
Latest customer reviews

An interesting premise but could do with editing Clever set and set changes. And good costumes. Ideas of women and men's roles a bit dated
Reviewed on 10 April 2019 by Maureen, Coldstream, Canada

Excellent theatre
Light hearted and fun on the surface but revealing some deep analysis of relationships, gender roles and escapism.
Reviewed on 10 April 2019 by David, London, United Kingdom

Must see!
Reviewed on 07 April 2019 by Joshua, Ann Arbor, United States Of America

Fantastic!
Reviewed on 01 April 2019 by Tomasz, Chelmsford, United Kingdom

Must see
Katherine Parkinson excelled. Thankfully i never saw lT crowd so was not tempted into comparisons.
Reviewed on 14 March 2019 by Ashley, Penzance, United Kingdom

The Wondwedul 50's
Reviewed on 13 March 2019 by Robert, London, United Kingdom

Fun, witty, very well acted - a sophisticated but fun observation on a modern day dilemma.
I enjoyed the 'show not tell' dialogue and plot. The acting was excellent and the set was a joy.
Reviewed on 09 March 2019 by Elizabeth, Glasgow, United Kingdom

Brilliant and moving
Reviewed on 24 February 2019 by Charles, Bruxelles, Belgium

So, so
Storyline was poor. How does someone with a degree in finance mismanage household expenses to the point of defaulting on a mortgage? I felt the main character had a mental illness, and that did not make for a good story, or fit in with the overall direction of the play.
Reviewed on 16 February 2019 by La Vera, Clemson, United States Of America

Colourful characterisation grey storyline
Poor sound quality meant missed quips/humours storytelling
Reviewed on 10 February 2019 by Ruth, London, United Kingdom

Excellent night out.
Reviewed on 10 February 2019 by Andrew, Leicester, United Kingdom

A must see!
Beautifully done.
Reviewed on 07 February 2019 by Sharon, Mevasseret Zion, Israel

colourful, creative and well directed
Refreshing. Amazing stage production. beautiful songs throughout. Great acting. Brilliant script
Reviewed on 28 January 2019 by Randa Khoury, London, United Kingdom
03

Aug
2018

Review: HOME, I'M DARLING at The Dorfman Theatre
by Nicky Allpress | Friday, August 3 2018, 10:09
Katherine Parkinson is candy stripe heaven, dusting and jiving, fixing her Johnny a Gimlet as he walks in the door, but Judy is hiding her worries in a mixing bowl.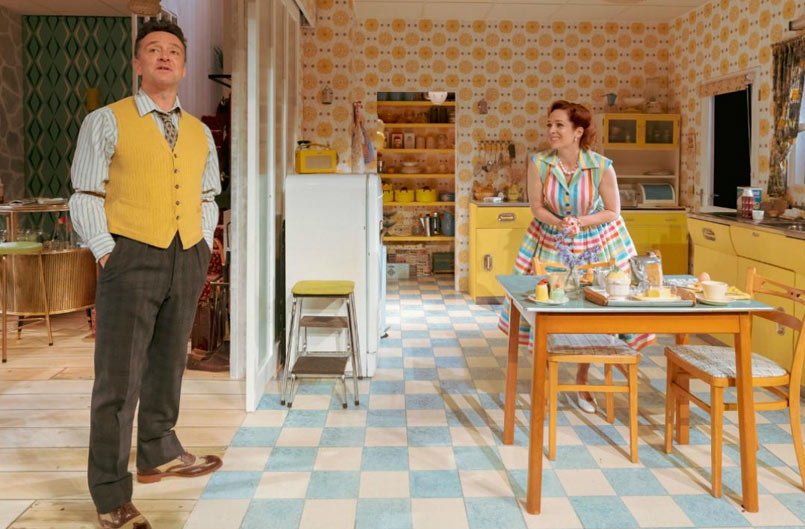 Richard Harrington as Johnny and Katherine Parkinson as Judy in Home I'm Darling. Photo by Manuel Harlan
Review: HOME, I'M DARLING at The Dorfman Theatre