Quick Facts
Largest Ticket Inventory
in the West End
Real time
seat availability
Choose
your seats
Your booking is processed directly into the box office reservation system
This show is now closed.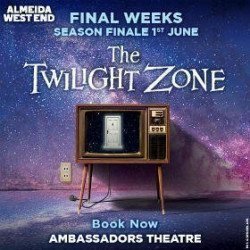 The Twilight Zone
Tickets
3.8/5
-

based on

21

reviews
About The Twilight Zone
Performance Times
The Twilight Zone description
Twilight Zone is transferring from the Almeida theatre to the West End's Ambassadors theatre from March 2019, and there's a huge treat in store for anyone who loves the stories of Rod Serling, Charles Beaumont and Richard Matheson. Adapted by Anne Washburn and directed by Richard Jones, it's a dazzling adaptation of eight episodes of the infamous classic CBS TV series, The Twilight Zone.
First aired in 1959, The Twilight Zone ran for fifteen years and became a cult classic. It still is, and it has inspired a whole lot of great work since then, including the marvellous Black Mirror. The stage adaptation weaves several stories together, a feat that saw Washburn and Jones watching all 156 episodes. Some of them are amongst the best known, others are more obscure. This is the first stage adaptation of the show and it's jammed full of stage trickery, magic and stunts.
Let's start with the visuals. Set designer Paul Steinberg and costume designer Nicky Gillibrand have pulled out all the stops to create a faithful retro-looking vibe, and the two illusionists, Richard Wiseman and Will Houstoun, have brought the effects to sizzling life. The sound team have done an epic job, complemented by very clever lighting, and the whole effect creates a very cool black and white telly screen effect.
Back in the 1960s there was a powerful trend for alien invasions and space exploration, time travel and parallel universes. No wonder when the planet was under threat from nuclear war and we were about to travel into space for the first time. They were strange times, and this remarkable piece of theatre is just as strange... in a really good way!
Richard Jones directs with typical brilliance. And the stories unfold beautifully, told eloquently with quirky humour. What happens when a bus arrives at a diner with an extra alien passenger? Why is this man scared to go to sleep? How did a strange young girl know about the danger facing a woman she'd never met? Where in the universe is the lost girl, invisible but clearly calling for help? Dissolving men, floating women, trailing bandages, a horrible ventriloquist's dummy, missiles falling like rain... it's utterly compelling.
Yes, it's frightening. It's stylish and witty too. And it's also pretty funny. It comes with a cast of ten, all of whom play multiple parts, and the whole thing plays effective homage to '60s telly. This is the place where the improbable is possible, and you'll be thrilled by the atmosphere.
Who is this show for?
This show is recommended for people aged ten and older – At times it is genuinely scary!
The Twilight Zone reviews
3.8 out of 5
based on

21

reviews
What to expect:
Acting
Music
Costumes
Story
Lighting
Recommended for:
Anyone (29%)
Families (29%)
Teenagers (48%)
Couples (48%)
Theatregoers (76%)
Latest customer reviews

Perfect acting and production of a philosophical narrative that can be controvential. Loved it
Reviewed on 11 May 2019 by Kevin, London, United Kingdom

Confusing
Not my cup of tea. Didn't really enjoy it.
Reviewed on 04 May 2019 by Rita, Baldock, United Kingdom

underwhelmed
the show was one for people who knew the series - lots of references for the afficienados, not much for people who didn't know it. It didn't come across well, and despite a few good performances and some creativity with the set, I found it dull.
Reviewed on 28 April 2019 by Ian, Sevenoaks, United Kingdom

Wonderfully bizarre!
Reviewed on 20 April 2019 by Claire, London, United Kingdom

Couldnt work out the plot. Too esoteric.
Reviewed on 11 April 2019 by John, Brisbane, Australia

Weird and wonderful
I like to see plays and shows that are out if the norm and this certainly was! Clever little interwoven stories that were science fiction but also allegories about life in general. It was also very amusing which I wasn't expecting. A thought provoking and enjoyable evening all round.
Reviewed on 09 April 2019 by Julie, Carlisle, United Kingdom

Incredible production
Although I really liked the TV show, I had no expectations going into in - just hoped it would be fun. Turns out it's one of the best things you can hope to see! The cast are a solid team, all incredibly talented, and combined with the production and stage design there is a show that makes me wonder why there aren't more science fiction mystery plays when this is just so good. Jumps from funny to sad to spooky and then deeply incisive without ever feeling messy. I can't speak highly enough about this show.
Reviewed on 31 March 2019 by Olivia, Derby, United Kingdom

Great show!
Great show with fine acting.
Reviewed on 24 March 2019 by James, Folsom, United States Of America

Bloody weird. Hardcore Twilight Fans only.
I've seen a few episodes of TTZ but I truly had no idea what was going on. Enjoyed the twirling eyeballs though.
Reviewed on 10 March 2019 by Emily, London, United Kingdom

Nostalgic
Reviewed on 10 March 2019 by Trevor, Waltham Cross, United Kingdom

Weird and wonderful
Great show, wonderful cast. Really enjoyed the costumes and use of props. Kept us captivated throughout the whole show.
Reviewed on 10 March 2019 by Kim, London, United Kingdom

Interesting
The performances were great. Acting supurb. Was gripped in first half but felt second half dragged and was quite boring.
Reviewed on 09 March 2019 by Julie, London, United Kingdom

An interesting interpretation of the tv show
This was an OK show. I would struggle to recommend it as for me, it was not great.
Reviewed on 09 March 2019 by Erica, Edgware, United Kingdom

Attempting to "Unlock the Key to Imagination"
"The Twilight Zone" Promising a series of theoretically connected short episodes, this play had the potential to really utilise "a dimension of sight, a dimension of sound" to engage with our "dimension of mind"... The first half largely delivered with an interesting selection of unnerving scenes including mask work and physical theatre to present surreal dream sequences. The tension was particularly effectively built in a chilling scene about an attempted murder and the body and mind's ability to create an uncomfortable warning feeling. The grey scale colour scheme also effectively set the piece in the era of the original television series and this worked supportively with narration shown on the television screens and through occasional monologues. The opening "diner" scenario was one of the most dynamic of the production as it introduced numerous characters that interacted emotively and the actors adapted well to convey the different ways human being respond to stress and boredom. The overriding theme of imagination was presented consistently through the first half. Unfortunately it seemed momentum was lost in the second half as the plot became overly focussed on how human beings deal with threat, in this case specially before war. The acting was compelling and intense but sadly the plot seemed somewhat static and drawn out, perhaps because it was following American families in pursuit of "the American dream" against a backdrop of a national fear and hysteria over a potential nuclear war. However as a modern British audience member this was quite hard to empathise with and the thematic connection to the other episodes was unclear. Overall this play had some clever and engaging moments and ideas, but these needed to be more consistent throughout the piece. 🎭🌛🚬🚪👁🌌📺🗝✂️
Reviewed on 06 March 2019 by Hannah, Reading, United Kingdom
08

Oct
2018

EXCLUSIVE: The TWILIGHT ZONE will follow EUGENIUS and FOXFINDER at the Ambassadors Theatre
by Phil Willmott | Monday, October 8 2018, 09:35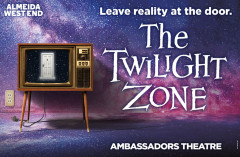 I'm sad to report that FOXFINDER, the eerie new play that showed such promise on its fringe premiere, just didn't attract enough good reviews to attract an audience in the West End despite a star cast. It'll be closing at the Ambassador's Theatre on 20th October.
EXCLUSIVE: The TWILIGHT ZONE will follow EUGENIUS and FOXFINDER at the Ambassadors Theatre