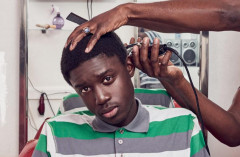 The critically acclaimed Barber Shop Chronicles is back after two sell out runs at the National Theatre, settling into the Roundhouse in Camden for a limited time.
Barber Shop Chronicles is written by poet/playwright Inua Ellams and is pulsating with emotion, music and heart.
There are high suicides rates among black males, and Ellams noticed a real project that gave barbers basic training in counselling. This inspired him to write Barber Shop Chronicles, which travels to different barber shops in Peckham, Johannesburg, all the way to Zimbabwe, Harare to Kampala, Lagos and Accra.
While travelling from location to location, this play asks a very clear question: how integral is it that people have safe spaces to express themselves?
Throughout this show it becomes clear that the barber shop is a haven for these men to freely discuss politics, fatherhood, racism, language, what home means, ambitions, alcoholism, worries and concerns - least of all, to get a haircut.
For most of us, we struggle through the awkward conversation with our hairdressers, mindlessly scrolling through our phones or magazines hoping we don't get caught up in it. For these men, they come for the conversation, they crave an environment where they feel no judgement for their thoughts. It is a home from home, where the issues are universal.
The content of the conversation is vital, with Ellam asking important questions and not always offering us the easy answer.
None of it feels preachy or shoehorned - the conversation swims freely from talking about job interviews to talking about girlfriends, to discussing the use of derogatory terms in rap music to racism.
It feels natural, it almost feels unscripted in parts, and is brought to life effortlessly by a string of incredibly strong performers and specifically timed football matches.
It is truly exciting to watch, with the transitions being filled with singing, choreography and music that fills the Roundhouse beautifully. The place was literally booming at the beginning, and the energy that these performers throw at this almost poetic and lyrical dialogue is inspiring to watch.
IN CONCLUSION: It is very rare for a production to have an audience both mentally and emotionally engaged and be extremely entertaining as well. This team have hit a really important spot here, with what I would call vital viewing - you simply can't miss it.