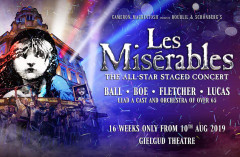 I've written several times here about my disappointment that the original production of Les Mis is to be replaced in the West End by an excellent but cheaper version, opening once its current home, the Queen's theatre, has been refurbished and renamed the Sondheim Theatre.
During the transition, and so that it won't lose its claim to be one of the longest continuously running shows in history, it's being replaced by what the press release tells us is a "concert", informing us –
"This spectacular staging of the legendary concert, with a company of over 65, will run from 10 August – 30 November 2019 at the intimate Gielgud Theatre, next door…"
Probably so that audiences won't feel cheated by not seeing a full production during these three months, Macintosh promises a huge orchestra and has announced an enticing star cast; including Michael Ball as Javert, Alfie Boe as Jean Valjean, Carrie Hope Fletcher as Fantine, Matt Lucas as Thénardier, Rob Houchen as Marius, Bradley Jaden as Enjolras, Katy Secombe as Madame Thénardier and, for three performances a week, John Owen-Jones as Jean Valjean.
But why a concert staging? Why not a fully staged production? Well the answer to this is probably cost related too.
Star performers are expensive, so if they simply stand in front of an orchestra and sing to you as they would at a concert the producer saves a fortune by not having to pay them for weeks of rehearsal.
Conveniently most of these artists have also sung the material before so there's also no need to pay their wages for long sessions in which they learn the music.
It's all a clever way of keeping costs as low as possible whilst not disappointing the show's fans.
Never the less, I'll be there, if only to hear a bigger than usual orchestra play the fabulous score that includes the songs I DREAMED A DREAM, ON MY OWN, STARS, BRING HIM HOME, DO YOU HEAR THE PEOPLE SING?, ONE DAY MORE, EMPTY CHAIRS AT EMPTY TABLES, MASTER OF THE HOUSE and many more gorgeous and uplifting melodies.
Add to this the chance to hear some of musical theatre's biggest stars perform and you have the recipe for an unforgettable night out – even if the artistic reasons behind it all appear a little cynical.