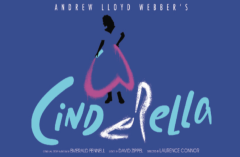 This September, Andrew Lloyd Webber's Cinderella opens at the Gillian Lynne Theatre to the tune of a stellar creative team. Excited? Us too.
This September sees the dawn of Andrew Lloyd Webber's Cinderella – a highly anticipated collaboration with Emerald Fennell, writer of the acclaimed second season of Killing Eve. A bold reimagining of the original folk tale, the production will open at the Gillian Lynne Theatre (formerly the New London theatre) in the West End, hot on the heels of School of Rock The Musical. A theatrical adaptation of the hit movie starring Jack Black, its swan song will be short-lived, with a major UK tour pencilled in for next year.
With lyrics by David Zippell – who has won multiple awards for Broadway productions City of Angels and The Woman in White, among others – Cinderella sees Lloyd Webber reunite with long-time associates Laurence Connor, who will be directing, and choreographer JoAnn Hunter. The pair recently headed the creative team on School of Rock, as well as that of Joseph & the Amazing Technicolor Dreamcoat starring Sheridan Smith at The London Palladium. Both productions have garnered success at the box-office respectively, proving hugely popular with audiences and critics alike.
Changes to the narrative of Cinderella won't be the only scheduled transformation to come either. The Gillian Lynne will also be undergoing refurbishment ahead of the show's run; internal upgrades such as an all-important addition of toilets, an increase in seating capacity at circle level, as well as works to both the auditorium and Front of House areas. Many exciting events to come then – with, one hopes, more success than the latest creative endeavour attached to Lloyd Webber's legacy: an attempt to translate his West End showstopper, Cats, onto the big screen.
As one of the most prosperous composers in history, Lloyd Webber has long craved to stage a retelling of Cinderella. Fennell's outline, it seems, has magicked those creative cogs into action, with Lloyd Webber quoting her concept as "truly exciting and original." Currently playing Camilla Parker Bowles in the third season of Netflix epic The Crown, Fennell is also set to make her directorial debut with A Promising Young Woman, a new film starring Carey Mulligan, for which she can also claim full writing credit.
All further announcements regarding the cast and crew for Cinderella are expected to be made at a later date.