With more star casting just announced and performances scheduled for June 15th – August 22nd at the Barbican Theatre it's time to look forward to this riot of classic musical comedy from its golden age. With a masterful score of wit and infectious tunes by the legendary songwriter Cole Porter it first opened triumphantly on Broadway way back in 1934 and it's been dusted down and revived constantly to great acclaim ever since.
Like all shows from the period it has a whacky plot but this one was originally conceived by another legend, P.G. Wodehouse, who wrote the popular Jeeves stories.
ANYTHING GOES requires a formidable leading lady with a great voice and bundles of charisma and over the years I've enjoyed Elaine Paige, Patti Lupone (who also starred in Company at the Gielgud Theatre) and, in this same production on Broadway, Sutton Foster in the pivotal role of nightclub singer turned evangelist Reno Sweeney.
This summer we can enjoy Megan Mullally the indisputable star of TV's Will and Grace taking centre stage. I saw her in the dress rehearsal of Young Frankenstein in new York and even though she was playing to an empty theatre she still had that wow factor so I can't wait to see her at full throttle zinging the wise cracks and belting out the title song.
Expect sumptuous 1930's costumes too as appropriate to the show's setting amongst the first class passengers aboard the luxury Cruise Ship SS. America. Of course when it first opened the costumes were "modern dress" and perhaps it had a satirical edge but now it's just plain good fun.
What's the ANYTHING GOES story?
Billy, a love-struck young city slicker sneaks aboard an ocean liner in order to pursue a girl. He's aided by fellow stow away, the gangster Moonface Martin, and attracts the romantic attention of the vivacious Reno. Many farcical events occur resulting from all the fake identities the lead characters must adopt to achieve their hearts' desires and further complications arise from 1930 high society's fascination with celebrity mobsters in a new age in which morally anything goes. All this is peppered with glorious songs and the regular appearance of tap-dancing sailors!
Music and well known songs in ANYTHING GOES
The exact line up of songs changes from production to production and it may again for this revival of the version I saw on Broadway but expect to hear the classics 'I Get A Kick Out of You', 'You're the Top', 'It's De- Lovely!' 'Blow, Gabriel, Blow' and 'Anything Goes' all performed by a 50 strong company with full-sized live orchestra.
Who are ANYTHING GOES' stars and creative team?
As mentioned Emmy award winner and Will and Grace star Megan Mullally plays Reno Sweeney alongside three-time Olivier Award and Tony-Award winner Robert Lindsay, as Moonface Martin.
Regular West End star Gary Wilmot plays the comic industrialist Elisha Whitney (which I guess means he won't be returning to his role in Prince of Egypt) and fellow passenger Evangeline Harcourt will be played by Evening Standard Theatre Award-winner Felicity Kendal (star of the iconic 1970s TV sit-com The Good Life) which is interesting because it's a relatively small non-star part. Presumably they'll insert new material for her.
The snappy direction comes from Tony award winner and 9 times nominee Kathleen Marshall.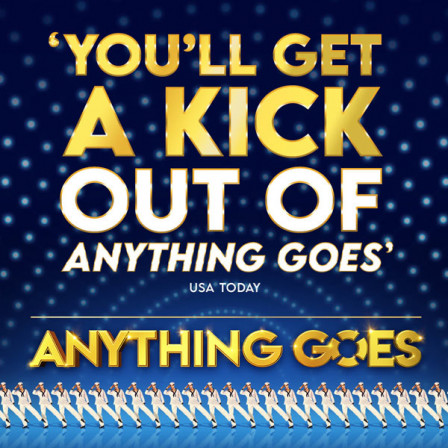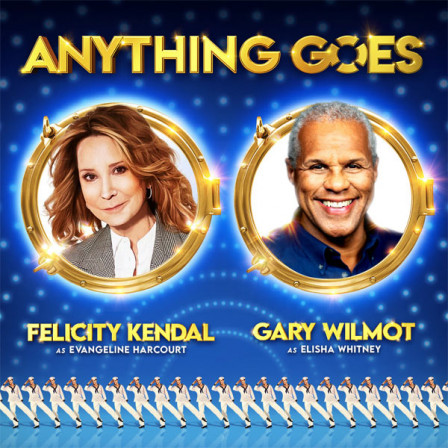 Frequently asked questions about ANYTHING GOES
Who is ANYTHING GOES for?
Anyone old enough to still be awake at 7.30pm!
When & where can I see ANYTHING GOES?
The show is scheduled to run June 15th – August 22nd at the Barbican Theatre, within the Barbican Centre, Silk Street, City, London EC2Y 8DS
Please note that the Barbican is not in the West End. It's located slightly further East amidst a maze of walkways and backstreets. It's only a 10 minute walk from Barbican, Moorgate, St Pauls and Farringdon stations but, if this your first visit, my advice would be to leave plenty of time in case you get lost (I still do after all these years) or ideally get a cab.
Is there a dress code for ANYTHING GOES?
No, dress comfortably and as you would for any public space.
Fun facts about ANYTHING GOES
It's a matter of public record that, although they're brilliant, Mullally and Lindsay are both notoriously temperamental, egotistical and difficult to work with. I suspect having them both in the same production is going to be a nightmare for the organisers and fellow cast members, especially Kendal who's used to being the centre of attention and may not enjoy being eclipsed. Expect to hear of fireworks during rehearsals. I wouldn't be surprised if someone walks out before opening night!
The original Reno Sweeney was played Ethel Merman who was known for just standing in the middle of the stage and belting out the numbers whilst everyone else danced around her. In modern times Reno has become a massive dancing role that includes an extended tap dancing section in the title song. Mullally doesn't have a lot of dance experience beyond ballet lessons as a child. It'll be interesting to see how they tailor the role to suit her.