Gielgud Theatre
35-37 Shaftesbury Avenue, London, W1D 6AR GB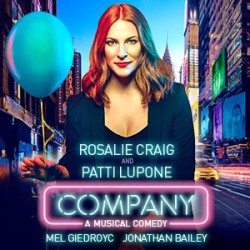 Company
Tickets
Gielgud Theatre
Starring: Patti LuPone, Rosalie Craig
Booking until: Saturday, 30 March 2019
Book

tickets
We have a great selection of cheap Company tickets. We can help you save up to 70% on Company tickets! If you're looking for discount theatre tickets have a look below for our latest offers for Company at the Gielgud Theatre.
1

No Booking Fee

Tickets

from £17.50
Valid Thu Matinee from 8 Nov to 20 Dec 2018.. .
Customer Reviews
What to expect:
Acting
Music
Costumes
Story
Lighting
Recommended for:
Anyone
Families
Teenagers
Couples
Theatregoers
based on 38 reviews
This was a great show with an extraordinary staging. What of the 5 best I never seen.
CHANTAL London Box Office customer
Wonderful night
Olivia London Box Office customer
Revamped Company!
Finding out that Company was going to be re-vamped for 21st century with gender changing, etc., I admit to being a little sceptical as I am a huge Sondheim fan. But on learning that the great man himself had not only sanctioned but re-written various parts, I thought that it was a 'must-see', and I am so glad I did as it is so RIGHT for our times. Casting was first rate, acting, staging (simple and clever), directing, and choreography was mind-boggling, particularly the setting of 'Side by Side by Side' with the tables and chairs! All credit to the orchestra and conductor as well who were excellent. I came away on a high and I have not stopped talking about it since to anyone who will listen. I intend to come up to see it again very soon.
Ann London Box Office customer
Loved it
Fergal London Box Office customer
Highly entertaining, laugh out loud funny!
Daniela London Box Office customer
iso of company - or not
great stage props settings opened up for showcasing discrete moments as well as wide displays - of human behavior, peculiarities, individuality, overlaps, longings and what not. musical support from atop the stage was phantastically orchestrated in combination with great singers and performances. a must see for companyons.
bruno London Box Office customer
Great show!
Fernando London Box Office customer
Felt like an in joke that we weren't party to.
Felt like an in-joke that we weren't party to. Disappointed as the reviews were spectacular however the story line and songs were distinctly average.
Norma London Box Office customer
Modern
Chiu Chun London Box Office customer
Awful
Worst show I've seen in the last 25 yrs
Jonathan London Box Office customer
A MUST SEE SHOW
I liked this show I'm planning to attend again in a week and pay for a seat closer to the stage.
Dorothy London Box Office customer
Excellent updated revival of Sondheim classic with stellar performance and great sets
Excellent updated revival of Sondheim Classic with stellar performances from all involved with the benefit of Bunny Christie's imaginative and original set design. Cannot recommend enough particuarly to those who prefer a more sophisticated musical.
Stuart London Box Office customer
Very creatively done! Great support for women!
I thought changing genders was great! The scene re the gay couple was the funniest I've seen in a long time! And the actor was magnificent. Of course one of the main reasons I attended was to see and HEAR Patti Lupone, she is one of a kind and absolutely terrific! I came from the USA (Maine) to see this show ..for the concept and for Patti!
Karen London Box Office customer
Luv'd the show!
'Company' was lively, funny and entertaining from beginning to end. Come prepared to reflect on your own past and present relationships, your youthful hopes and dreams. We would see it again in an instant if we were in London again.
Robert London Box Office customer
Fabulous production
I saw 5 shows in London and this was the best production. The gender changes work really well and make the show much more contemporary. The cast is fabulous - Rosalie Craig is fantastic as Bobbie and I loved her red dress. I found the other costumes less effective. The set is incredible - really creative and serves the story so well. Other productions I have seen of this show had a static set. This set was much more interesting as was the conceit of placing the action in Bobbie's head. A really wonderful production. I am so glad I saw it.
Nancy London Box Office customer
An excellent show, as is the cast.
Patricia London Box Office customer
Original, contemporary twist of musical masterpiece
Natalie London Box Office customer
Fantastic spin on modern day life
Great show. The storyline was very modern and a comedy spin on modern day life. Moving staging was impressive and the orchestra were amazing.
Shevorne London Box Office customer
A Star is Born
The show was fabulous—every performer was excellent & the show is structured so that each performer get a @ least one song in which s/he shines. We came to see Patti LePone, who did not disappoint—wow. But the performance of last-minute substitute Jenny Saayeng, especially at the finale brought the audience to tears & then to its feet for a well-earned ovation. A great evening of theatre.
Maureen London Box Office customer
Well acted but not good lyrics
The acting is marvelous and great singing but too many ups and downs. They lost my attention quite e few times. Some of the song are too long with the same 5 lines repeted over and over and no relevant action on the stage making the whole part super boring.
Giacomo London Box Office customer
Broadway Classic
Sara London Box Office customer
Absolutely brilliant
Emma London Box Office customer
It's classic Sondheim with a twist. A definitely must see!
Gerasimos London Box Office customer
Intelligently witty, yet thought provoking.
Sondheim is like Marmite, you either love him or loathe him. But this production, updated for the modern audience is a sensual delight and should make even the hardest of Sondheim sceptics rethink. The storyline moves smoothly and slickly with this cast and with the brilliance of the set design. The singing is wonderful and all members of the cast are vocally equal to the complexity of Sondheims rhythms and lyrical dexterity. It was over too soon for me.
Russell London Box Office customer
Brilliant production!
This is a clever and insightful reworking of Sondheim's Company. Wonderful cast with brilliant performances led by Rosalie Craig and Patti Lupone. Excellent acting, staging and direction, wonderful singing and playing in a flawless production. Don't miss this one!
Lauren London Box Office customer
18 Oct 2018
As we predicted the modernised version of Sondheim's 1970s musical COMPANY has enjoyed a triumphant opening night and a raft of five star reviews approving of the radical step of changing the central character (usually Bobby) to a female one (now Bobbie).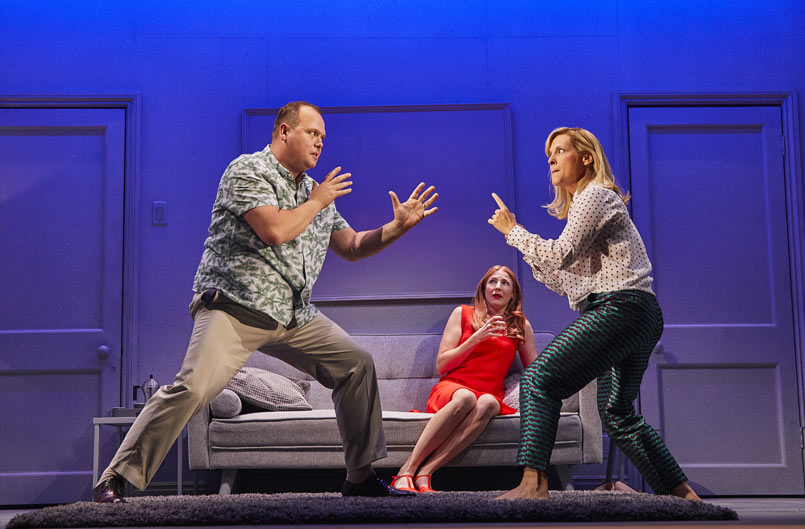 Gavin Spokes (Harry), Rosalie Craig (Bobbie), and Mel Giedroyc (Sarah) in COMPANY.
03 Oct 2018
The team behind Elliott Harper Productions have enjoyed a wave of successful shows in recent years, which is all set to continue with this much-anticipated reworking of Stephen Sondheim's 1970 musical COMPANY, at the Gielgud Theatre.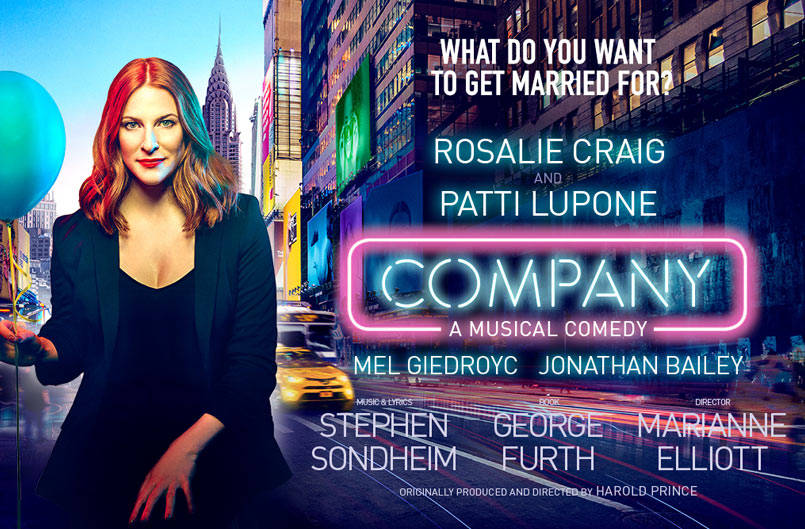 Use the search box at the top left of this page to search for Company tickets availability.
Quick Facts
Largest Ticket Inventory in the West End
Real time seat availability
Your booking is processed directly into the box office reservation system
Collect your tickets from the theatre for free or get them posted to your address.

Theatre Address
Gielgud Theatre
35-37 Shaftesbury Avenue, London, W1D 6AR GB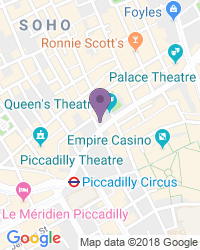 Facilities
Air cooled
Bar
Disabled toilets
Infrared hearing loop
Member of Q-Park scheme
Toilets
Wheelchair/scooter access
Theatre Info
Capacity: 970
Year built: 1906
Next Performances