Quick Facts
Largest Ticket Inventory
in the West End
Real time
seat availability
Choose
your seats
Your booking is processed directly into the box office reservation system
This show is now closed.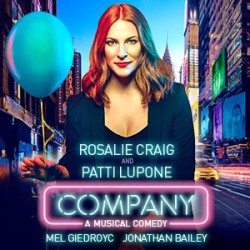 Company
Tickets
4.5/5
-

based on

122

reviews
Starring: Patti LuPone, Rosalie Craig
Information
Cheap Tickets
Reviews
News
About Company
Performance Times
Starring:
Patti LuPone, Rosalie Craig
Company description
Last time it was here, Company won both Adrian Lester and Sam Mendes an Olivier Award each, for Best Actor in a Musical and Best Director respectively. Now it's back, playing at the Gielgud Theatre after The Ferryman ends a highly successful run as the widely acclaimed play of 2017. From the winning partnership of Jez Butterworth and Mendes, we move to the equally exceptional team of Stephen Sondheim and Marianne Elliott. But these two come with some legendary back-up!
This is the first major revival of Company since it appeared on Broadway in 2006 and as a staged concert production in 2011, in which it starred such Broadway names as Neil Patrick Harris and Patti LuPone. Now it comes across the pond to London and LuPone is coming too! The two-time Tony Award-winning and Olivier Award-winning musical theatre star will reprise her role of Joanne in Elliott's latest version and marks a long overdue return of LuPone to the West End. LuPone has played such musical theatre legends as Eva Perón in Evita (1980 Tony Award for Best Performance by a Leading Actress in a Musical); Rose in Gypsy (2008 Tony Award for Best Performance by a Leading Actress in a Musical); Fantine in Les Misérables (1985 Olivier Award for Best Actress in a Musical, awarded in conjunction for The Cradle Will Rock);Norma Desmond in Sunset Boulevard; Mrs Sweeney in Sweeney Todd and Reno Sweeney in Anything Goes. That's quite a back catalogue, guaranteed to conjure up queues down the length of the West End to get tickets!
Traditionally, Company tells the story of Bobby, a male singleton on his 35th birthday surrounded by his ten best friends (as five married couples) and three girlfriends, none of whom he can commit to. It seems as though Bobby is intrinsically afraid of commitment. However, in this version, history has been made – Elliott's production is the first in which Sondheim has allowed to gender swap all of the roles except Joanne, which LuPone is playing. So, in this case, Bobby becomes Bobbi and will be played by Rosalie Craig. Craig is best known for her performance as the title character in The Light Princess, which won her an Evening Standard Theatre Award and an Olivier Award nomination in 2013.
All in all, this new production promises to be an unmissable event in the 2018 musical theatre calendar, playing from 28 September. A legendary lyricist and composer; a widely acclaimed director (Elliot's most notable work includes War Horse and The Curious Incident Of The Dog In The Night-Time); a Broadway icon and a gender swapped backstory. This production is guaranteed to sell fast, so get those tickets from our website now!
Company cheap tickets
We have a great selection of cheap Company tickets. We can help you save up to 70% on Company tickets! If you're looking for discount theatre tickets have a look below for our latest offers for Company at the Gielgud Theatre.
There are no special offers available at the moment but we still have great ticket prices for Company at the Gielgud Theatre.
Company reviews
4.5 out of 5
based on

122

reviews
What to expect:
Acting
Music
Costumes
Story
Lighting
Recommended for:
Anyone (46%)
Families (47%)
Teenagers (52%)
Couples (82%)
Theatregoers (94%)
Latest customer reviews

Captivating from beginning to end!
A must see musical for "theatre goers". Good story line from beginning. Enjoyed the twist in this production. "Ladies who lunch" and "being alive" spectacular. Pity this was the last night. What a cast! What a show!
Reviewed on 03 April 2019 by Jeanette, Newmilns, United Kingdom

Life
Great cast great wit and clever staging. A must see before it ends
Reviewed on 22 March 2019 by Jeremy, Cape Town, South Africa

Definitely worth seeing!
Reviewed on 21 March 2019 by Hannah, Chippenham, United Kingdom

Amazing direction and performances
Such creativity! Re-defining characters gender and sexual orientation was brilliantly done. EVERY performer was outstanding.
Reviewed on 20 March 2019 by Craig, Toronto, Canada

Had a great time
Went with my daughter, who is getting married soon, we both enjoyed it very much. As far as content is concerned, maybe not something for the newly wed.. It's Sondheim music, so not your usual melodic musical. A lot of talented actors on stage. Had a great time, thoroughly enjoyable !!
Reviewed on 17 March 2019 by Sigalit, Herzeliya, Israel

Eclectic story, great music, actors VERY believable
Humorous, engaging, relatable. Sometimes storyline got a little old but the stoned scene was great as was the sex scene (no talking allowed!). Loved the fluorescent bordered rooms as the set. Music and vocals first rate. Theatre is really charming in its layout with the 'saloon' and the hallways and staircases...but the seats themselves (not the view but the seats) are terribly (unusually) uncomfortable and fixing this should be a long range plan.
Reviewed on 10 March 2019 by Jim, Rochester, United States Of America

Amazing show
Great show only caveat is start of second half loses the audience. Otherwise worthy of its standing ovation.
Reviewed on 09 March 2019 by Marc, Budapest, Hungary

Great show. Fab acting, singing and set!
Reviewed on 05 March 2019 by Sarah, Pinner, United Kingdom

Breathetaking and awesome
Reviewed on 04 March 2019 by Mie, Ballerup, Denmark

A Must See!
Reviewed on 04 March 2019 by Sebastian, Muenster, Germany

How knew that musical could be thought provoking?!
Classic Sondheim music with quick, witty lyrics. The subject matter of being single, or in a relationship, how marriage do or do not function, makes it a very unusual musical. It worked very well with the main character's gender being switched, making it feel contemporary and relavent, not dated and from the 1970s. All the Actors were excellent, and the two main female leads exceptional. Wonderful staging and light, and a strong orchestra made for a fantastic all round production. No wonder the theatre was full at the matinee and the Sean has been extended!
Reviewed on 03 March 2019 by Jonny, Newark, Notts., United Kingdom

I enjoyed it, but wasn't blown away.
Reviewed on 28 February 2019 by James, Bath, United Kingdom

Incredible
Left the theatre dancing and singing.
Reviewed on 25 February 2019 by Maria, London, United Kingdom

Ok
Well acted and funny in parts with an interesting storyline. Alot of music wasn't to our tastes - and they seemed to have to sing almost every part which gets a bit jarring especially if the songs are on one note seeminglu
Reviewed on 24 February 2019 by Fay, West Wickham, United Kingdom

fun evening with a lot of laughs,witty text
An evening to relax, have fun and maybe learn something
Reviewed on 23 February 2019 by Roberto, Amsterdam, Netherlands

Fast-moving,wonderfully entertaining.
Reviewed on 18 February 2019 by Ann, Scarsdale, United States Of America

Improves On A Classic
Fantastic cast, creative staging, and I'll say it - the revised book is better than the original. See it before it goes to Broadway. Then, see it again on Broadway!
Reviewed on 16 February 2019 by Melissa, Waltham, United States Of America

An amazing evening of sublime musical theatre
Reviewed on 16 February 2019 by Ruth, London, United Kingdom

Not what you expect, in a great way
Trust me. Just go for Jamie's version of "Don't Tell Paul (I'm Not Getting Married Today) alone, if the idea of Ms Lu Pone coverage of "Here's To The Ladies Who Lunch" isn't enough to buy your ticket.
Reviewed on 15 February 2019 by Mark, Tulsa, United States Of America

Disappointing
Below-average music and singing voices. Forced jokes.
Reviewed on 09 February 2019 by Bettina, London, United Kingdom

Excellent production hilarious storyline
Reviewed on 09 February 2019 by Sophie, London, United Kingdom

revived and looking very fresh
Reviewed on 08 February 2019 by Kenneth, Croydon, United Kingdom

Disappointed
Show was cancelled after 45 minutes!!!!! Extremely disappointing. I have been going to the theatre for many years and this has never happened to me before.
Reviewed on 07 February 2019 by Theresa, Glasgow, United Kingdom

Left me feeling a little unnnerved in a good way
I turned 35 recently. So the show felt timely. It leaves you without answers, but it does get you to think. O
Reviewed on 28 January 2019 by Alexey, Moscow, Russian Federation

A really good show and entertainment value. Brilliant
Reviewed on 28 January 2019 by Jeffs, Portsmouth, United Kingdom

Fantastic, stage sets amazing, energy of cast amazing. The theatre was full, the audience was alive with the show. Def must see.
Reviewed on 25 January 2019 by Lyn, Bexleyheath, United Kingdom

Must see- brilliant.
you would never know this was written originally in the 70s. Contemporary, funny, moving and slick.
Reviewed on 22 January 2019 by James, Manchester, United Kingdom

Stunning
One of my favourite musicals ever, completely reimagined with an outstanding cast and wonderful imagery. I could watch it again, and again,and....
Reviewed on 22 January 2019 by Brian, Edinburgh, United Kingdom

Vibrant uplifting philisophical fun
Sondheim in all it's glory successfuly updated for a modern audience. Fab cast, music, set. Go and have yourself an uplifting & magical night out.
Reviewed on 20 January 2019 by Melodie, London, United Kingdom

Brilliant and entertaining!
Reviewed on 19 January 2019 by Letizia, Bologna, Italy

Must see
Reviewed on 16 January 2019 by Erika, London, United Kingdom

Review
This show was fantastic it was funny and the parts well played my daughter of 19 wanted to watch it and it didn't disappoint we had a great view
Reviewed on 06 January 2019 by Pamela Jane, St Helens, United Kingdom

great play
Reviewed on 01 January 2019 by Peep, Tallinn, Estonia

Must to see!
Reviewed on 01 January 2019 by Bart, Leicester, United Kingdom

Worth the trip over from the U.S.
Reviewed on 29 December 2018 by Aaron, Lansdale, United States Of America

Not my kind of music
If you like big dramatic musicals like phantom, miss Saigon, this isn't one of those. It's punchy, jazz hands stuff and there really isn't much story. I'm sure it was well done and the actors accomplished but just not my cup of tea. I personally found the songs annoying, sorry.
Reviewed on 29 December 2018 by Nicola, Stroud, United Kingdom

Brilliant casting
Some wonderful moments, and the principals are all terrific but as a theatrical experience overall it wasn't totally satisfying. It labours one idea at the expense of drawing rounded characters.
Reviewed on 28 December 2018 by Ron, Ascot, United Kingdom

Brilliantly done - don't miss it!
Reviewed on 23 December 2018 by David, Brooklyn, United States Of America

A must if you enjoy analysing relationships and enjoy theatre and music.
We really enjoyed the show. But Bobby's character came out as being too weak. The show stepped into life at the Wedding breakfast. Many of the character were so much more powerful than Bobby, this of course may have been in character. There is a lot of content and very funny parts. We really enjoyed it.
Reviewed on 22 December 2018 by Nimrod, London, United Kingdom

choreograph, stage, acting, music all good!!
Reviewed on 17 December 2018 by Jooyeon, London, United Kingdom

Impressive
Reviewed on 16 December 2018 by Gerard, Rotterdam, Netherlands

An absolute triumph
What a great revival of "Company"! Very smart choices, staging is superb and the actors are absolutely sublime!
Reviewed on 13 December 2018 by Loek, Amsterdam, Netherlands

It was great!
Reviewed on 22 November 2018 by Neslihan, London, United Kingdom

Great story for those single in their 30s
Reviewed on 19 November 2018 by Samuel, London, United Kingdom

This was a great show with an extraordinary staging. What of the 5 best I never seen.
Reviewed on 12 November 2018 by Chantal, Gland, Switzerland

Wonderful night
Reviewed on 10 November 2018 by Olivia, London, United Kingdom

Revamped Company!
Finding out that Company was going to be re-vamped for 21st century with gender changing, etc., I admit to being a little sceptical as I am a huge Sondheim fan. But on learning that the great man himself had not only sanctioned but re-written various parts, I thought that it was a 'must-see', and I am so glad I did as it is so RIGHT for our times. Casting was first rate, acting, staging (simple and clever), directing, and choreography was mind-boggling, particularly the setting of 'Side by Side by Side' with the tables and chairs! All credit to the orchestra and conductor as well who were excellent. I came away on a high and I have not stopped talking about it since to anyone who will listen. I intend to come up to see it again very soon.
Reviewed on 10 November 2018 by Ann, Devizes, United Kingdom

Loved it
Reviewed on 09 November 2018 by Fergal, Guildford, United Kingdom

Highly entertaining, laugh out loud funny!
Reviewed on 07 November 2018 by Daniela, Surbiton, United Kingdom

iso of company - or not
great stage props settings opened up for showcasing discrete moments as well as wide displays - of human behavior, peculiarities, individuality, overlaps, longings and what not. musical support from atop the stage was phantastically orchestrated in combination with great singers and performances. a must see for companyons.
Reviewed on 05 November 2018 by Bruno, Vienna, Austria

Great show!
Reviewed on 04 November 2018 by Fernando, Rio De Janeiro, Brazil

Felt like an in joke that we weren't party to.
Felt like an in-joke that we weren't party to. Disappointed as the reviews were spectacular however the story line and songs were distinctly average.
Reviewed on 04 November 2018 by Norma, Dronfield Woodhouse, United Kingdom

Modern
Reviewed on 02 November 2018 by Chiu Chun, Leeds, United Kingdom

Awful
Worst show I've seen in the last 25 yrs
Reviewed on 31 October 2018 by Jonathan, Pinegowrie, South Africa

A MUST SEE SHOW
I liked this show I'm planning to attend again in a week and pay for a seat closer to the stage.
Reviewed on 31 October 2018 by Dorothy, Larned, United States Of America

Excellent updated revival of Sondheim classic with stellar performance and great sets
Excellent updated revival of Sondheim Classic with stellar performances from all involved with the benefit of Bunny Christie's imaginative and original set design. Cannot recommend enough particuarly to those who prefer a more sophisticated musical.
Reviewed on 30 October 2018 by Stuart, London, United Kingdom

Very creatively done! Great support for women!
I thought changing genders was great! The scene re the gay couple was the funniest I've seen in a long time! And the actor was magnificent. Of course one of the main reasons I attended was to see and HEAR Patti Lupone, she is one of a kind and absolutely terrific! I came from the USA (Maine) to see this show ..for the concept and for Patti!
Reviewed on 29 October 2018 by Karen, Carmel, United States

Luv'd the show!
'Company' was lively, funny and entertaining from beginning to end. Come prepared to reflect on your own past and present relationships, your youthful hopes and dreams. We would see it again in an instant if we were in London again.
Reviewed on 24 October 2018 by Robert, West Vancouver, Canada

Fabulous production
I saw 5 shows in London and this was the best production. The gender changes work really well and make the show much more contemporary. The cast is fabulous - Rosalie Craig is fantastic as Bobbie and I loved her red dress. I found the other costumes less effective. The set is incredible - really creative and serves the story so well. Other productions I have seen of this show had a static set. This set was much more interesting as was the conceit of placing the action in Bobbie's head. A really wonderful production. I am so glad I saw it.
Reviewed on 22 October 2018 by Nancy, East Haddam, United States Of America

An excellent show, as is the cast.
Reviewed on 20 October 2018 by Patricia, Folkestone, United Kingdom

Original, contemporary twist of musical masterpiece
Reviewed on 16 October 2018 by Natalie, Carshalton, United Kingdom

Fantastic spin on modern day life
Great show. The storyline was very modern and a comedy spin on modern day life. Moving staging was impressive and the orchestra were amazing.
Reviewed on 12 October 2018 by Shevorne, Dudley, United Kingdom

A Star is Born
The show was fabulous—every performer was excellent & the show is structured so that each performer get a @ least one song in which s/he shines. We came to see Patti LePone, who did not disappoint—wow. But the performance of last-minute substitute Jenny Saayeng, especially at the finale brought the audience to tears & then to its feet for a well-earned ovation. A great evening of theatre.
Reviewed on 10 October 2018 by Maureen, Bala Cynwyd, Pa, United States Of America

Well acted but not good lyrics
The acting is marvelous and great singing but too many ups and downs. They lost my attention quite e few times. Some of the song are too long with the same 5 lines repeted over and over and no relevant action on the stage making the whole part super boring.
Reviewed on 06 October 2018 by Giacomo, London, United Kingdom

Broadway Classic
Reviewed on 04 October 2018 by Sara, London, United Kingdom

Absolutely brilliant
Reviewed on 02 October 2018 by Emma, London, United Kingdom

It's classic Sondheim with a twist. A definitely must see!
Reviewed on 30 September 2018 by Gerasimos, Athens, Greece

Intelligently witty, yet thought provoking.
Sondheim is like Marmite, you either love him or loathe him. But this production, updated for the modern audience is a sensual delight and should make even the hardest of Sondheim sceptics rethink. The storyline moves smoothly and slickly with this cast and with the brilliance of the set design. The singing is wonderful and all members of the cast are vocally equal to the complexity of Sondheims rhythms and lyrical dexterity. It was over too soon for me.
Reviewed on 28 September 2018 by Russell, London, United Kingdom

Brilliant production!
This is a clever and insightful reworking of Sondheim's Company. Wonderful cast with brilliant performances led by Rosalie Craig and Patti Lupone. Excellent acting, staging and direction, wonderful singing and playing in a flawless production. Don't miss this one!
Reviewed on 28 September 2018 by Lauren, Cairns, Australia
11

Feb
2019

Second Look: COMPANY at the Gielgud Theatre
by Tim Winter | Monday, February 11 2019, 08:55
Walking along West End's Shaftesbury Avenue, it's easy to get blinded by the number of four and five star reviews on the billboards outside the theatres for all the shows. Can they ALL be that good?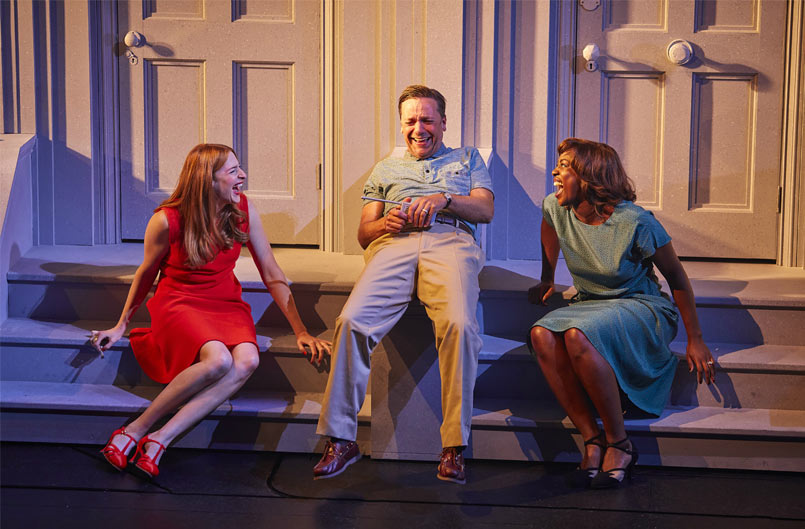 Rosalie Craig, Richard Henders and Jennifer Saayeng in Company at the Gielgud Theatre.
Second Look: COMPANY at the Gielgud Theatre
18

Oct
2018

Review: COMPANY at the Gielgud Theatre
by Phil Willmott | Thursday, October 18 2018, 12:21
As we predicted the modernised version of Sondheim's 1970s musical COMPANY has enjoyed a triumphant opening night and a raft of five star reviews approving of the radical step of changing the central character (usually Bobby) to a female one (now Bobbie).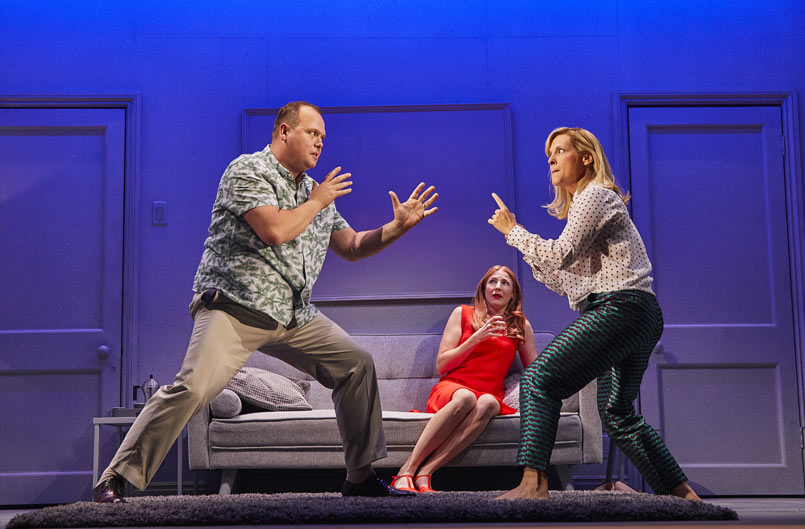 Gavin Spokes (Harry), Rosalie Craig (Bobbie), and Mel Giedroyc (Sarah) in COMPANY.
Review: COMPANY at the Gielgud Theatre
03

Oct
2018

Preview Report: COMPANY at the Gielgud Theatre
by Stuart King | Wednesday, October 3 2018, 09:10
The team behind Elliott Harper Productions have enjoyed a wave of successful shows in recent years, which is all set to continue with this much-anticipated reworking of Stephen Sondheim's 1970 musical COMPANY, at the Gielgud Theatre.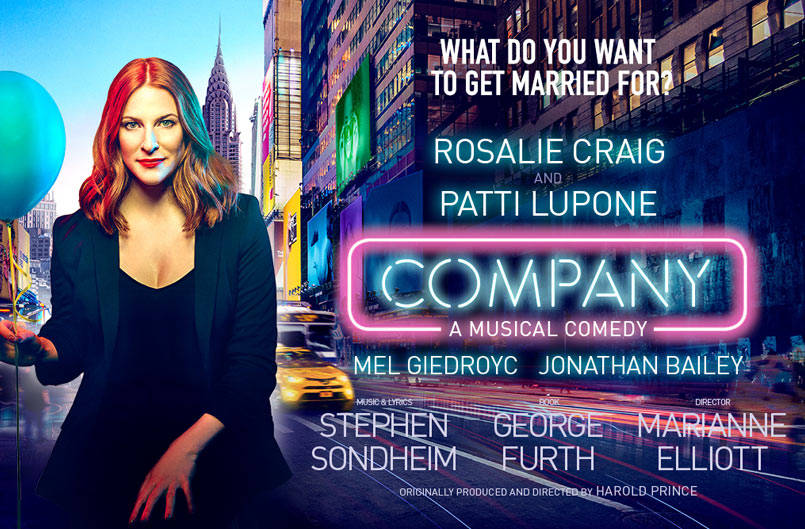 Preview Report: COMPANY at the Gielgud Theatre