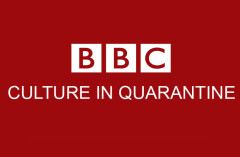 At times of national crisis the BBC (British Broadcasting Service) has always been there for us in the UK fulfilling its government funded brief to serve the nation. In the words of their charter they are obliged to keep us "informed, educated and entertained in unprecedented times".
The current crisis is no exception. As well as providing vital, carefully fact checked, practical information they will also be ensuring that our lives remain enriched by the best of British culture.
A new initiative Culture in Quarantine was announced yesterday with the news that -
"New theatre and dance performances will join with modern classics to create a repertory theatre of broadcast. In short, we envisage a virtual festival of the arts – Culture in Quarantine"
Director general Tony Hall explained the thinking behind the initiative –
"We all know these are challenging times for each and every one of us. As the national broadcaster, the BBC has a special role to play at this time of national need. We need to pull together to get through this. That's why the BBC will be using all of its resources – channels, stations and output – to help keep the nation informed, educated and entertained. We are making a series of changes to our output to achieve that."
BBC director of arts Jonty Claypole elaborates.
"As a public service organisation, it has always aimed to be more than a broadcaster but a stage, gallery and cultural platform in everybody's homes. We will also be offering jewels from the archive. All this will be done hand-in-hand with the wider arts and cultural sector through coverage and collaboration. Some things we will be able to do directly, others we will support in different ways or simply just put a spotlight on"
Apparently the plans include new plays written specifically for broadcast transmission, as well as poetry and book readings, and pre-recorded performances of productions including Mike Bartlett's Albion and Emma Rice's Wise Children.
Everything will be available on television, radio, iPlayer and BBC Sounds and Culture in Quarantine will be focused across Radio 3 and Radio 4, BBC2 and BBC4 as well as digital platforms. Radio 4 will also be broadcasting more plays from its archive, while newer podcast dramas will be made available on BBC Sounds.