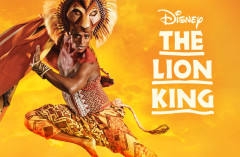 As we leave Christmas behind us the rest of the winter can stretch ahead as a bleak prospect. No wonder many people's mood slumps.
But don't worry - West End Theatre can save you! There's plenty of shows that'll make you feel like your walking on sunshine.
For an intensive shot of African sun, infectiously enjoyable song, great comedy and eye-popping spectacle look not further then the majestic Lyceum Theatre where you can enjoy Disney's The Lion King.
Uniquely amongst stage adaptations of movies this one is actually better then the film it's based on.
Disney took a big risk in hiring edgy director Judy Taymor to stage this Broadway version of their hit cartoon. Up until this point their theatre productions had been lavish but dull recreations of what we'd seen on screen with big two dimensional lumps of scenery and glittery costumes - the effect was a little like pantomime but somehow Taymor persuaded the Disney executives that she should take a different approach, inspired by the art and puppetry of Africa where the action is set.
All the characters are talking, singing and dancing animals and for the most part they're created either entirely using a puppet or a brilliant combination of puppetry and the actors real bodies and faces combined. The result is so evocative that you'll want to cry at the beauty of the opening scene where a whole stage and auditorium of African animals gather to bow before Prince Simba a Lion cub who'll take over from his father as the next king of the jungle.
Before that can happen of course he needs to learn to be a wise and responsible adult and he gains life skills through his adventures with his best friends, a mere cat and a wart hog, as they thwart the evil schemes of Simba's wicked uncle Scar who wants the throne for himself.
The Disney organisation are red hot about ensuring the performances are so polished that you're guaranteed a superb experience at every single show which is why people go back and back to see it time and time again.
When you combine all that world class stage craft with Elton John's gloriously feel good songs arranged with a sumptuous African choral backing the result is an unmissable two hours that will stay with you all your life.
Book now and bring some African sun into the lives of you and your loved ones this January.