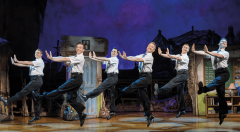 With The Book Of Mormon having recently extended its West End run due to high demand, we take a look at the roots of what is now one the most successful musicals of all time.
Earlier this month, the creative team behind The Book Of Mormon announced an extension to its run at the Prince of Wales Theatre, due to popular demand. The production will now be running until the 19th of September 2020, with tickets for its full booking period available from the 9thof December. Now one of the most successful musicals of all time, The Book Of Mormon opened on Broadway in 2011, after seven years of development. It instantly acquired a multitude of accolades – some nine Tony Awards, including Best Musical – in addition to record-breaking ticket sales. The original Broadway cast recording was also met with critical acclaim, becoming the highest-charting Broadway cast album in more than four decades.
The Book Of Mormon premiered in London in 2013, where it has since had pride of place in the West End. Created by Trey Parker, Matt Stone and Robert Lopez, the production gives focus to The Church of Jesus Christ of Latter-day Saints – which considers itself to be the restoration of the original church founded by Jesus Christ – and its members. Both Parker and Stone were raised in Colorado, becoming fast friends while studying at the University of Colorado Boulder. In 1997, they fathered the notorious TV programme South Park for Comedy Central – it was here that the pair first conceived the fictionalised character of Joseph Smith, founder and religious leader of the Latter-day Saint movement.
It was in New York City during the summer of 2003 that Parker and Stone met Lopez, songwriter, and composer Jeff Marx – the duo behind the hugely successful musical Avenue Q. The quartet came together after a performance one evening, each discovering a joint interest in Mormonism, in particular, the character of Joseph Smith. Almost immediately, the group journeyed to Salt Lake City (where the headquarters of the LDS church Is situated) for research purposes. However, an altercation between Parker and Marx – who felt without enough creative control – saw the latter removed from the project.
The show's comedic treatment of Mormonism has earned the remaining trio their stripes in the land of musical theatre. Its narrative, which follows two young Mormon missionaries sent to Uganda to spread the word of the Latter-day Saints, has been chronicled as wildly provocative. For some, this has aroused a sense of outrage. For others, its satirical nature proves thrilling. And, the rest as they say, is history.