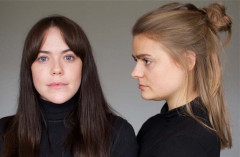 I have seen Boomerang as a scratch piece, then as a full length play, so finding out it will, as a further evolved version, be on at The King's Head Theatre in May, I was very pleased to have the opportunity to speak with the writer/directors of the female (female in all roles, an aspect that is very much part of its ethos) production company, Ivana Mazza-Coates and Madeleine Shenai.
Boomerang looks at a situation that is all too familiar to many families in recent decades. The children leave home to pursue further education, only to return as restless demi-adults unable to afford to rent or buy on their own. The play then explores how this situation impacts on these young people who, whilst they struggle to find their path, find this cocooning an all too seductive embrace that shields them against having to launch themselves into a "proper" life and take on the anxieties and pressures that come with it.
Madeleine is currently living with her parents, and stressed how important it was to maintain her independence and sense of adulthood as she pushed against their instinctive urge to nurture, in contrast to the retreat under her mother's wing that Mauve attempts in the play. The resultant conflict that this brings as character Mauve's mother Mel attempts to launch her socially anxious fledgling is more pointedly explored in the newest version, and will inevitably raise the question: if a parent does not prod their offspring out of the nest, are they in fact enabling their child's under achievement in all aspects of adulthood? A potentially uncomfortable question, but one the writers are not afraid to broach.
These two twenty- something women met at University in Bristol, and have worked together off and on since as actors and writers. They state that their own trepidations and doubts as they looked forward at their own futures was one strand of inspiration, but another very big aspect is their shared experience of many and varied strong female friendships, and the acknowledgement of how the dynamics of these are tested and changed as life inevitably progresses and pulls people adrift, both literally and emotionally. This is the other major thread that runs through Boomerang.
Both Ivana and Madeleine described how these intense friendships mutate over time, and boundaries can become blurred, something that can then leak into adult interactions. I also sensed a slightly wistful wondering from them both of how many of these will survive the test of adulthood, when careers, successful or so so, and relationships, start to eat up bigger portions of their time. This is a very cleverly and convincingly pored over on stage as they ask us to consider how Mauve and former "best" friend Holly can possibly move forward as their lives have become so different in practicality, but as yet unresolved issues from the past hold them locked into an uneasy stasis.
Ivana and Madeleine are already looking forward to the next putative step for Boomerang, script writing it for television, a process that has already begun. Through that they want to explore these relationships and dilemmas in a series of real-time episodes.
I sincerely hope they are successful as I am desperate to see if and how Mauve is going to start actually living her life, and whether she and Holly are going to be able to revive any part of their near dead friendship, and what form of relationship that might be...
In the meantime, I look forward to seeing Boomerang at the King's Head Theatre, I'm going on Sunday May 19th, if anyone wishes to join me.
Dates: Wednesday 15th May - 18th May & Sunday 19th May (matinee)
Location: King's Head Theatre, 115 Upper St, Islington, N1 1QN
Event Link: https://system.spektrix.com/kingsheadtheatre/website/eventdetails.aspx?WebEventId=boomerang
Running time: 1 hour 15 mins